Thousands of canines are left homeless across the country every year, but one Manchester organisation is working hard to ensure every dog has its day.
The Denton-based centre opened its doors on October 23 last year and has successfully re-homed more than 500 dogs to date.
The organisation also has a call centre which has recieved 100,000 calls from dog-lovers across the country within its first six months of opening.
MM took a trip over to the centre to find out all about sniffing out the perfect pooch for you and giving them a new, happy home.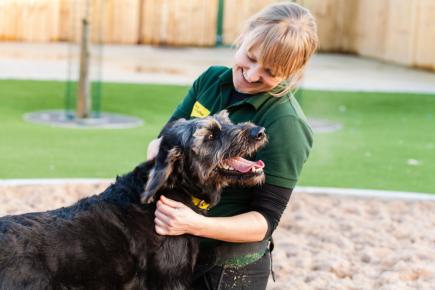 CANINE COMPANIONSHIP: Dogs Trust do all they can to make sure none of their pups get lonely
Deputy manager Lesley O'Donoghue said: "We get a wide variety of dogs into the centre, from St Bernards to Chihuahuas, Dobermans to Yorkies.
"Dogs can be re-homed so quickly, you can look on the site one day and two days later many of the dogs may be gone."
Dogs Trust vows to never put a healthy dog down and work around the clock to look after canines until they can be re-homed, no matter how long the process may take.
The centre has 56 kennels, which allows them to hold up to 112 dogs, and Lesley says the animals are often paired up to prevent loneliness.
"We pair dogs up if possible, as we feel companionship is important to prevent them from getting lonely," she said.
"Particularly if dogs came in as a pairing then we keep them together in kennels and will endeavor to get them re-homed together."
The environment of the centre is very relaxed and is created with the idea of a community in mind so that visitors almost feel at home while there.
Many dogs can be viewed from the Village Green area, while more four-legged friends can be chosen from folders which are updated daily, due to the rapid turnover time for dogs.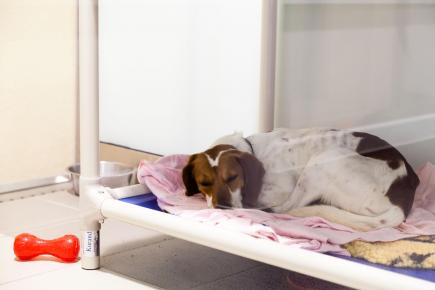 LET SLEEPING DOSG LIE: The centre take in dogs of all different breeds for many different reasons
The average stay at Dogs Trust is 17 days, with seven days being taken up for the vetting process.
Every canine receives a full check up upon entering the centre to assess their health and give them any necessary vaccinations, as well as microchipping and neutering them if necessary at no cost to potential adopters.
Dogs Trust is entirely dependent on public sponsorship and donations, for example their recent blanket campaign proved incredibly successful.
Regional press officer Julia Yould said: "We advertised that we needed blankets on social media and within two hours people had turned up with blankets.
"People were calling us saying they had ordered them from Amazon, or were heading to the centre via Dunelm, and within a day we had received more than we ever expected."
The centre in Denton is the first Dogs Trust centre to be in a heavily urbanised area and is bordered by many towns, in addition to its close proximity to Manchester.
Located on an industrial estate just off Junction 24 of the M60, people come to the centre from all over the country, including Blackpool, Hereford and Yorkshire.
Many people come to the centre with a breed of dog in mind, in many cases they have seen a dog online first and then come down to check it out.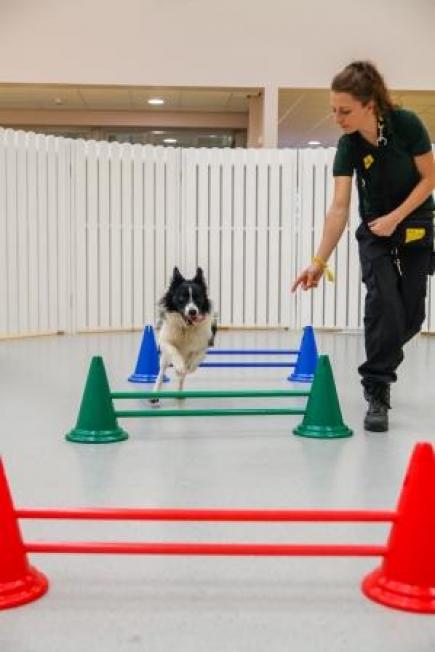 GOING ABOVE AND BEYOND: Dogs Trust do all they can to make sure their dogs are happy and healthy
"We had a labradoodle come to the centre which proved incredibly popular, with people queueing up outside for hours before we opened," said Lesley.
"We had one family come up from the south to check the dog out at 10am, we don't open until 12 during the week so we had to tell them to come back later.
"Within half an hour another family had shown up interested in the same labradoodle, we give each person who comes in a number so that if one person isn't right for the dog we can call the next person on the list.
"But people are rarely disappointed to discover that a dog is not available, they are just happy to know it has been re-homed."
Potential dog-owners are assessed on many factors to determine whether their lifestyle is right for  a dog, which can be particularly important if they favour a certain breed.
Dogs Trust work very hard on figuring out the temperaments of each dog like how much exercise they require, how they react with different environments and whether they mind walking with a lead.
"Every dog has a different character, they may be confident or shy, they can be agile or timid and it's not always just down to the breed, dogs within the same breed can be incredibly different," said Julia.
Different family situations can also affect whether someone is suitable, particularly if a couple are thinking of having children in the near future.
In such a case the couple would be briefed on the staples of raising a child with a dog in the house, going through such issues as when and how to introduce a child to a dog and discussing how to deal with any problems that may arise.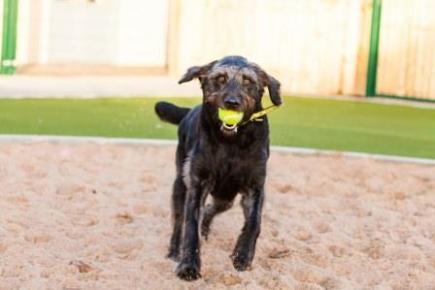 GO FETCH! The centre has successfully re-homed more than 500 dogs since opening last October
Julia said: "In this situation the most important thing is to never leave a dog alone with a young child, particularly when they are new to the environment, as there is no telling how they will react."
While handing over a dog to Dogs Trust should in their eyes always be a last resort they don't judge people who decide to give their pet up for adoption.
"People can end up giving up their pet for a variety of reasons, from a change of working hours to moving to rented accommodation to a divorce," said Lesley,
"We understand that this is a heartbreaking thing for both dog and owner but it can be the right thing for the dog's wellbeing."
In cases where a dog may need a lot more exercise than someone can provide, either because they work long hours or due to their age, the Dogs Trust partnership with borrowmydoggy.com is incredibly helpful.
Borrow My Doggy is a website set up to assist people who don't have the time to take care of their dog as much as they would like, whether this is taking them for a walk or just making sure they have company.
Julia said: "Borrow My Doggy is a great tool for owners and can make the difference on whether they give up the dog to Dogs Trust.
"The best thing for all dogs is to be kept at home and to be with their owners, this site can help to keep that a possibility."
Canines can also be brought to the trust having been neglected by their owners, which can bring about a variety of issues.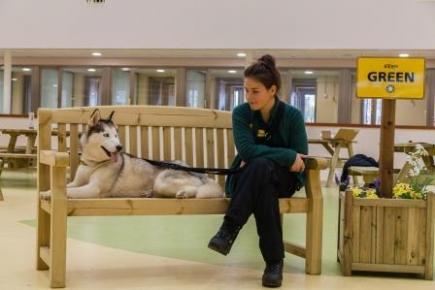 COME AND PLAY: Most of Dogs Trust's hounds who need homes can be visited at the centre's Village Green
"We had one dog come to us that had been severely neglected and then hit by a car upon escaping from their owner," said Lesley.
"We were able to get him an operation thanks to a community fund-raising campaign and eventually found him a new home.
"We've also had a box of puppies brought to us which were ridden with ringworms and fleas, it's so sad to see and such a horrendous start to life."
The centre has a veterinary nurse who is on site at all times, the dogs are constantly monitored by carers to check for any issues.
Many people fear what will happen to their pet if they are to die suddenly and the Dogs Trust have a service to help.
The Canine Care Card is a free service which states that on the event of your death, your dog will go to Dogs Trust, giving you peace of mind that it will be taken care of.
The Dogs Trust Centre in Denton opened shortly after the devastating Manchester Dogs' Home fire last September and while the centre wasn't officially open yet they were there to help out.
Lesley stated that: "We were able to provide dogs with temporary housing, often at our own homes but support from the public was overwhelming.
"There were thousands there on the day, just local people wanting to offer their support, there were so many you almost couldn't get near the place.
"It as an awful tragedy and it sticks with you but it is important to remember that while 43 dogs were lost, 150 were saved and this wouldn't have been possible help from the local community."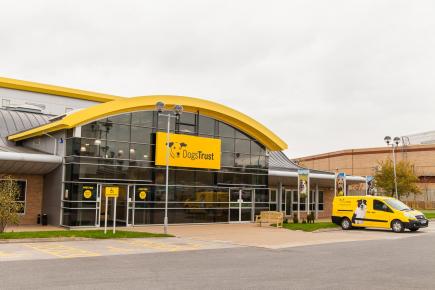 DENTON DOGS TRUST: The centre is the first to be set up in such an urbanised area
Lesley has some advice for anyone who wishes to introduce a furry friend into their life.
She said: "You need to make sure that having a dog really suits your lifestyle, it can be a 10 to 15 year commitment potentially costing thousands in medical bills.
"You also need to be patient with a dog particularly if they're chewing the furniture or wrecking the house.
"It can take time to adjust, for both dog and owner, but if you work at it a relationship with your dog can be incredibly worthwhile."
Images courtesy of Lovatt Photography, with thanks.