In light of the first co-production between the National Theatre of Scotland and HOME, we talked to Jackie Kay about her memoir, its stage debut and how much she loves Manchester.
Jackie Kay is a well-known name, she is the third modern Makar and the Scottish poet laureate. Her poetry is on the school curriculum, she has written novels, novellas, and a memoir. She has won countless literary awards, she has written for stage, screen, and radio. If that isn't enough, she has an MBE.
But, most importantly, she is Chancellor of the University of Salford and lives here in Manchester.
MM were lucky enough to get an audience with this queen of literature in light of the new theatre adaption of her memoir Red Dust Road, which is coming to HOME in September.
Kay was born in 1961 in Edinburgh to a Scottish nurse and a Nigerian student. Shortly after she was adopted by John and Helen Kay. Red Dust Road is Jackie's 20-year search for her birth parents. From Nairn to Lagos the memoir takes you on a moving journey of self-discovery as Kay explores what makes us who we are, nature or nurture, myth or gene, fable or porridge?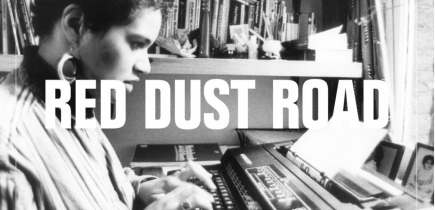 MM: So, why did you decide to write about your own life?
Well, it was a bit like my life suddenly became larger than life when I found my birth father. You find when your life becomes larger than life in order to try and understand that sudden expansion, writing is a way of contracting it back to normal size again.
In a way I think that happens to people when anything big happens in their life, they step outside their life for a moment and they become a bit like on onlooker.
Also tracing my birth father and finding him I became a bit like a private investigator: trailing the story of me. I realised it wasn't really myself I was interested in but all the different people that go to make up your life and who you are.
I became interested in identity itself and whether or not being brought up by my parents, with their stories and their songs and their political activism, their warmth and their love, had made me who I am, just as much as being genetically related to my Nigerian father and my Scottish mother.
MM: Would you recommend people exploring their identity to write about the experience?
Yes, if they can find a bit of distance from the experience. You don't want it to be like therapy on the page. For the experience to be a real writing experience you have to find a tone of voice and a way to tell it.
If you are writing about something upsetting you can't be too upset about it in your writing because your reader wouldn't have room. Whatever you write that is based on your own life has to create enough space for your reader to come in and feel some of what you felt.
That means in a strange way having a little bit of distance so you almost see yourself as a character.
MM: Did you find it challenging writing about the experience?
Yes, it was difficult to write, it was difficult to find the tone, I didn't want it to be self-pitying. And I didn't want it to sound bitter or rancorous, nor did I want it to sound vengeful or to have any sort of agenda.
It was difficult but it was also really helpful. I found the writing of it helped me make sense of it, and helped me come to terms with some of the things.
It helped me recognise that the truth isn't binary, it's multiple. And the choices that we have in our lives and the coincidences that form part of our lives are part of us, and we contain multitudes of truths.
MM: Do you think your relationship with the book has changed?
The book came out 10 years ago. I feel like it's all moved on since then. A man stopped me in John Lewis in Glasgow and he said to me: "Excuse me interrupting you in your private life but are you Jackie Kay?".
I said yes and he said, "I loved Red Dust Road, I want to thank you for that book, and I would just like you to write a chapter to tell us how everyone is getting on!"
MM: How are you feeling about having the book adapted for theatre?
I am feeling a bit strange about it. My mum keeps saying, "who's going to be playing me?" It will be interesting to see who they get to play my mum and my dad, and my birth father and birth mother, and myself and my son!
I haven't adapted it myself, so it'll be strange to see how it evolves, but in a way it might be quite liberating to sit and watch someone playing yourself, maybe it lets me be somebody else too. Maybe while someone's off playing me I could be off playing somebody else!
It might feel like it's not me, but it won't really matter if it's not me, just as long as it feels real and genuine and keeps the spirit of the book and keeps the multiple voice.
MM: Not feeling too protective?
No… a bit. It's a bit like it's your baby, but in another way you have to let your kids go to school. You've got to let them have their life. Really, what I was interested in most of all with Red Dust Road was telling a story about real life, and as long as the theatre production feels like real life in some way then that will be exciting.
MM: And it's going to be here in Manchester, that must be exciting?
It feels really important that the play is here, and particularly at HOME in a funny way. I was born in Edinburgh and my mother was in a mother and baby home and it feels like that for Red Dust Road to come home, it's like me coming home.
It feels like every place that it's going to be is a chapter in my life and the story that's been my life. My birth mother came from near Inverness, it's going to Inverness, I went to study in Sterling and it's going to Sterling, and then I've lived in Manchester all this time and then it's coming home.
It feels like each different station stop, if you like, in the journey of the production has also been a station stop in the journey of my life. And that life often has these strange and lovely circles and the little baby me that came out a mother and baby home wouldn't have expected this to be part of one of the circles that life has shored up.
MM: You've lived here for a long time, why Manchester?
Manchester itself I love, I love the way that it's a great cultural city, I love how musical it is, I love its trams, I love the way it makes connections, I love the way it's open and curious about the world and yet also gives people space.
I like the way the city itself keeps trying to tackle things differently from cycle paths to homelessness, and keeps trying to put itself forward as the first city that's trying to change whatever attitude it might be. I think when Scotland had their referendum if Scotland had said yes, Manchester was all for joining Scotland!
I like the idea that Manchester feels quite Scottish to me, it's a great working class city that's got the working class people's library in it and the working class people's history museum.
It takes its working class roots very seriously but it's also a city full of great streets and buildings, Northern Quarter and places like Matt and Fred's, great vegan cafes and great restaurants, great places.
Not so big as London that you can get lost in it but its a city that seems to be very good at nurturing and growing talent, cultivating talent and supporting it.
MM: Do you think of Manchester as home?
Yes, I think of Manchester as home, just as much as I think of Glasgow as home. I kind of find equal amounts of both because I'm in Glasgow as much as I'm in Manchester.
Both cities are home, both cities remind me of each other in different ways.
*Red Dust Road will be playing at HOME, Manchester from Sep 11-21. You can buy tickets HERE.