You may not be familiar with the name yet, but prepare to hear a lot more about Hainan Airlines due to their direct four-times-a-week service from Manchester to Beijing which commenced in 2016.
MM were the guest of the Chinese carrier as they showcased their top class hospitality which has helped them to become one of only nine 5-Star airlines in the world.
The new route – the only service in the country outside London with non-stop flights to the Chinese capital – was announced by Chinese President Xi Jinping during his visit to Manchester in 2015 and the first plane took off last June.
The airline's motto – 'Cherished Experience' – was certainly apparent from our whistle-stop tour of the Airbus A330-200, which provides 186 economy seats and 36 in business class.

SPACIOUS: The business class cabin on Hainan's Airbus A330-200
The wide-body aircraft creates more space in both economy and business class with the latter's 74-inch row pitch allowing for fold-out beds and a turndown service.
We were treated to a delectable afternoon tea of Michelin-star standard for an experience of their exemplary cuisine. Menus have been carefully designed by internationally renowned chefs to meet the desires of both Chinese and Western travellers.
Exhaustive entertainment options are provided for all customers by virtue of a personal touchscreen; with Bose headphones, silk pyjamas and designer Bulgari amenity kits being just a few of other perks available to business class travellers.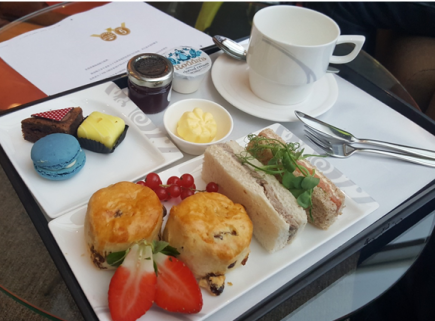 DELICIOUS: Meticulous work has gone in to preparing menus 
The Manchester-Beijing route has been valued at more than £250 million in economic benefits to the UK over the next decade, with two-thirds of that being felt directly in the north by new jobs, economic activity and tourism.
Ryan Zhang – Deputy General Manager of Hainan Airlines UK – told MM that Manchester's success could lead to further direct routes in the future.
He said: "If the timing is right, we will certainly look at the possibility of Shanghai, Guangzhou and Shenzhen – they are all potential destinations.
"Currently if you fly with Hainan, you can transfer in Beijing very quickly to those big destinations. We fly from Beijing to Shanghai five times a day so the transfer time is just two hours."
Hainan Airlines are also hopeful that there will be a boost in tourism to the island which gives the airline its name.
Located in the South China Sea and part of the southernmost province of China, Hainan Island is becoming an increasingly popular destination.
The airline is headquartered in the province's capital of Haikou, but the southern town of Sanya provides big tourism hotspots courtesy of tropical beaches and the Yanoda Rainforest.
For Mancunians looking to expand their horizons to the Far East, our city has just become a lot more connected.
For more information about Hainan Airlines, visit: www.hainanairlines.com