The food induced comas from Christmas Day are now long behind us and many people are looking to make a lifestyle change in 2021.
One way people are doing this is through Veganuary, the global campaign which encourages people to try being vegan for at least the whole of January.
This year a record breaking 500,000 people have signed up to the challenge, up from 400,000 in 2020.
Multiple supermarkets have been joining in the conversation too, with many of them dedicating a page on their website to tips and recipes to guide first time triers.
Tesco and M&S have launched TV and radio adverts for the first time, while Morrisons has released a £25 Veganuary Essentials box filled with vegan snacks and meat alternatives.
"The way British supermarkets have embraced Veganuary this year is truly game changing," said Toni Vernelli, Veganuary's Head of Communications.
"They are not simply using it as a marketing opportunity but are promoting the many benefits of plant-based eating and encouraging people to give it a try.
"As bastions of our food supply, they know that the only sustainable way forward is plant-focused."
Veganuary aims to raise awareness of the issues surrounding the meat and dairy industries and the benefits of a vegan diet.
Since it's beginnings in 2014 more than one million people have completed the challenge and a Harvard University study has found that this has had a big impact on the planet.
It's estimated that the joint efforts of all these participants has saved 103,840 tonnes of C02, 6.2 million litres of water and roughly 3.4 million animals.
If that doesn't make you want to get involved what will?
MM caught up with a few first-time participants to see how they have been finding the challenge.
"It gets easier and easier"
Emma Hull, a PR Executive at Liberty Marketing (http://libertymarketing.co.uk), decided to try out Veganuary after watching distressing footage of animals in the agricultural industry.
"I started Veganuary this year for the first time, jumping straight in from being a full meat eater," she said.
"I've seen a few videos of the way some animal products are made and some things are horrific.
"Previously I've put them to the back of my mind because I thought going full time vegan would be near impossible."
While Veganuary was difficult to begin with, Ms Hull has slowly got into the swing of things and is considering continuing with the diet.
"After the first few days, it actually gets easier and easier," she said. "Hopefully, this is something I can continue into February onwards!"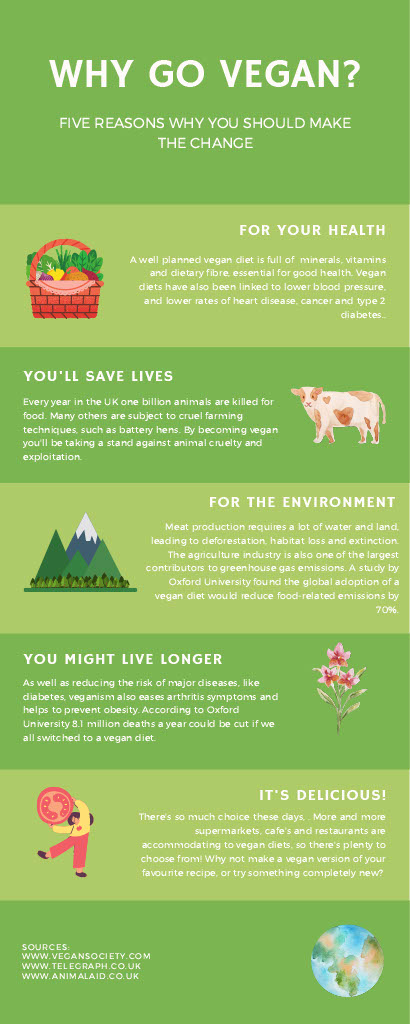 Similarly, Xavier Harley-Rudd, a senior strategist at a London-based E-commerce start-up (https://thisisnovos.com/), has found Veganuary testing, but is proud of how quickly he has adjusted.
"I didn't think that it would go well and it was very hard for the first week," he said.
"The main difficulty was finding recipes which were tasty enough to make us forget that the dishes didn't have meat or fish in them.
"To my surprise, I have adapted quite well now. I only ate meat the first few days of January as we had leftovers from Christmas but it has been easy enough.
"The food takes way less time to cook, it's cheaper, and I feel healthier. My skin has totally cleared up too, particularly the psoriasis on my face."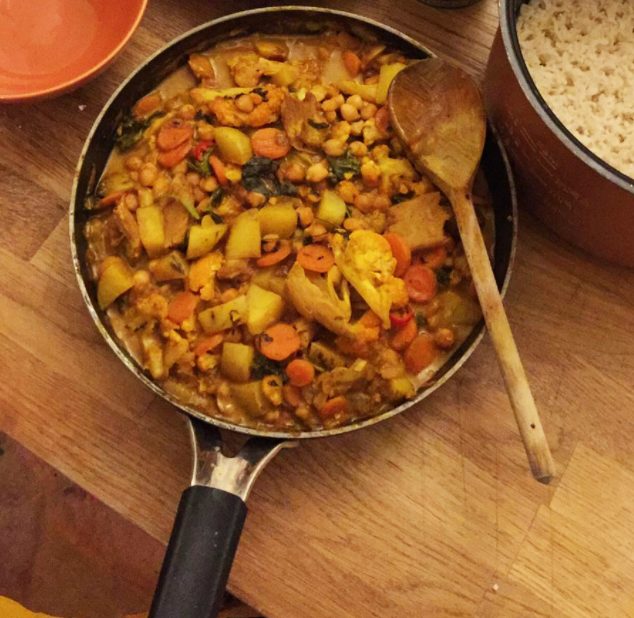 To help Mr Harley-Rudd and his partner through the transition they've been adapting recipes to suit their palette, by adding chillies for extra spice for instance.
After searching high and low they've also found a solid replacement for the meat they're missing.
"We tried a chicken substitution, I think it's called "What the Cluck", and it filled the chicken-shaped hole in our diet, I'd definitely recommend it or something similar!
"After Veganuary ends, I don't see myself going fully vegan, but I will certainly be cutting down on my meat and dairy consumption," he said.
Best food bloggers to follow to get you through Veganuary
Tabitha Brown
Tabitha Brown is known for her comforting self-help videos and vegan cooking which has gained her over 4.5 million followers on TikTok in the past year. The actress and influencer stars in this year's Veganuary ad, having been vegan herself for about three years. Whether it's her charming words of wisdom or vegan recipes that will get you through January, "that's your business."
So Vegan @sovegan
One of the hardest parts of becoming vegan is finding recipes you like that are easy to make. But content creators Roxy Pope and Ben Pook have so many simple, quick, and delicious recipes that don't require overly complicated ingredients. You'll probably be spending more time choosing which recipe to make, than cooking it!
BOSH! @bosh.tv
BOSH! co-founders Henry Firth and Ian Theasby were once devoted meat eaters, but soon turned to veganism after realising the health and environmental benefits. They focus on adapting traditional recipes to show that a switch to veganism doesn't mean you have to leave your favourite meals behind.
Tofu Queen @tofuqueen_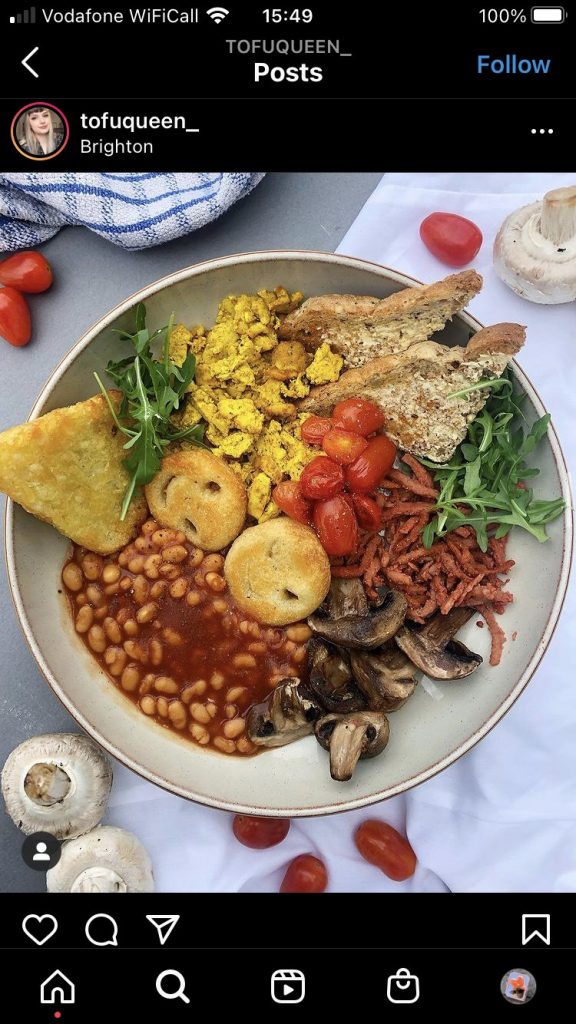 While it can be good to follow vegan chefs to find new recipes, it's just as good to follow other fellow vegans on their meat-free journey. Tofu Queen provides tips, product recommendations and heaps of inspiration for meals. Her breakfasts look to die for!
Vegan Manchester @vegan.manchester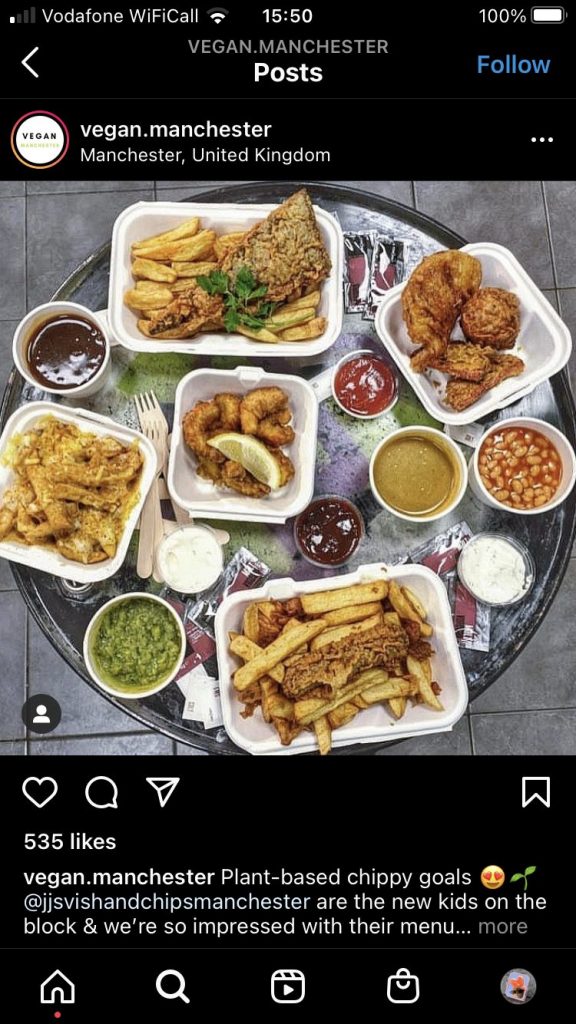 This account shares the best vegan restaurants, cafes, and takeaways in Manchester. They also frequently feature exclusive gifts and offers to all their followers. If you're more into ordering food than cooking it then this might be the best page for you to follow.
Main photo: Unsplash