January can be brutal for people looking for love – barely past spending the Christmas period alone and with Valentine's Day already looming, this year there's also the added pressure of Love Island reappearing to show us hours of attractive people cracking on.
Unlike Callum, not everyone is able to swap Manchester for a villa in South Africa for six weeks, so Mancunian Matters spoke to Alex Mellor-Brook from Select Personal Introductions, a dating agency for the North West to find out where we might be going wrong.
Don't go into blind dating without knowing where to look
With so many options – dating apps, online services, Metro's Rush Hour Crush –  it seems dating *should* be straightforward, but Alex stresses that each service has its own purpose which can lead people going down dead-ends.
Alex says: "Dating apps are geared towards hook-ups. [They are] like when you're younger and going into a club where 99% of the people are single, and it's just down to who you find attractive. 
"Online sites are good, but a big percentage of people use it to casually date, which is fine if you've come out of a relationship, you don't want any ties or you're not quite sure what to do."
That's where agencies such as Select differ: "We are geared towards people who are looking for relationships, so we have people from 25 onwards who are working hard, got a good job and want to meet somebody similar to themselves – and that's a completely different list of questions than 'do I like the look of that person or not?'"
Alex also notes that as a member of The Association of British Introduction Agencies (ABIA), these services adhere to a code of practice, meaning they are a safer option than trying to suss out the catfish on dating apps.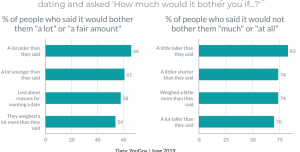 Just get sat in front of each other
However you're meeting people, there's no time like the present to find out if there's a spark. 
Alex said: "The key thing is to get sat in front of them. You can text for the next five weeks but then you could sit in front of them and within 20 minutes you're thinking 'that's a no go from me'.
"It's not just a visual thing, it's about personality, it's about chemistry, about pheromones – it's about how the person makes you feel."
Meals are a recipe for disaster
So where should you go to make sure you're off to a good start? Alex's tip is to avoid going for a meal, mostly because it's tough to make a great first impression while chewing. 
Alex added: "You could meet somebody who seems nice but you're thinking 'it's not going to go anywhere' while they're trying to order three courses, onto puddings, then onto coffee, and you're kind of stuck there.
"Keep it simple, try to meet for a drink – nothing too alcoholic – and see how the two of you connect."
But give yourself options
Alex suggests: "Pick[ing] somewhere that's really simple to meet and it's well populated. City centres are great in the sense of finding yourself a nice coffee shop – if you meet in the middle of nowhere you've got nowhere to go.
"Maybe swap venues as well, that keeps it interesting. If it's going well, go find another venue, that could be to go for a drink or for something to eat. What it does is it breaks up that meeting, there is interaction and things going on, rather than just sitting in front of each other."
Avoid treating your date like a therapist
Men – what are we like! – are by all accounts the problem in almost every first date horror story. But one recurring theme is that men just do not ask any questions at all, to the extent MEL Magazine investigated the phenomenon of guys who talk at their dates like it's a one-way therapy session. 
Always one step ahead, it has seemingly led to men planning their questions in advance to make sure they don't fall down that trap – and instead setting themselves another one of looking scripted and false.
Alex has found this to happen as well: "So many guys go in with a game plan of 'I'm going to do this, and these are the questions I'm going to ask' and they have no rhyme or reason why they would be asking those questions and it just doesn't ring true.
"The people who get it right are, from a guy's perspective, the people who listen to a lady and ask questions about it."
Be honest (but not that honest!)
The unspoken truth behind any date is that something has probably gone wrong for you both to be here, and while there's no problem with that you don't need to draft your memoirs on the first date.
Alex noticed there was a gender split here, too.
"Men are literal, you ask them a question and sometimes they answer it too honestly. It is part of your history – keep it history.
"You've got to look at you going forward because that person wants to know how do they fit into your life – keep it positive, [talk about] where you're going and what you want to do."
And, for the avoidance of doubt, please don't bring your ex with you.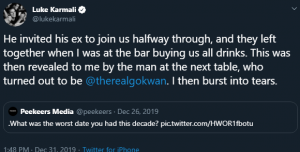 The bill could be a costly decision
Who pays the bill always has the potential of derailing a date right at the last moment, but Alex assures me that going Dutch is the safest strategy.
And even if your chivalrous side insists you should pay for this one, you can turn it to your advantage.
"It's a great one to get a second date, [saying] 'Well let me pay for this one, and you pay for the coffee the next time we meet.'
"If you offer, you offer and if you pay that's absolutely fantastic – but don't keep paying. It becomes a psychological issue because you keep paying – you can rack up quite a bill if you do it wrong."
Second time's the charm
With dating apps offering dozens and dozens of profiles at your fingertips, it's easy to write people off after a single meeting, but as long as the date wasn't a disaster, it might be worth giving it more time. 
Alex knows this one well: "I have been married 23 years and I was surprised I got on a first date, it's just because we were put in front of each other a number of times – I think I wore her down!
"The first time [you meet] you would be very different, because of nerves, than you actually are. You have to let each other calm down a bit, some people are quite guarded so you've got to take all these factors into account when you meet someone new.
"If you can give each other a chance and meet a few times, that is really, really helpful."
If you have any more tips that could save Valentine's Day, get in touch on Twitter @mm_newsonline.
More information on Select Personal Introductions can be found at https://www.selectservices.co.uk/