A recent Gallup poll showed how more people had visited the library during 2019 in the US compared to other leisure activities, such as going to the cinema.
Manchester's libraries, old and new, pay homage to the city's dense history making for a great day out for those keen to learn more about their city.
From the Enlightenment through to the Industrial Revolution the city of Manchester has played a key role in the development of intellectual thought in Britain and Western Europe.
Many philosophies and political theories, from liberalism to the suffragettes, have Manchester to thank for their development into what we know them for today.
Here are five of the best to teach you all there is to know about Manchester's intellectual past.
Portico Library
57 Mosley Street – M2 3HY
This library is 213 years old still standing in its purpose-built venue in Mosley Street. It was for a long time a members' only library; however, it is now open to the public six days a week hosting a variety of exhibitions and events.
The library has a large collection of books, archives, and pictures/illustrations dating back over 450 years covering subjects from literature to biological science.
A membership is needed to access all areas of the library; however, there is more than enough going on to spend plenty of hours in here.
Exhibitions in January include; George Orwell and 1984, Moments that made Manchester, Writing Anne Lister: An LBGT+ History.
There are some notable names to have been members at this library. John Dalton, Elizabeth Gaskell, Emmeline Pankhurst, Robert Peel, and more recently Eric Cantona, have all spent hours using the vast resources of the library.
This institution may now be hidden at the side of a pub, but it is certainly worth the visit.
For a full list of events visit: https://www.theportico.org.uk/whats-on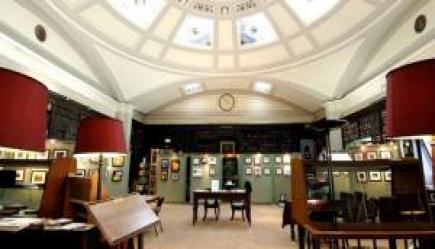 Central Library
St. Peters Square – M2 5PD
Manchester's central library is the largest and most used in the city making a large presence in the city centre in St. Peter's square.
The library was first opened in 1934 and underwent major renovations starting in 2010, re-opening in 2014.
This library has everything that you would expect to offer from a modern library, from an expansive collection of archives to books new and old of all subjects.
There is a grand reading room in the upstairs area of the main building. It is a large dome like room which sits up to 300 people and is the most formal area of the library to work in.
The Central library holds many different events ranging from historical exhibitions to pieces centred around Manchester's culture.
Since the 7th of November the library has been running a project showcasing the major refurbishment of the Town Hall – this ends on January 31st.
For an all-round library experience showcasing old and new, the central library is a great place to start.
For more events, visit: https://secure.manchester.gov.uk/site/custom_scripts/events_search.php?searchresults=yes&dateType=anydate&date=&startDate=&endDate=&location=City+Centre%3A+Central+Library%2C+St+Peter%27s+Square%2C+M2+5PD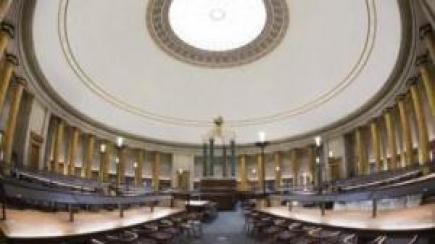 John Rylands Library
150 Deansgate – M3 3EH
The John Rylands Library is part of the University of Manchester collection, which was originally opened by Enriqueta Rylands in memory of her husband John Rylands, on 1st January 1900.
This library is the site of the University of Manchester's Special Collections, housing over 250,000 printed volumes and over one million manuscripts and archival items.
Discover the fascinating history of modern medicine in our #jrlInvisible exhibition. Explore collection items, like this 18th century Syriac amulet book, containing charms and spells thought to ward off illness. #jrlInvisible https://t.co/s8jejj1vbr pic.twitter.com/92KkqD5JqG

— The John Rylands Library (@TheJohnRylands) January 26, 2020
It underwent major refurbishments, starting in 2003 and ending in 2007, giving the building's new main entrance a very modern feel, in keeping with the sophisticated architecture of neighbouring Spinningfields.
The historic reading room could be mistaken for a cathedral which are open for anyone to study in, or to take in the sculptures and high windows with paintings of intellectual and religious figures.
This library is a seamless blend between modern Manchester and Manchester at its intellectual peak and open for the academic and the keen learner alike.
For more information, visit: https://www.library.manchester.ac.uk/rylands/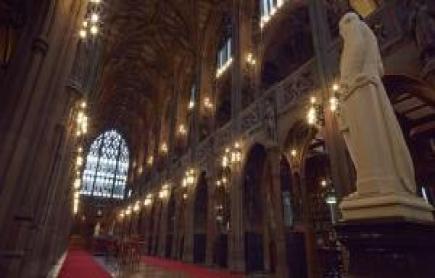 Chetham Library
Long Millgate – M3 1SB
This library is the oldest public library in the English-speaking world. The building was built in 1421 and was the 'first facility for independent study in the North.'
It was founded as a library in 1653 and has been collecting material ever since.
Explore Chetham's Library and its medieval buildings by booking a private tour! We offer tours for 8-25 people, for an exclusive experience sharing the story of this historical site. Contact Siân-Louise for further details. [email protected] pic.twitter.com/ZIFmB2ThEY

— Chetham's Library (@chethamslibrary) January 13, 2020
Perhaps the standout feature of this library is the alcove of the reading room which houses the desk where none other than Karl Marx and Friedrich Engels.
During the summer of 1845 the two worked together frequently at the desk leading to the making of the highly influential The Condition of the Working Class in England.
This library is a must for admirers of these two philosophers or those with an interest in philosophy in general.
The library has not changed dramatically over its 350 plus year history so is perfect for those looking for an authentic taste of Manchester's long past.
To book a tour for the oldest library in Britain, visit: https://library.chethams.com/visiting/booking-for-library-tours/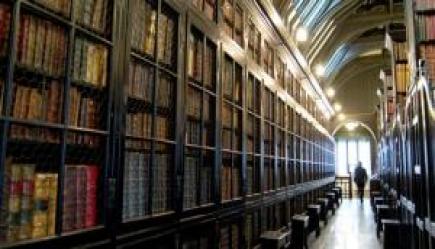 Working Class Movement Library
51 Crescent, Salford M5 4WX
With Manchester's history and growth owling a lot to various working class movements, notably the suffragettes and the chartists, it would be unfair to leave out an institution dedicated to this off the list.
The library has been in its current location in Salford since the 1980s with the collection of materials having started in the 1950s telling stories from the beginning of industrialisation to the present day.
Here's a lovely new acquisition, alongside our current very popular Thomas Paine exhibition which runs till March – https://t.co/XrTf2OFEFo pic.twitter.com/0ueM4UA1rV

— WCML (@wcmlibrary) January 22, 2020
Literature can be found on the Peterloo massacre of 1819 and personal accounts from people at the forefront of the suffragettes.
The library holds regular exhibitions and events championing the individuals and movements that helped develop modern day Manchester and the politics we know today.
For something a little bit different, this is certainly a place to visit.
For more information on exhibitions, visit: https://www.wcml.org.uk/events/