For over a week now, there have been reports on the growing concern over vaccine hesitancy in minority communities.
The Government has pledged to give £23 million to local councils and community groups in England to encourage the Covid-19 vaccine roll out.
But how much of this is an accurate representation of what is happening in our community?
The Manchester Mill today reported the growing concern, how representation in our local leaders doesn't reflect that of our community, and how it is clear that reaching non-white communities will be critical to the success of the local vaccination program.
There is a lot of hesitancy within the Black, Asian and minority communities due to misinformation and misconceptions about the safety of the vaccine.
There are other barriers too which local councils will need to address; language and cultural.
In households which host three generations of people there is a sense of dependency from elders that rely on younger family members to pass on information and make medical arrangements.
This is either guided or unguided, depending on where that information is sourced.
The colourful cultures of our diverse region are built on community.
They harness the power of storytelling, the oral traditions which akin folklore and 'Chinese whispers,' gives everyone the chance to be the author, and sometimes the message becomes distorted and misinformed.
It's a fluid situation
Councillor Rabnawas Akbar of Rusholme has a city-wide remit for advancing community cohesion and equality.
He is quick to note the diverse nature of the ward he represents.
He said: "A few years back The University of Manchester did a survey on Wilmslow Road and found that at any one time there are over 90 languages and dialects being spoken.
"Vaccine hesitancy is in all communities in some form of another, yes it's been highlighted in South East Asian communities, but it's important to note that we are still waiting for data from Public Health England.
"Until we have the data, we can't effectively target our approach."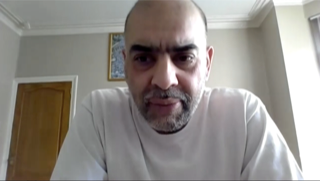 As well as the language barriers and accessibility of information, there are conspiracy theories floating around, and fake news which in combination are impactful in discouraging people from getting the vaccine.
'The vaccination reduces your ability to procreate', 'there are side affects', 'it has pork in it', 'it isn't halal', are the messages which will start off from an individual and soon be shared amongst the masses on social media.
A junior doctor from South Manchester who wishes to remain anonymous said: "A lot of individuals have become disenchanted with the government's response after missing their festivals- Eid, Diwali and Hanukkah."
Fear also plays a role; "several individuals have also stated that they're worried about contracting the virus when vaccinated- as they think it's a live vaccine."
The only way to increase uptake is to quell these rumours by engaging with the communities.
Community and faith leaders are leading sermons encouraging the inoculation, from both a moral and religious perspective.
The Muslim Council of Britain and the British Medical Association have both been forthcoming in their support.
The truth is that most of the Covid-19 response has been reactive, there is no conclusive evidence to suggest the potential long-term effects the vaccine will have, as it hasn't been around long enough for scientists to demonstrate.
"When I'm approached by a woman asking if it will stop her having a family," shared Akbar, "the truth is, I can't say I definitively know."
As lockdown dwindles on patience spreads thin and there is loss of trust in government.
"I think it's important that we have people from the voluntary sector, the health care profession and faith communities giving out these messages rather than politicians.
"Central government has lost trust," says Akbar.
Eventually the plan will be to introduce pop-up vaccination centres in communities, places of worship, where it seems people are further to reach, going to places that the communities trust.
"I think it's a challenge, but I'm confident.
"We have a good working relationship with our communities in Manchester, with our voluntary community sector, with our faith communities, and will be able to utilise that to make sure that the right message goes out to the right communities when we know which ones to target."
Faith leaders are falling short
Sarup Singh Landa has lived in Whalley Range for 49 years.
He is 72 and had his vaccine around two weeks ago.
He was sent a text message from his GP practice, an appointment was booked and shortly after he went along for the vaccine.
A week later his wife, 70, had a difference experience.
She was called by her local pharmacy and was sent to the Whalley Range Cricket club to receive her shot.
Landa is a leading member of the Sikh community and local Gurdwara on Upper Chorlton Road.
He believes community leaders are falling short, and "this is where the community fails," he says.
He had personally reached out to the Gurdwara leadership highlighting the importance of spreading support of the vaccine rollout.  
They distributed the advice which was sent out by the government – his point – it didn't resonate.
He urges action: "We need the word to come from community leaders."
After he had his vaccine, he posted it on his Facebook page.
"Some of my friends appreciated the information, but it isn't enough, to do it on an individual level. Everyone is sharing scary stories.
"Most of the people are confused on what is good and what is bad. They are scared of what might happen.
"My wife's friends approached her, telling her not to have a vaccine, she almost didn't."
Landa misses sitting with his friends and sharing stories, he's now hopeful since having the vaccine that it won't be long before he's able to again.
"These days I get tired looking at adverts," he says, "Have you got a funeral plan yet?" he pauses, "hang on, I don't want to die yet." 
Main photo: Sarup Singh Landa stands outside his home in Whalley Range