Manchester Piccadilly played host to one of the biggest shake-ups to northern train services in the last decade on Friday.
The Northern franchise, which was previously owned by Abellio and Serco, has been taken over by Arriva.
The firm is set to increase train services from 16,000 each week to 18,000, and improve peak-time passenger capacity by 37% by 2019.
The takeover will also see the outdated Pacer trains finally removed from the tracks and replaced with brand new trains for the first time in Northern Rail's history.
@RMTunion stage protest at launch of #arriva Northern takeover @MM_newsonline pic.twitter.com/FQGgKAuolG

— Mason Jones (@masonjonesuk) April 1, 2016
However, unions are highly critical of the deal with Arriva – formally an English company which is now a subsidiary of the state-owned German rail operator Deutsche Bahn.
Union members arrived at the launch ceremony in protest and raised the German flag outside Piccadilly station as thousands of Mancunians made their daily commute.
"On April Fool's Day the Government has decided that the German state railways will take over the operations of railways across the north of England," Craig Johnston, an official for the RMT rail workers union, told MM.
"They're going to pay them a massive amount of money in terms of tax payer's subsidy, the whole process is fundamentally flawed."
Members also fear that there will be huge job losses and that trains will become unsafe under government proposals to reduce the amount of guards and make some trains driver only operated.
"As well giving the German state railways a pile of money to run railways across the north of England, they've also given them a specification that says that 50 of the train services in the north have to be driver only operated by 2020," said Craig.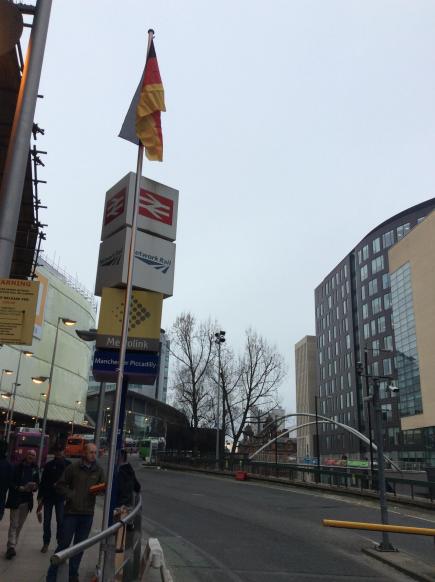 TAKEOVER: A German flag was flown over Piccadilly Station
"Can you imagine a situation where there's only the driver who is on the train and there's no one else who is qualified or trained to look after the passengers in the event of an incident or accident – it's crazy.
"Who is going to help passengers with disabilities? Who is going to help the elderly?
"We know that women feel particularly vulnerable at this moment in time traveling on train services."
The RMT official also told MM that workers may take industrial action if guards start to be removed from services.
"If they decide that they're going to bring in this driver only operation as part of the Government specification then we will fight them route by route, line by line, service by service and train by train," he added.
As part of their takeover, bosses of the multinational company have decided to keep Northern Rail's current managing director in charge.
Alex Hynes, who has led the rail operator since 2013, told MM that the company do plan on holding discussions with union members about the issue of driver only trains – and added that the industry will not see job losses.
"Driver controlled operation was a requirement set by the Government, so whoever had won the franchise we would have seen changes to the method of operation to trains," said Alex.
"When we're ready to talk to our people in the trade unions about that – we will.
Northern rail MD Alex Hynes says jobs are on the increase, contrary to claims from union members @MM_newsonline pic.twitter.com/s4ncQjvL4u

— Mason Jones (@masonjonesuk) April 1, 2016
"But this is not about job cuts and this is not about doing anything that reduces the safety of our railway.
"There's going to be no cuts to frontline customer facing staff at all in our franchise, in fact, the number of people we're going to employ goes up not down."
Under the Arriva takeover, state funding for Northern Rail is set to fall by more than 85% over the next 10 years.
A long with fears about job losses, the cut to government funding has raised concerns about the possibility of rising train fares.
"Fares aren't going to go up in real terms because the Government has made a commitment that fares will be pegged in line with inflation and that is baked into our business plan," Alex told MM.
"So essentially, customers are going to get this investment for free.
"This is not about cuts or doing anything to reduce safety, this is about investment to drive the quality and capacity of our service and create growth.
"Successful growing companies need more people, not less."
The Northern Rail boss added that today's takeover could be the first step towards improving the region's transport network as part of George Osborne's Northern Powerhouse initiative.
"I think when the current Government goes back to the country in 2020 and we have a discussion about what the Northern Powerhouse was all about, and what its achieved, I think the Government will point to our business as the best example of it because what we do is so tangible," said Alex.
@RMTUnion Welcoming Deutsche Bahn to the Railways of the North at Manchester this morning pic.twitter.com/ntJW4tsdwb

— Richie Veitch (@YorkshireHibeee) April 1, 2016
"By 2020 every train will either be brand new or thoroughly refurbished to look as new and every single pacer train will have been retired – that's quite big for the north of England."
Union members have also questioned the competence of Arriva, highlighting that one of the group's sub-companies has already come under fire in the region.
Arriva Transport Solutions, which was appointed to provide non-emergency medical journeys across Greater Manchester in 2013, missed out on a £66m deal to continue their services this year after a series of blunders.
The firm received more than 600 complaints from patients in 2014 alone, and was forced to pay back £1.5m last year after it falsely claimed the money in incentive fees for good performance due to an 'error'.
The Northern Rail MD was quick to defend the new franchise owner, however, stating that the company also run some of the UK's biggest rail operators.
"Arriva are one of the most successful largest passenger transport businesses in the UK and indeed Europe," said Alex.
"They're a very professional company – they're more than well equipped to run this franchise and they run an excellent portfolio across the UK.
"They've got eight businesses – we're in safe hands."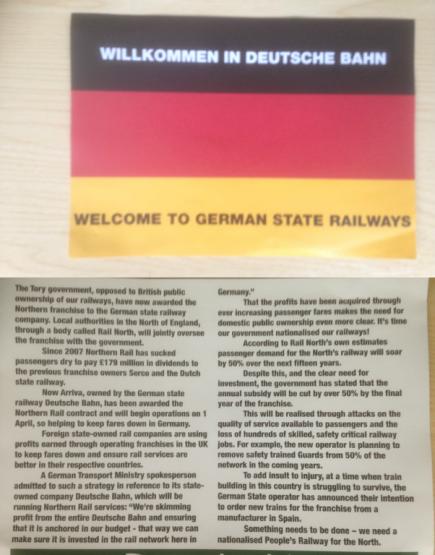 WELCOME TO GERMANY: An example of the leaflets handed out by RMT
Mick Whelan – General Secretary of the union ASLEF – told MM that he is more than sceptical about the takeover.
"They're not replacing these trains out of some great wish to drive forward people using the railways in these areas, they're doing it because they have to," he said.
"Most of the trains they're talking about replacing are the old Pacer units, they were introduced with a nine or 10 year shelf life over 20 years ago.
"European legislation, of all things, has changed and said that they can no longer be operated because they don't give reasonable access for the disabled and other people."
The union boss also voiced concerns about changes to staffing under the Arriva deal.
"Are those jobs going to be the same jobs, are they going to be the same quality and are they going to be geared around professional people being able to de-train people in an emergency or protect the train when it's on fire?" he said.
"Will there be front facing staff when there's possibility of an attack or antisocial behaviour.
"So while I might believe Alex Hynes when he says that there will be the same number of jobs or increased jobs, I don't think it'll be the same jobs and the same quality in the same roles and areas that they are now – and that's our problem." 
Image courtesy of Arriva Wales, via Twitter, with thanks