A campaign group has begun a campaign for Manchester and the rest of the UK to ban shark fin soup, after swarming to the Arndale Centre to rally support.
The nationwide environmental campaign Bite-Back aims to make Britain one of the first countries in the world to ban the controversial shark fin soup.
Every year more than 36million sharks are slaughtered, mainly for their fins, as their crucial limbs are one of the main ingredients in the soup.
The predators are often alive when the fins are cut off before being discarded back into the sea.
In the past 60-years some shark populations have fallen by 90% and Bite-Back claim that fin soup is a major contributor to why some varieties of the deep-sea predator are becoming endangered.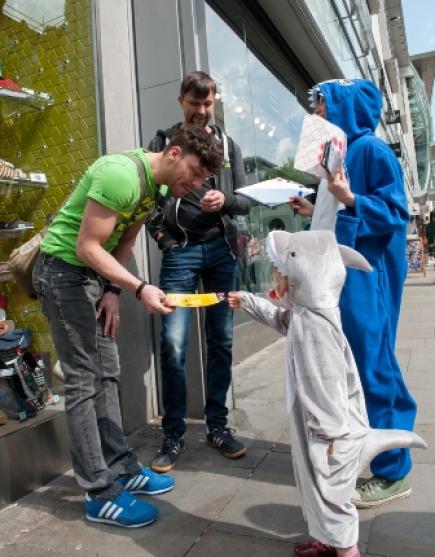 PETITION: Campaigners rally support in Manchester 
 
Campaign director for Bite-Back, Graham Buckingham, said: "The only way we are going to get this barbaric dish banned is by getting the public's support. When people were informed they were mostly showed and disgusted.
"We need to try and nip this in the bud because it isn't acceptable for restaurants to be selling soups which are made from shark."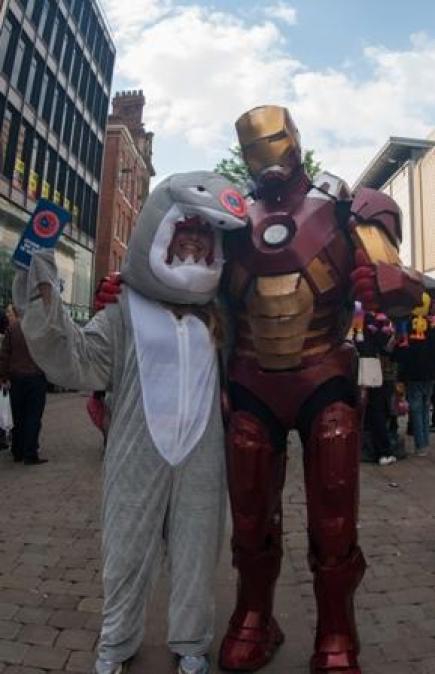 AVENGE: Iron Man took time out protecting the world to give support
 
Bite-Back's campaign 'Hacked off', which kicked off last weekend, saw dozens of supporters spreading their wisdom and inspiring consumers and restaurants to shun the dish.
More than 400 passionate campaigners signed up at the cosmetics company LUSH which gave up part of its Arndale Centre store for supporters to congregate at.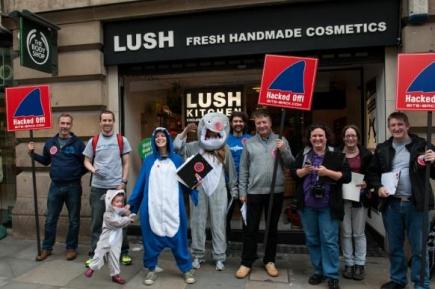 LUSH: The cosmetic company allowed campaigners to protest outside store
 
The 'Hacked Off' campaign has already motivated 16 restaurants in Britain to drop the dish but there are still a further 60 UK restaurants which still serve the controversial Chinese staple.
Protestors cooked up a storm, with some even dressed in shark outfits to mark the occasion , focussing on three restaurants in Manchester's city centre – on Faulkner Street, Princess Street and Deansgate – each selling shark fin soup.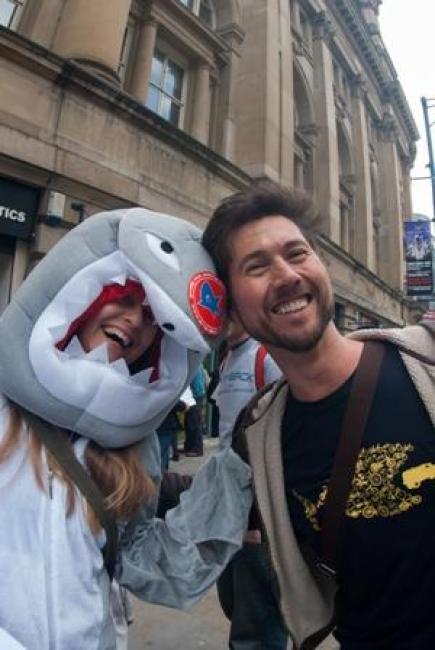 SHARK SELFIE: Some protesters dressed up to support the cause
 
"Considering that Manchester has the second largest concentration of restaurants selling shark fin soup outside London, this weekend has been hugely significant for the 'Hacked Off!' campaign," Mr Buckingham said.
"There's no doubt that the passionate and enthusiast support we received gives us hope that we'll be able to declare the city shark fin-free by the end of the year."