A Manchester Ukip candidate has been branded a 'bloody idiot' by his own party after sharing a controversial post on Twitter.
The tweet, which has since been removed, shared a screenshot of an anonymous post on online forum 4chan which read: 'I'm in Manchester Central and I know it's hopeless but I'm still voting Ukip. F*ck the students. F*ck the immigrants. F*CK LUCY POWELL. POWER TO POWER. MYLES POWER.'
Lucy Powell is the Labour candidate for Manchester Central who will be defending her seat in Thursday's General Election.
Ukip spokesman Gawain Towler told MM that Manchester Central candidate Myles Power meant the tweet with 'very heavy irony'.
He said: "I saw it and I thought, 'What – the – f*ck?' This doesn't feel at all like the man I know.
"I called Myles, and I said to him, 'Reading it, it looks like you are endorsing this statement. I was on the phone listening to his reaction and the horror'."
In the tweet, Power says 'Excellent #Ukip support #GE2015 #VOTEUKIP'.
To make his intention clear, Mr Power told MM: "Firstly, I have not written that post on that forum. I do not stand by it, I do not endorse it, it is not something I support.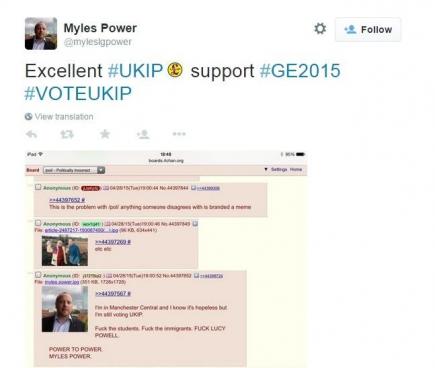 F*CK THE IMMIGRANTS: Myles Power's social media blunder
"I tweeted it to say, 'look at what people are starting to say'."
Mr Towler added: "'F*cking excellent', I said. 'You can't read the irony in a tweet like that.' I do actually believe him, I know the guy personally.
"He was just a bloody idiot who made a misunderstanding."
Ms Powell, who won a by-election in 2011 to become Manchester Central MP, said the tweet was 'another example' of a UKIP candidate 'wanting to offend people rather than offer anything positive'.
She said: "This is yet another offensive and I'll judged comment from Ukip." 
"I am standing on a manifesto which offers a sensible plan to control immigration and to reduce student debt whereas the Ukip candidate would rather insult and offend members of our community."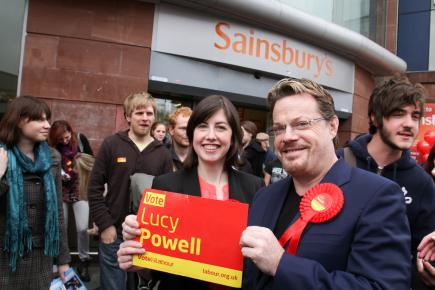 RIVAL: Lucy Powell with the comedian Eddie Izzard at a Manchester campaign event (Pic: Creative Commons, with thanks)
Green Party candidate for Manchester Central, Kieran Turner-Dave said he was at a loss at how to respond to the tweet.
He said: "I don't know what to say, because it's so offensive.
"If you're running for a place in Manchester, you have to respect immigrants and respect students."