Cyclists can pick up advice from a specialist personal injury lawyer in road safety, cycling and the law as the third annual BikeMonthMCR draws to a close today.
Over the last month the city has hosted a number of activities and events including group bike rides, lessons in bike maintenance and repair, and idea pooling sessions to promote cycling as an attractive, accessible and fun way to travel.
More than 200 cyclists bared as much as they dared in the Manchester leg of the World Naked Bike Ride, a celebration of bicycles and bodies, confronting the vulnerability – and invisibility of cyclists on the roads.
Swathes of residents and workers lined the pavements to witness the unavoidable pink-bodied platoon ruling the city's roads for the evening.
The city's first ever CycleHack weekend also saw a team of 'hackers' pooling their creative resources and sharing ideas to confront and work to find solutions to some of the problems faced by the city's cyclists.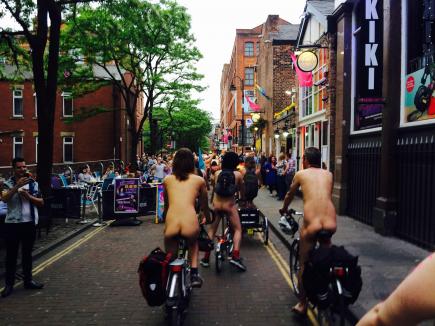 GRIN AND BARE IT: Cyclists take to the streets of Manchester naked to celebrate safer cycling
Common problems included obstacles to safe route planning, safe places to leave leave bikes in the city, and lack of knowledge and awareness both from other road users, and cyclists themselves.
At the beginning of the month, a pop-up Copenhagen Bike Café hosted by charity Sustrans and Transport for Greater Manchester provided the opportunity to gather views directly from local residents about cycling in the region, and find out what would encourage more people to opt for two-wheeled travel.
Bicycle baristas from Coffee Cranks Coop served free coffee and Danish pastries in exchange for participation in Greater Manchester's first Bike Life report, a survey based on the Copenhagen Bicycle Account, which helped make Denmark's capital one of the world's most bike-friendly cities in the world.
Rosslyn Colderley, North West Regional Director for Sustrans said: "The Danish capital of Copenhagen was recently voted as the happiest city in the world and it's no coincidence that over a third of its residents feel safe enough to travel around by bicycle for everyday journeys.
"Greater Manchester has the potential to massively increase levels of healthy, active travel and create a cleaner, safer city, in which people choose to live because of a great quality of life."
To that end, BikeMonthMCR 2015 concludes today with a masterclass from a specialist personal injury lawyer in road safety, cycling and the law.
A keen cyclist herself, Jane Bedford McLaren, senior associate at JMW Solicitors, will share tips on how best to prepare your bicycle for the road, and what to do in the event of a cycling accident.
The talk comes aptly timed, just after a video of a Manchester cyclist running a red light and crashing into a double-decker bus went viral earlier this month.
Jane said: "I am excited to be able to share my specialist knowledge in this area with the people of Manchester, and I am honoured to have been invited along to speak at the event.
"I hope my work and the cases I have overseen will provide great insight for those who regularly cycle on the road and prepare them with the genuine and lawful rules of the road, which will be beneficial to them in the future."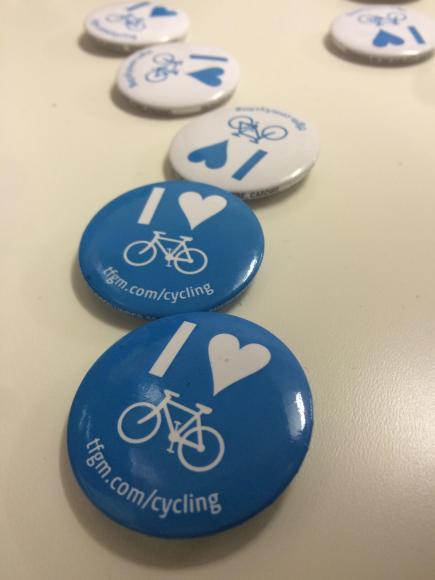 WHOLE LOTTA LOVE: Manchester has spent the last month celebrating all that is great about cycling
The event will take place at Edinburgh Bicycle Co-operative's Manchester store on Wilmslow Road between 7:30pm – 9pm.
Store manager Alex Amato said: "Hopefully none of us will ever be involved in an accident, and equipped with the right knowledge we can not only prevent altercations from happening when we're out on the road but also make ourselves more well-rounded, responsible and confident road users and cyclists."
Free tickets for the event can be booked via: http://bit.ly/MancSeries
Edinburgh Bicycle Co-operative can be found at 7 Wilmslow Road
Rusholme, Manchester, M14 5FT.
For more information, contact the store on 0161 257 3897, and follow them on Twitter @edinbikemanc.