Pro-Palestine groups gathered in Piccadilly Gardens on Saturday to protest against Barclays bank and its investments in companies that supply weapons to Israel.
The bank was forced to close for two hours during lunchtime due to the protests, which saw numerous shoppers and passersby stop to join in. 
More than 1.7million people have signed a petition calling on the major bank company to divest its $3million holding in an Israeli arms company which supplies drones, used to kill Palestinian civilians in Gaza.
Elinor Rooks, from the Palestine Action Group, told MM: "It's always a mistake to think of any corporation in terms of morals.
"They don't exist as moral beings, they're not human. Corporations are entities that exist to make money so if they feel that they can make money by investing in weapons companies, then they will.
"However, if they feel it will ultimately cost them more because their customers have ethics and morals, then they will stop doing that."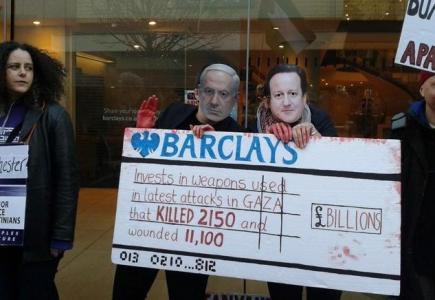 'MORALLY BANKRUPT': Angry protesters demonstrate outside Barclays bank
Action took place nationally to mark the UN day of solidarity with Palestine as pressure mounts on the UK government to suspend licenses for the exports of arms to Israel.
Sam Heywood, from Stop Harming Israel, told MM: They're [Barclays] acting in a way which is morally bankrupt and they're putting their own profit over the lives of people in Gaza.  
"There were demonstrations across the country and several branches of Barclays were closed down.
"The bank can't help but take notice of what people are saying. We will campaign until they pull out their investments from Elbit."
Mohammed Ghalayini, from the Palestinian Action group in Manchester, blamed the government of being 'complicit' in war crimes last week. 
Drones carried out more than 800 major strikes as part of Israel's summer massacre in Gaza, which killed 2,195 Palestinians, including some 500 children.
Entire neighbourhoods were destroyed along with mosques, market places, UN relief compounds and schools were deliberately targeted.
"Barclays have said they've not been investing in the arms trade, but continue to invest in Elbit which is going against their own policy," said Heywood.
"During the South African apartheid there was a similar campaign against Barclays bank, and Barclays became the symbol of a company that was profiting from it.
"Just like, then, the grassroots pressure will force Barclays to call their funds out of Elbit."
Campaigners have dismissed attempts by Barclays to defend its investment in Elbit by arguing that it only holds shares on behalf of customers and for the purposes of hedging. 
The banking company also holds 4.2% of the shares in BAE Systems, which has provided F16 components and other arms to Israel, and more than $42 million worth of shares in Raytheon, a firm which manufactures guided bomb units used by the Israeli air force.
Image courtesy of Elinor Rooks, with thanks.