Teachers at a top independent school in Stockport nicknamed 'Hogwarts' have sparked anger among parents by arranging to send pupils on a Christmas field trip to Africa – just 400 miles from the deadly Ebola zone.
Staff from the Geography department are planning to take the party of 25 sixth formers on a week-long excursion to The Gambia to give youngsters an insight into the country's way of life.
But the trip organised by £10,500-a-year Cheadle Hulme School has provoked protests after fears the pupils will be housed just a few hundred miles from the border of Sierra Leone.
The Ebola virus has killed almost 7,000 people in Sierra Leone and 500 new cases are reported each week.
Parents from other schools have also expressed concerns over their children travelling on school buses in future with Cheadle students who go on the excursion.
Today, a leading surgeon whose daughter was due to go on the field trip urged the 1,400 pupil school to 'see sense' and cancel the excursion after he and an international group of leading medics postpone a humanitarian medical mission to Ghana, West Africa, because of the epidemic.
Dr Magdi Hanafy, 58, and his optometrist wife Sue, 45, is also vowing to keep their 17-year-old daughter Laura away from school for the incubation period of 21 days if her classmates go.
Father-of-two Dr Hanafy, who has alerted the Department of Health and the Department of Education to his concerns, said: "There is no necessity or vital need for the trip. In normal circumstances, yes, the Gambia is a good experience for them, but in abnormal circumstances why would you take the risk?
"The whole of West Africa is very dangerous and for the school to feel they are safe is naïve. Even if they are safe they will be able to transmit diseases which could affect the community on their return. 
"This is not only about my daughter it's about what will happen when they come back. They need to see sense."
Dr Hanafy, based at Leighton Hospital in Crewe, has been a consultant surgeon for almost 20 years. He is a member of Hernia International, who annually travel to deliver self-funded humanitarian hernia surgery in poverty-stricken African nations.
He and a team made up of English, Canadian and German medical professionals were due to travel to Ghana this month to perform free surgery on patients suffering with hernias in the country, however cancelled the trip over Ebola fears.
The school field trip which costs pupils £700 each is the ninth biennial trip to The Gambian High School which last year featured the opening of new school buildings, new wells and a village soap making business.
Dr Hanafy met teachers to discuss the epidemic but staff said it had received from Public Health England saying travel to the Gambia was safe.
He added: "In those countries there are no borders – nothing in the terms we understand here. People just walk around.  The decision was based on the presentation the school had and I was possibly the only one who opposed the idea and on a show of hands many who agreed with going were students.
"It's an irresponsible decision for something so trivial. They could go next year or go somewhere else. They could go outside Africa – money is not an issue, whether we get that back or not.  Our decision to postpone the aid trip wasn't taken lightly. We already had our visas and 40 boxes of medication. My daughter is too upset about not going to understand the danger and to understand we are protecting her."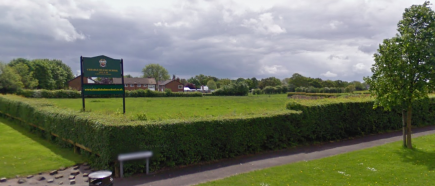 'WHY TAKE THE RISK?': Parents call on Cheadle Hulme School to 'see sense'
His wife Sue said: "When Ebola erupted we changed our minds on the trip because there are a lot of unreported cases in African countries. We know they say there is no travelling between the three affected countries but that doesn't interest me because a lot of African people walk across the border.
"You can't guarantee it isn't there. The school said 'if you don't want your children to go, that's fine, but the trip will go ahead'. I tried to explain that the risk doesn't stop there and there needs to be a 21 day incubation period. I'm really not happy because what if any child catches the virus, how do you know?
"Even if they go and come back and nobody contracts the virus I will still be disappointed in them because they are gambling and they have been lucky in that gambling but they still took the risk."
Sarah Cookhill, whose daughter goes to nearby Manchester High School, is worried for the community as fee-paying Withington Girls' School is also due to go on the trip.
She said: "Manchester High School get on the same bus as Withington Girls', so everybody is concerned," she said. "There's just no sense for the school trip to carry on with the risk involved. If it is going ahead surely the children should be kept away for 21 days afterwards.
"For the sake of a school trip it seems an absolute farce. Either people are downright stupid or they're happy gambling with safety."
Founded in 1855, the school charges more than £3,500 per term and boasts BBC Political Editor Nick Robinson and newsreader Katie Derham among alumni – who are called 'Waconians'. It got its nickname Hogwarts due to the buildings' likeness to the fictional Harry Potter school.
Lucy Pearson, headteacher of Cheadle Hulme School, said: "Cheadle Hulme School has a rigorous Risk Assessment procedure for every trip which takes place, taking into account the distinct circumstances of each visit.
"We have followed guidance from Public Health England, the Foreign and Commonwealth Office, Liverpool School for Tropical Medicine and the UN in carrying out the Risk Assessment for the forthcoming biennial trip to The Gambia, taking into consideration the specific concerns which some parents have regarding travel in West Africa at the current time.
"The official advice given indicates that the trip is safe to go ahead.
"We have held a special meeting with parents to explain, share and discuss this advice, understanding their continuing apprehensions, and gave parents and students the choice as to whether they still wished to continue taking part. A small number have chosen to withdraw yet all families bar one are happy for the trip to continue."
Story via Cavendish Press.
Main image courtesy of Google Maps, inset courtesy of EthelRedthePetrolhead, with thanks.