A group of students are creating a 'pop-up' exhibition at a local museum, highlighting Manchester's medical history.
Masters students on the University of Manchester Art Gallery and Museum Studies course will be curating the exhibition entitled The Medicine Cabinet, with topics covered such as the evolution of medical equipment and the historic role of the apothecary.
The objects are being loaned from the collections of the University of Manchester Museum of Medicine and Health (MMH), and will be located in Chetham's Library – the oldest public library in the English speaking world.
Dr Konstantinos Arvanitis, Programme Director of the course, said that the exhibition is a great opportunity for both the students to learn practical skills and for the museums themselves to attract new audiences.
"Working with the Museum of Medicine and Health and Chetham's Library to produce a pop-up exhibition was such an opportunity," he said.
"We are glad our ongoing collaboration with these two cultural organisations has made this project possible. 
"This initiative has enabled our students to put in practice what we discuss in the class and acquire invaluable real-life experience.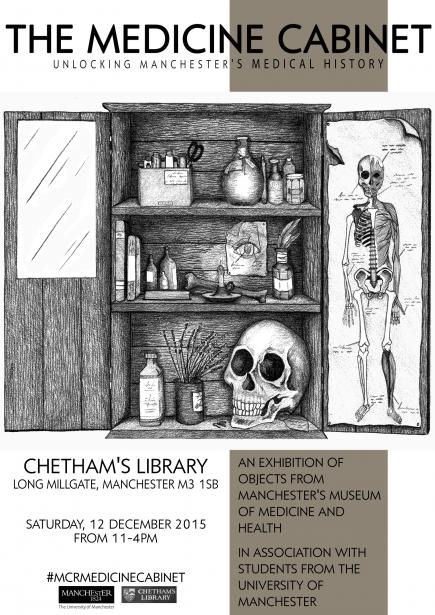 UNLOCKING HISTORY: The initiative allows students to gain 'real-life experience'
"It has offered local audiences and visitors an opportunity to find out more about the fascinating collection of the Museum and do that in the captivating space of Chetham's Library."
Last year was the first time that the course collaborated with MMH, with just one exhibition being chosen to be on display for two months, and the success of that encouraged Dr Arvanitis to widen the scope of the project.
Dr Peter Mohr is a volunteer and key contributor at MMH, and he believes that the museum's work with the course has been a 'great learning experience' for his team, as well as the students.
"Crossing the boundary from a strongly-focused science base has made us widen our thinking and see our collection from a new stand-point," he said.
"The highlight of the 2014 course was a very successful exhibition which ran for a few weeks at the Chetham's Library and was seen by thousands of visitors. 
"The pop-up exhibition this year is only for one day – the challenge is different, but I'm sure it will be successful again."
The Medicine Cabinet will be shown at Chetham's Library from 11-4 on Saturday December 12, and will be free to attend. 
Updates on the exhibition can be followed on Twitter via the hashtag #MCRMEDICINECABINET.