On average, you spend a year and a half of your life in the bathroom.
With so much of your time being dedicated to the hallowed walls of the lavatory, it would logically follow that no matter where you are there should be a loo available.
In Manchester, there is one public toilet in the city centre. You can find it on Lloyd Street.
In itself, this is an inconvenience. In 2011, Manchester City Council shut 18 of their public toilets, in a bid to save £295,000.
In place of these 18 WC's, the City Loos scheme was introduced, wherein businesses could offer up their own toilets as public facilities. There are thus far eight businesses on the list.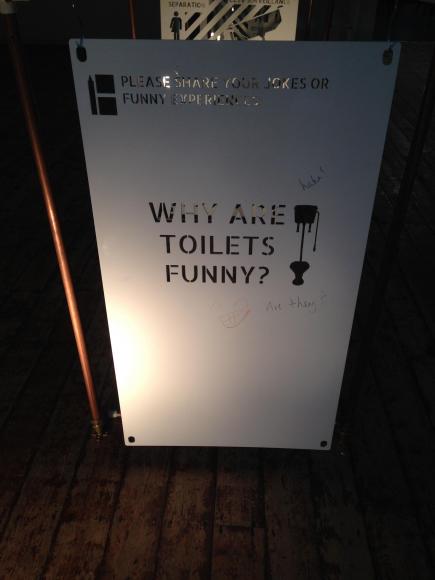 WHY ARE TOILETS FUNNY?: An exhibition at Re-Imagining Toilets
For many – disabled people, transgender individuals, even parents taking their children to the bathroom – this inconvenience can turn into a major source of frustration.
Brian Hilton, the Digital Campaigns Officer for the Greater Manchester Coalition of Disabled People (GMCDP), says that toilets need to be thought of 'holistically', with consideration given not just to those with mobility requirements but with visual and hearing impairments.
He told MM: "A lot of disabled people will go out on the assumption that they won't use the toilet which is a terrible thing to have to do."
Brian also draws a link between austerity and the increasing number of public-private partnerships, citing fears that the access standards of these facilities will be sub-par. 
For the team behind the Arts and Humanities Research Council funded Around the Toilet project, it seemed evident that this was a problem that needed further exploration.
Over the summer, the research group staged workshops and collected stories from those most affected by accessibility issues, as well as working with primary school children in order to get them talking (much to their delight) about toilets.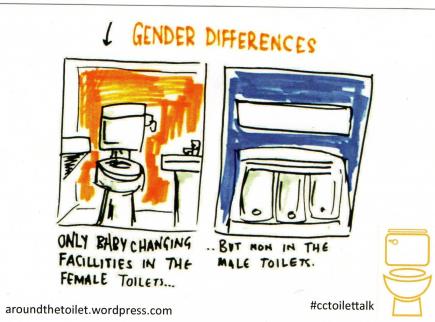 GENDER DIFFERENCES: Re-Imagining Toilets's work was humorous, but carried a serious message
Dr Jenny Slater, a lecturer in education and disability studies at Sheffield Hallam University and part of the research team, believes that the obstacles surrounding toilet accessibility are widespread.
She said: "The first thing we noticed is that it's a really universal thing – everyone has a toilet story.
"For everyone it's really difficult now. The public toilets are being closed down – you end up having to go to the top of Marks & Spencer's which is easier for some people than others."
The research culminated in a one-day event in Manchester's Z-arts, entitled Re-Imagining Toilets: Adventures into the Design of the Public Loo, and featuring a 'toilet maze' installation designed by Sheffield Hallam Master's Architecture students.
Dr Slater told MM: "The stories that stood out were people planning days around toilet use.
"Disabled people planning their journeys around where there was an accessible toilet, people not drinking all day.
My work has been immortalised as political toilet paper. This is ace! #cctoilettalk pic.twitter.com/Ch88iZmcQI

— sarah smizz (@smizz) November 27, 2015
"Some even talked about losing their jobs as a result of the lack of the appropriate facilities.
"One trans-woman said she felt she had to be able to pass as female in order to go to work. She ended up being late because she spent so much time doing her make up.
"So she ended up losing jobs and a lot of that was about not being able to access the gendered facilities or not feeling safe unless she managed to look a certain way, and obviously there was lots of anxiety around that."
For Jess Bradley, a trans-woman and member of the Action for Trans Health committee, the problems that Dr Slater notes are part of her everyday reality.
The project has been a chance for her to highlight the day-to-day issues that she has faced in a space that many take for granted.
She told MM: "It's a very anxious place for trans-people because there's a lot of gender policing that happens there.
"I am often not perceived to be a woman so if I were to go into the ladies toilet I would get funny looks or I might get security called on me."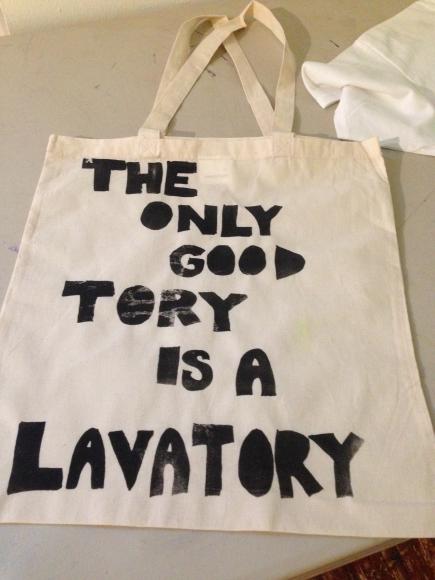 LAVA-TORY: The Government didn't escape a mocking
And with statistics revealing last year that transphobic hate crimes are on the increase, it isn't just a lack of belonging that Jess fears.
She said: "I've been sexually assaulted in toilets.
"A lot of the public debate around toilets and trans-people is framed around that trans-women are secretly men and pose a risk to cis-women.
"In reality toilets are usually a source of violence for trans-people. Trans-people receive violence in those spaces and aren't the people perpetrating violence.
"A lot of trans-people tend to avoid going to the toilet. Some people don't leave the house.
"I know friends who have had urinary tract infections because they've been holding it in for so long, because they don't feel safe going to the toilet."
Although Manchester's Student Union paved the way by contentiously introducing a gender neutral toilet in 2008, and Jess notes that some venues and Canal Street bars are more trans-aware, there is still a long way to go in the city.
She said: "I don't think all toilets should be gender neutral. I think there's a space for gendered toilets in the world, especially for women.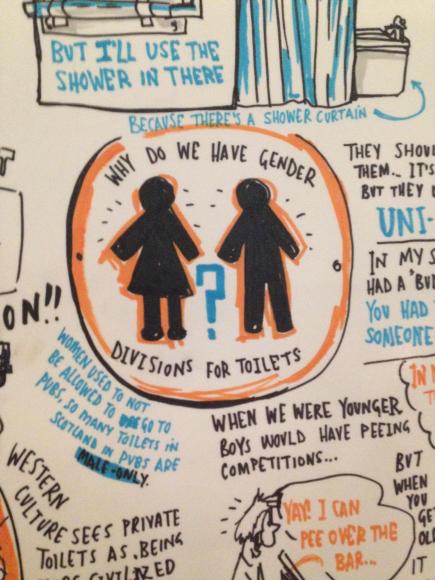 GENDER DIVISION: Jess Bradley believes more should be done to support trans-women in public toilets
"But I think that those women's toilets need to be accessible to trans-women as well as cis-women.
"We need to think more broadly around issues of access that go beyond gender and into stuff like disability and child friendliness.
"Toilets tend to be designed without thought. We need to focus on making them better spaces.
"People think it's niche but it's not just trans people who benefit from gender neutral toilets.
"It's disabled people with opposite sex carers, it's parents with opposite sex children – it's a huge section of society that isn't being catered for."
Although the work of Around the Toilet has so far been qualitative and creative in nature, the group are hoping to effect real change and have created a toolkit for architects and designers which offers guidelines in designing better public toilets for a population with varying needs.
Cis people can volunteer to be 'toilet buddies' for trans people for whom public toilets can be threatening #cctoilettalk

— Dr Liz Chapman (@lgbtlibrarian) November 27, 2015
Toilets, everyone involved in the project seems to agree, are mundane. Sometimes they're quite funny – mostly, as disability rights activist and artist Gemma Nash puts it, if you're 'white, heterosexual and a man', you don't tend to think about them much at all.
But, if you don't fit that remit – if you need a changing place, a grab rail, or a space where your gender won't be called into question – then you shouldn't be forgotten about.
If nothing else, the Around the Toilet team have gone some way in ensuring that those voices are heard – and although it may not be particularly glamorous work, it's certainly worthwhile.