Residents are carefully hopeful the local Bee Network scheme will go ahead and make roads safer for young and elderly alike.
The Urmston Active Neighbourhood scheme aims to encourage people to make take shorter journeys by bike and on foot in Urmston, Flixton , Davyhulme East and Davyhulme West.
The scheme – which has been funded by more than £11 million from Metro Mayor Andy Burnham's £160 million Mayor's Cycling and Walking Challenge Fund – will involve various traffic measures.  
The proposed measures – designed on the basis of around 3,400 comments made by the public as part of the initial consultation in early 2020-  include new crossings, segregated cycle lanes, school streets, modal filters and wider footways.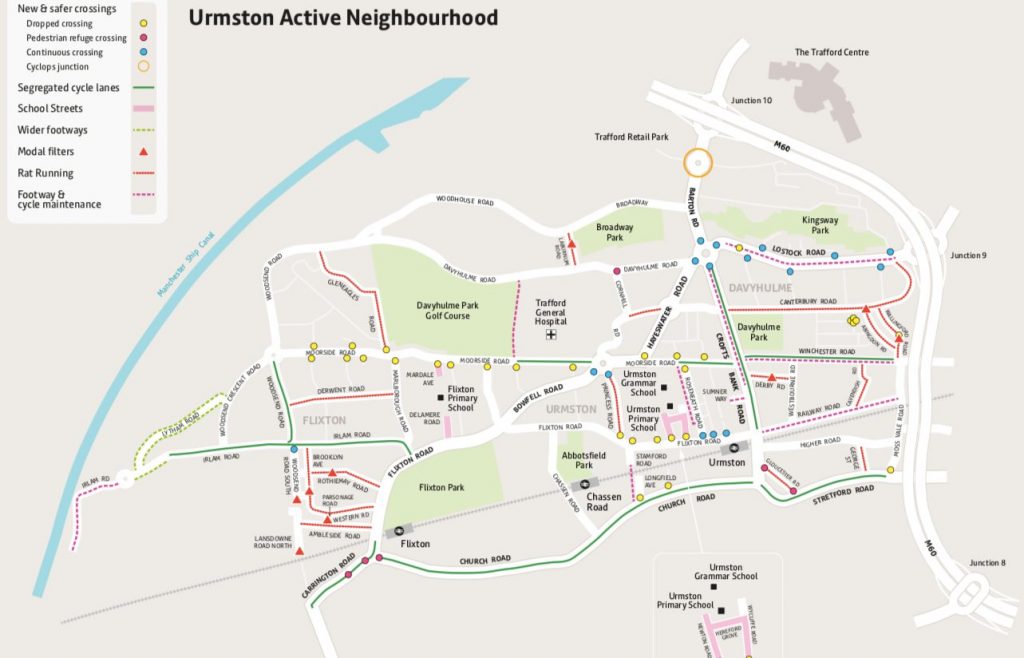 Resident Marie Convery, 43, outlined some issues she has experienced in Flixton, which has the combined issues of a number of schools, roads with through-traffic when M60 is busy and an inefficient bus service.
She said: "You have to be quite able-bodied to run across Flixton road.
"The footpaths are very narrow and some parts have trees growing in the middle.
"Wheelchair uses have to go off-road quite often and there are a number of care homes in the area and you do see a number of wheelchair users."
She is hopeful the Active Neighbourhood scheme will go ahead despite opposition from a small number of residents.
She said: "There are a few really loud, aggressive people who are not willing to try anything, who don't care about teenagers not being able to get around safely or elderly unable to cross the road and the whole plan being pooled because of that.
"And we are stuck with a status quo."
Urmston resident and local business- owner Irina Rusova, 39, said: "My concern with the proposals is that they have not been publicised enough.
"I don't feel the Council and Amey are necessarily bold enough with the plan.
"I also worry about the minority of vocal people who might try to make sure that the Active Neighbourhood doesn't go ahead."
Ms Convery added: "When you can't even get people walking around and crossing the road safely, you have got to start from there.
"I just want to see an integrated network where people can get to the school, to the shops without having to get in the car and feeling safe doing that.
"Just improving young people's lives, not having to wait for their parents to drive them around."
Similar thoughts were echoed by the Cycling and Walking Commissioner Chris Boardman on an Urmston Active Neighbourhood information video.
"It shouldn't take bravery to walk across the street or ride on our roads but the reality is that it does," he said on the video.
Like most aspects of society during Covid-19, the Active Neighbourhood consultation had to adapt digitally.
Residents can view the Virtual Reality (VR) room developed by One Trafford Partnership, a collaboration between Trafford Council and Amey Plc, leave feedback and chat with the project team and Ward Councillors, who are online to answer questions.
Amey's Principal Engineer Steve Tilby said: "Using digital engagement tools will help us to reach the wider community so that they can understand what we are proposing and communicate their concerns without leaving their own homes."
Nosheen Haque, Communications Manager for Amey, explained what steps were take to make the engagement inclusive: "We did feedback sessions, we send proposals out by post to Project Ambassadors from the community if someone's not familiar with using digital platforms like VR.
"We had the Ambassadors post proposals through letter boxes of friends and neighbours to encourage feedback."
The engagement exercise, which is due to end on 18 December 2020, and how to get in touch with the project team can be found here.
Design work will start after an Executive Member decision in Winter 2020/2021.