A driver had to be pulled by passersby from the wreckage of a collision between a car and a minivan on one of the busiest entrances into Manchester city centre.
At around 10.30pm on Friday January 2, a car is believed to have collided with a minivan on the junction of Chapel Street and Trinity Way.
Emergency services were on the scene within minutes, and both the driver of the car and the minivan appeared to be removed from their vehicles without any serious injuries.
Eyewitness Aiden Ryan heard the accident before seeing the damage: "It sounded like gravel being scratched across the floor. It wasn't really loud, but we could still hear it through closed windows.
"We opened the window to see the van toppled on its side and a car with its front end completely smashed in."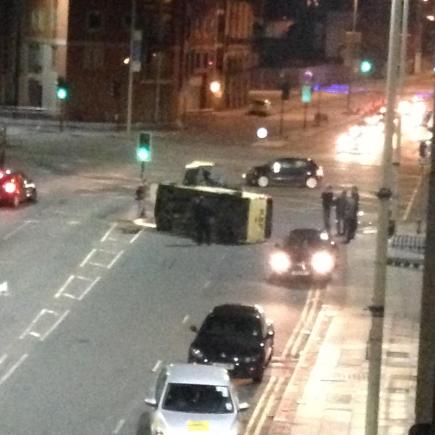 'PULLED FROM VEHICLE': Locals and fellow drivers rushed to drag the driver out of the overturned minivan (© Aiden Ryan, with thanks)
Mr Ryan, 23, who lives in the neighbouring block of flats to the scene of the accident added: "Before the police, ambulance and fire engines turned up, someone had jumped on top of the roof of the minivan and pulled the driver out."
Locals and other drivers pulled over to help rescue the drivers, while three fire engines were dispatched to the scene.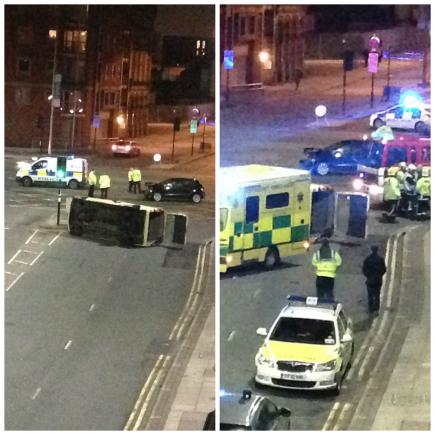 BEFORE AND AFTER: Emergency services arrived at the city centre junction 'within minutes' (© Aiden Ryan, with thanks)
It comes just a few hours after the fire service dealt with a 'major house fire' in Sale, which saw a property on Whalley Avenue 'completely devastated' by a blaze believed to be caused by Christmas tree lights.
Greater Manchester Police and Greater Manchester Fire and Rescue Service could not be reached for comment on the accident.
All images courtesy of Aiden Ryan, with thanks