A new robot has been tested in Stockport in a bid to tackle loneliness and isolation for those living with dementia.
In a bid to tackle loneliness and isolation, MARIO the robot can help find keys, remind patients to take medication and even chat about past holidays.
The project, funded by the EU Commission, was awarded a staggering €4m (approximately £3.5m) and has been trialled in Italy and Ireland along with Stockport, which was the only council chosen in the UK due to its reputation in Europe in the field of dementia.
Currently, there are around 30,000 people living with dementia in Greater Manchester alone.
Along with a built-in sensor which finds misplaced items, MARIO is voice activated and features a number of apps which allow him to talk about the news, call relatives and play music.
The robot also has a 'reminiscence' tool, which shows family pictures and talks about them.
Andy Bleaden, Funding Manager at Stockport Council, told MM: "The idea is around breaking down isolation and to help people connect to friends and family.
"This is not a form of treatment but a potential tool to alleviate some of the everyday struggles people living with dementia face – and for health and social care."
The pilot involved interactive one-to-one and group sessions with MARIO, including the Alzheimer's Society in Greater Manchester and EDUCATE, a Stockport based group for people living with dementia
Yvonne Clarke, from Hattersley in Tameside, was diagnosed with vascular dementia at the age of 52 and spent around three months interacting with MARIO.
For the 57-year-old, remembering medication is more crucial than for others, as Yvonne suffers with type 2 diabetes and needs to inject insulin four times a day.
She said: "This is the thing that we're worried about with me, sugar, because you can't live without insulin – it [MARIO] also reminds you to eat.
"Some days are worse than others. I don't have a day the same. I'm not that bad at the minute but there's people who are a lot worse than me."
After struggling to relate to others in dementia support groups due to her young age, Yvonne believes technology and robotics are a good way of keeping the mind active during the early onset of dementia.
"It's like somebody is just sat next to you. We had a laugh – the only thing he can't do is brew up for me!" she said.
Yvonne's carer of 29 years, Paul Daley, also from Hattersley, said: "I think it would be brilliant for someone living on their own because it's a companion more than anything else… so they're not feeling lonely and insecure."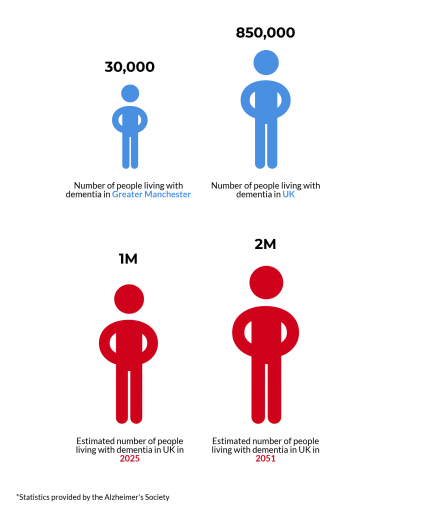 However, both Yvonne and Paul believe the user would need a basic knowledge of technology to see a benefit, which according to Paul, could be 'daunting' for some elderly people.
There is also the question of empathy – robots have limited speech and are not advanced enough to comfort or support a person, so human intervention would still be required to use MARIO.
Andy said: "It was to find out if people who live with dementia can interact with, get along with and work with a robot, and the presumption by health care professionals was that they couldn't."
Although the technology isn't ready yet, researchers say the pilot – which ended this week – has been successful in proving robots could be a strong support tool in dementia care.
For now, it is unclear what the future holds for MARIO and robotics but there are hopes to carry out similar projects in the future.
What is dementia?
Dementia is an umbrella term for a range of progressive neurological conditions. It is caused when the brain becomes damaged by diseases, such as Alzheimer's disease or a series of strokes.
Symptoms include memory loss and difficulties with thinking, problem-solving or communication. Each person will be affected differently by dementia and many suffer with feelings of loneliness, isolation and depression.
Deaths caused by dementia are rising year on year and it is thought to be the 21st century's biggest killer.
Although there is no cure for dementia, a combination of drug treatment, therapy and personal care can help to alleviate the symptoms and combat feelings of isolation.
Alzheimer's Society offers support for anyone affected by dementia. To find your local office, go to https://www.alzheimers.org.uk/info/20170/regional_alzheimers_society_offices, visit alzheimers.org.uk or call 0300 222 11 22.