A giant billboard promoting David Attenborough's inspiring new series A Perfect Planet was the star of a dramatic stunt in central Manchester on Sunday evening.
The poster of a monkey in its natural habitat appeared to burst into flames, revealing an image of catastrophic damage caused by a forest fire, for 30 minutes.
BBC Creative, the team behind the eye-catching scene, used environmentally friendly vapour for the impressive smoke effect which will not be turned on again.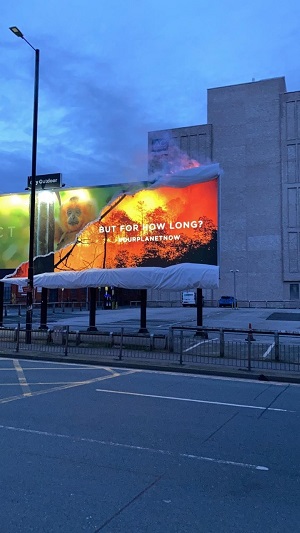 The final episode of the natural history documentary aired on Sunday and invited viewers to reflect on the impact humankind has on the world around us and what can be done to restore the planet's perfect balance.
In the series finale, Attenborough pleaded with the public again to do what they can for the planet: "Right now we have the capacity and knowledge to stop the damage we're doing.
"But what we don't have is time."
Helen Rhodes, ECD BBC Creative, also spoke of the documentary's importance: "A Perfect Planet explains how our living planet operates, but also sends a stark warning of the damage we're doing and the consequences we face if we don't act now.
"Our campaign is designed to support that sentiment, using the shock factor of defacing our own poster to communicate the urgency of the crisis we face."
The special billboard also highlights the BBC's Our Planet Now campaign.
The broadcaster recently announced its target to achieve net zero greenhouse gas emissions by 2030.
Speaking about the campaign Chris Hooper, head of marketing at BBC One, said: "Our Planet now is the BBC's ongoing commitment to providing impartial, vital information about the health of our environment.
"We want to help UK audiences navigate the complex issues around climate change and inspire positive change."