Everybody makes mistakes, but in Sharston a humble bike repair team pride themselves on their passion and determination in guiding ex-convicts back on the beaton track.
BeSpoke, one of five unique businesses from The Message Trust family are based in Sharston, Wythenshawe.
They create jobs renovating old bikes for young and once-wayward people who desperately want to be granted a second chance in life.
Ian Houghton, Manager of BeSpoke said: "We like to employ people who are genuinely trying to change their life, so if that means it maybe someone out of prison, or someone who has not been given a fair chance, we try to accommodate them in one of our businesses."
Mr Houghton told MM that, as mentors, they aim to dedicate 51% of their time to mentoring the youngsters, while the other 49% of time is allocated to renovating old bikes in need of some tender love and care.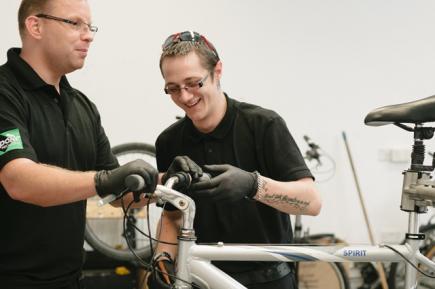 MENTOR: BeSpoke aim to steer offenders in the right direction
 
He said: "That's what these guys need, as much as they do that sense of achievement having done a hard days graft."
BeSpoke is a direct response to astounding number of young people coming out of prison and returning – almost immediately – to a life fuelled by crime.
They decided there must be something they could actively do to change this unsettling reality.
Mr Houghton said: "We offer those who slide back into a downward cycle of repeat offending, being back in court, prison or a half-way house a chance to break away from old lifestyles and ties.
"We hook them up with great local mentors and a vibrant church community to support them; it's about much more than giving them somewhere safe to live and a job which pays a good wage."
Mr Houghton said to date, BeSpoke has seen 17 men and women walk through their doors and not one of them has looked back on their life of misdemeanor.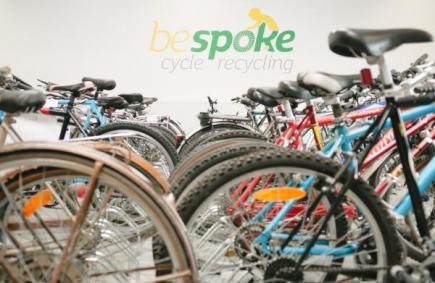 ON THE ROAD TO SUCCESS: To date BeSpoke has mentored 17 men and women 
 
The repair shop receive old bikes as donations from associations such as the police force, and their dedicated team work meticulously to bring them up to a workable, acceptable and impressive standard.
Some donated bikes are only fit for the skip, but from these bikes they usually manage to recycle parts from them; an old saddle here, handle bars there, which they use to restore other bikes.
He said: "We have as much fun seeing a bike come back to life and giving it a second chance on the road as we do the person that has worked to renovate it."
BeSpoke is currently restoring a 1939 police bike – the oldest they have ever been donated – which they intend to use for publicity purposes, alongside a whole host of other exciting and innovative projects.
They are importing some quirky, vintage styled bikes all the way from India called 'Hero' bikes, which are finished in British racing green, complete with intricate chrome detailing, a comfortable leather saddle, old-fashioned rod brakes and a wicker basket if that tickles your fancy.
With the much-appreciated help of Transport for Greater Manchester, BeSpoke give bikes away to job seekers and victims of crime, as part of TfGM's 'Back to Work' scheme.
"If you're currently unemployed, we're the answer to getting to that interview and hopefully your dream job," said Mr Houghton.
BeSpoke also lend a hand to Wythenshawe Wheelers, to keep their bikes maintained for the disabled young people who attend their sessions, which is yet another way in which this inspiring organization help to give back – and then some – to the community on our doorstep. 

HEROES: The vintage styled bikes come all the way from India
 
But the charitable deeds of these scrupulous handy-men  doesn't stop there.
A portion of the proceeds from the sale of the renovated bikes will be donated to the Dalit people living in poor conditions in India.
Mr Houghton discussed BeSpoke's ambitions to help those in India lead more wholesome lives.
For more than 3000 years, the caste system in India has meant that, if you were born as one of the 250 million Dalits – also known as the untouchables or outcastes – then your opportunities in life are extremely limited.
"They have limitations in education, health-care, employment, and even where they can worship, so imagine how difficult it is to be an orphan amongst the Dalits, in a country where there are no Social Services and few orphanages that could care for you," he told MM.
"For every bike sold, your heroic act of choosing such an iconic bike means as well as helping young people locally you'll also be helping a young Indian boy or girl be fed, get an education and even a better start in life."
One of The Message Trust's cornerstones is to 'never forget the poorest of the poor'.
Mr Houghton said: "It's going to be exciting to see these bikes hit the roads of Manchester and beyond, and as we say…the roads need more heroes."