What was once an abandoned fried chicken shop has been transformed into a new life-line for the people of Partington, ready to provide hope, support, and help a hard-hit community back to its feet in the aftermath of the pandemic.
After the town's soft-play centre, The Hideaway, was forced to close last year as the country went into lockdown, director Ruth Lancet was determined to do anything she could to help her community through the difficult times to come, and quickly re-opened the play centre instead as a foodbank and emergency support centre.
"We live in an amazing community, but we are quite isolated from the rest of Trafford, and there are serious issues with poverty and deprivation," she said.
"In Partington over a third of families were already living below the poverty line and struggling to make ends meet, so we knew the pandemic would hit the area hard.
"We wanted to make sure everybody was provided for, and if the shops were empty everyone had access to food, and people weren't at home panicking or hungry."
Conceived initially as a system of emergency response, throughout the pandemic The Hope Centre supported and coordinated the community response to the crisis, from distributing thousands of food parcels and hot meals, putting together hundreds of packed lunches per week, to making well being calls, picking up prescriptions, and anything else they could as requested.
Ruth said: "It just snowballed and grew from there, and as the pandemic went on, our response evolved with it as we adapted to meet the needs of the community."
As the pandemic restrictions began to ease, and life began to return to some semblance of normality, Ruth realised that their work in Partington was far from over.
"We were still delivering more than 100 food parcels a week, and we realised we couldn't just say 'Ok, that's your lot!' People still needed the help and the support."
Partington's recovery was just beginning. There was going to be a need for rebuilding, and for a long-term way of supporting the community in the wake of the pandemic.
For this, a permanent space would be needed.
After discussions with Ruth, Your Housing Group and Trafford Housing Trust stepped in to help.
They renovated the old chicken shop with the help of Travis Perkins and ENGIE, who provided services and materials to the value of £15,000, while the rest of the project was funded by a £33,000 grant from the Trafford Housing Trust Social Investment Fund.
"We are so excited," Ruth said, standing in the aisle surrounded by well-stocked shelves, filled with donated cereal, baked beans and Battenbergs.
"It's such a great way of being able to reach the community, and really be here at the heart of the community."
The Hope Centre has continued and adapted many of its services, providing food parcels, help and advice, affordable local school uniforms, and even just the simple pleasure of a cup of tea and a chat for someone feeling isolated.
Now for £3, or £4.50 for a larger household, members can get a full bag of shopping chosen for themselves from a vast variety of essentials, as well as much-needed treats.
In its first week, the centre has already become a much-loved community hub. People who have enjoyed their support throughout the pandemic are already coming in to use the new shop, and passers-by often wander in through the open door with it's "everybody welcome" signs to look around and meet the team.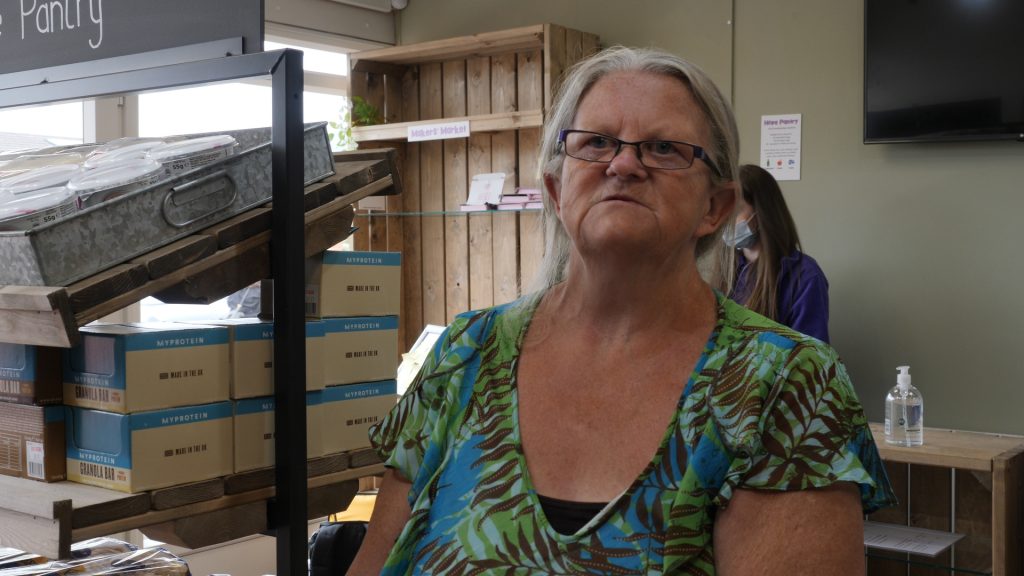 Brenda, a long-time resident of Partington, was greeted with such genuine warmth and enthusiasm when she came through the door.
She told me how she relied on The Hope Centre's food deliveries during lockdown, and found the personal care and support the team showed to her a real help in a time of need.
"I lost two sons in two years, so I wasn't in a very good place," she explained.
"Just having a chat with them when they come to the door to drop off the stuff was a tremendous help, and I know a lot of people have been so grateful for it."
Ellie is a single mum with a three-year-old son, and told me of her daily struggle to make ends meet.
The £580 in Universal Credit she receives monthly is already spoken for by bills, leaving them with little else to live on.
She said: "I don't think I would have been able to cope without this.
"I would have ended up crying on the phone to my mum, but she can only help me so much, and she knows I want to be independent as a young mum."
Ellie hopes to go to university next year, and wants her son to understand how little they had, and how much help the young family was given by The Hope Centre.
She says she has sometimes experienced stigma when using food banks.
"The old chicken shop was in quite a bad way, it took a lot of work to get it looking like this!" said Ruth, as I admired the very swish new premises, fitted out with wooden shelves, wicker baskets, and looking like a place worthy of any hipsterfied high street.
"But it was important to us to make the place look nice, we wanted it to be somewhere that gives people dignity, somewhere they look forward to coming to rather than feeling like they were struggling and had to go to a foodbank."
Above and beyond
It quickly became clear that this understanding and adaptability is what sets The Hope Centre apart. Every volunteer or member of staff is ready to go above and beyond to provide bespoke, individually tailored care to every member of the community and their particular needs and worries.
Sometimes, when someone gushes about how much they really love helping people, it can seem slightly self-congratulatory or unoriginal, but the team here are a day-to-day embodiment of genuine compassion and dedication.
As I watched Aimee escort an elderly lady around the shop, carrying her basket, explaining the system to her, I knew she would have spent as much time as was needed, unhurried and attentive, listening and chatting, finding out if there was anything else at all that could be done to help her.
Built for the community, by the community, with a real, lived-in understanding of the situation on the ground, The Hope Centre has become just what it says on the tin: a shining and unshakeable centre of hope and belonging for a determined and resilient Partington, which I couldn't be more proud to call my hometown.
To find out more, register as a member or offer support, go to www.hopecentrepartington.com