A contemporary and powerful look at the devastating effects of WW1 begins today at the Imperial War Musuem – 100 years since Britain declared war on Germany.
Visual artist Mark Anstee will be inviting visitors throughout August to watch him draw thousands of red and blue army figures who are then projected onto the 27ft high walls of the IWM's exhibition space.
The project, called redblueredblue, hopes to challenge people and get them thinking more deeply about WWI and question the persistent, recurring nature of conflict.
Artist Mark Anstee said: "Opposing colours have been used to denote warring factions in conflict for centuries. Even at school we were given a red or a blue bib to divide us into teams, some days you were red, some days you were blue.
"In contemporary conflicts we have become familiar with the term Red-on-Blue or even Blue-on-Blue.
"These colours were used to map battlefield trenches 100 years ago in WW1, and at some point, the colours were switched. What could possibly go wrong?"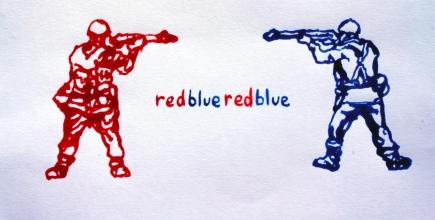 BLUE (OR RED) IS THE COLOUR: Mark Anstee invites visitors to watch him draw thousands of red and blue army figures
Anstee will draw for an hour over 30 days from an extraordinary dazzle painted pod, and each of his drawings will react to what has come before it.
Visitors will be able to follow a virtual battle as each force tries to strategically and ruthlessly out-manoeuvre the other.
As the drawings accumulate, a beautiful and arresting explosion of red and blue figures will cover the interior of the iconic IWM building designed by world renowned arhitect Daniel Libeskind.
IWM North Director Graham Boxer said: "Mark Anstee's spectacular live drawing is a highlight in IWM North's major Reactions14 series of contemporary artistic responses to conflict.
"Specially commissioned to mark the First World War Centenary, this season of high-quality artworks and live performances -covering a wide range of artistic disciplines – will unveil new and unique ways to explore the impact of the conflict on everyone involved."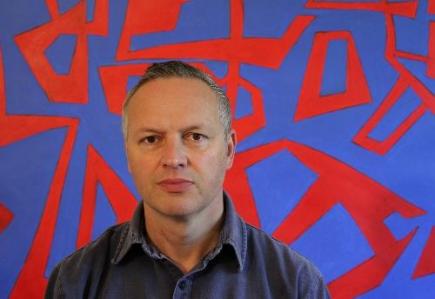 CHALLENGER: Visual artist Mark Anstee hopes to get people thinking more deeply about WWI 
Reactions is a project that works with new and established artists to create art that addresses WW1 from a variety of different perspectives and through a wide range of diverse mediums.
Later this year on October 17 and 18 as part of the Reactions14, the BBC Philharmonic Orchestra will be performing a specially commissioned Libretto by Richard Taylor which tells the story of Salford soldier Arthur Burke,  who's letters are currently on display at the museum.
Entry is free for redbluredblue, and the dynamic artwork will also be live streamed via IWM North's YouTube channel to a number of external locations – allowing the poignant spectacle to be viewed live across the world as well as within the museum itself.