A World War One army officer who carried on fighting the Germans despite losing BOTH legs as he led his troops into battle has finally been honoured with a military parade in his home village near Altrincham – 100 years on from his death.
Captain Edward Bradbury, who died at the age of 33, had been awarded a posthumous Victoria Cross (VC) and called the 'bravest of them all' after he refused to give up on his men just moments after being blown up and fatally wounded by an exploding shell during a breakfast-time ambush.
The former public schoolboy and Sandhurst cadet was facing firepower from 12 German artillery guns – but was heard shouting 'don't let them hear me screaming' before he called for morphine to numb his agonising pain.
He then dragged himself up to the only working artillery gun available, propped himself up against it and then carried on firing at the German troops taking out four of their heavy artillery weapons until he died when all his available shells were used up.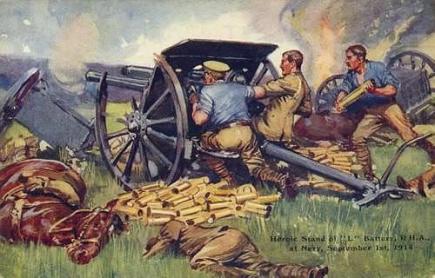 LAST STAND: An artist's impression of Captain Bradbury's bravery (©Cavendish Press with thanks)
His stiff upper lipped-style bravery led to Captain Bradbury being featured on cigarette cards with one dispatch about him and his comrades saying: "They were all badly hit and they are all dead now. They never murmured. They were the bravest and the best of all.''
Captain Bradbury's mother Grace later accepted his VC – the highest military decoration awarded for valour – from King George V at Buckingham Palace and it is currently on display at the Imperial War Museum in London.
But despite his exploits being remembered on military websites as well as on Facebook and Wikipedia, Captain Bradbury's death was virtually forgotten in his home village of Bowdon, near Altrincham.
The only nod to his achievements is the inclusion of his name on a local war memorial to fallen comrades – listed simply as Edward K Bradbury VC.
His family refused to talk about the war and the stories of his gallantry failed to get passed down the generations.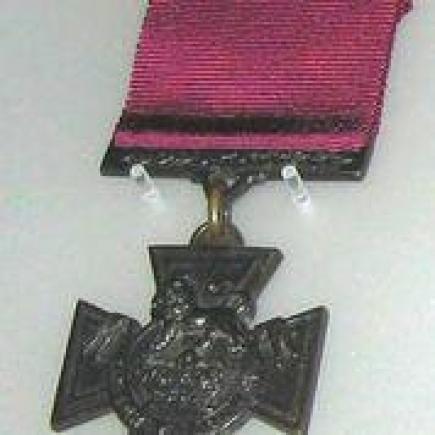 DECORATED: Captain Bradbury was awarded the Victoria Cross for his actions (©Cavendish Press with thanks)
Now, a century since he was killed in action on September 1 1914, the officer – whose father James Bradbury was a judge at the former Lancashire County Court – has been remembered with a special commemorative blue memorial plaque at his birthplace.
Roads in the village were also shut off to allow soldiers from his old regiment the Royal Horse Artillery to march to the unveiling ceremony on Monday.
A distant relative Shirley Graham, 81, a retired home economics teacher from Worcester who helped unveiled the plaque, said: "We are delighted to be here to see our distant cousin being honoured in this way.
"We had no idea Captain Edward existed because the rest of the family had died out. Our father never talked about the horrors of the First World War so Captain Edward was never spoken about in the home, but I do believe my father must have known we had a Victoria Cross in the family.
"Our relative was an exceptionally brave man. Edward was 33 when he died and exceptionally brave, but I think if young men today were required to get up and fight for their country in the way he did they would. We still have young people signing up to join the forces."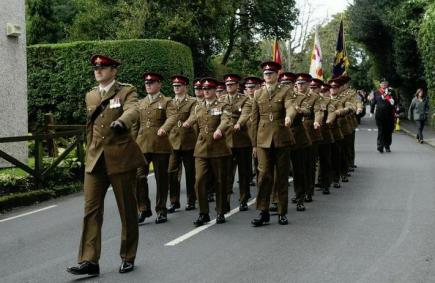 FOLLOWING IN HIS FOOTSTEPS: Captain Bradbury continues to inspire forces today (©Cavendish Press with thanks)
Another distant cousin Janet Knight, 78, former estate secretary, lives in Shropshire.
She said: "I was absolutely thrilled to find there was a Victoria Cross in the family, it is truly extraordinary and soon after I found out I went to the Imperial War Museum to see the weapons Captain Edward would have used in battle.
"When we first heard about Captain Edward we were cross that we had never been told before.  I only found out because after our mother died I started looking into our family history and I discovered that one of our family members had married into the Bradburys and that we had a Victoria Cross in the family. It was amazing.
"When I first saw the photograph of him I thought what a handsome young man. Our relative is a hero and it's very nice that everybody appreciates him."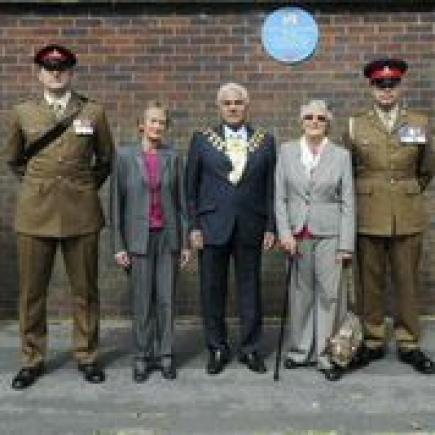 REMEMBERANCE: Distant relatives joined up with the mayor and regiment to pay tribute (©Cavendish Press with thanks)
Captain Bradbury studied at Marlborough College in Wiltshire and after passing out from the Royal Military Academy, Woolwich, was commissioned into the Royal Horse Artillery (RHA) in 1900 as a second lieutenant.
He served in the Boer War in South Africa and by August 1914 he was a Captain in L Battery, RHA.
After the outbreak of war, Bradbury sailed for France but at Néry during the retreat from Mons his troop was decimated by a surprise German attack from 500 yards away and, by 5.30am, dozens of his men and horses were dead.
When the battery commander was knocked unconscious, Captain Bradbury took command himself, dashing to the artillery guns and calling for his comrades to get them firing.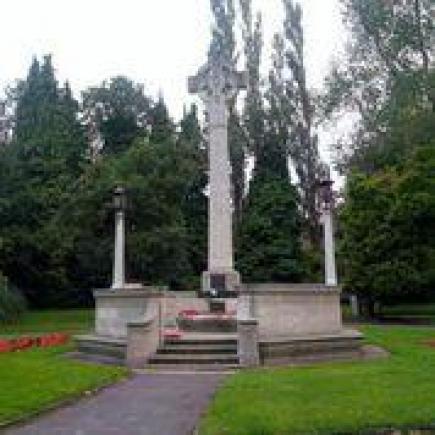 WAR MEMORIAL: The Bowdon monument was the only tribute to Captain Bradbury's heroics (©Cavendish Press with thanks)
Three guns were hauled into action but two were hit, leaving only one firing alone against the twelve German artillery weapons.
Captain Bradbury fired the heavy gun for over an hour, putting several German guns out of action then broke cover to collect more shells from the nearby wagons.
He crossed open ground under heavy fire and had only got a few yards when he was fatally hit by shell fire with one leg and hip completely lost and the other blown off above the knee.
But he managed to drag himself back to his post and continue with his defence. He died still propped up against the gun.
One survivor's account read: ''Bradbury went to get ammunition from an adjacent wagon, but he only got about four yards from the gun when a shell from the enemy completely cut both legs off midway between knees and body.
"He had a hip and leg shot away and the other leg taken off from just above the knee. All he asked for was heaps of morphia, so that the men should not hear him screaming."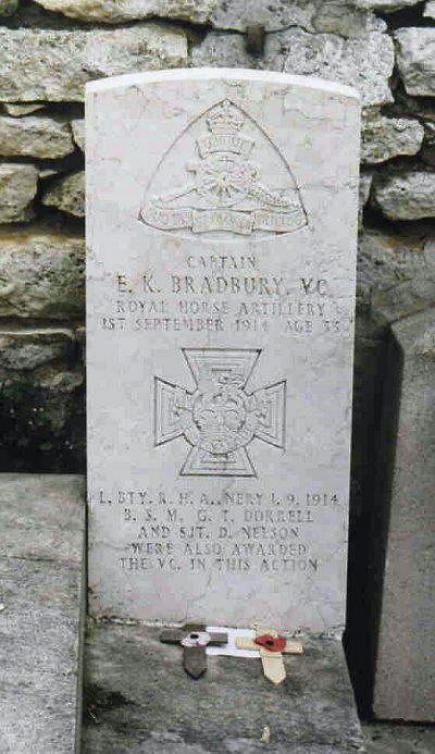 FINAL RESTING PLACE: The officer was killed a century ago (©Cavendish Press with thanks)
Captain Bradbury was later buried at Néry communal cemetery, with other men from the battery.
L Battery adopted the battle honour 'Néry' as part of its title in 1926, and still commemorates the action each year.  Number Six Gun was kept as a reminder of the 'affair at Néry'. Two other VC medals were awarded to soldiers for their part in keeping the gun firing.
Conservative councillor Sean Anstee, Leader of Trafford Council, which organised the parade said: "It is fitting to remember and celebrate the life of such a courageous World War One hero from our borough.
"This event commemorates his bravery and sacrifices – attributes that will be remembered with a strong sense of pride by his family and local people for many years to come."
Another of Captain Bradbury's relatives Caroline Elphick said: "My great great grandmother was the sister of a woman who married into the Bradbury family but we had no idea that we had such a wonderful honour in our family – because it had never been talked about.
"It's extraordinary the secrets that families have. It is something quite special for the family to know that our cousin was awarded the highest honour for his bravery on the battlefield. He was a very brave man indeed."
Story and images via Cavendish Press
Images courtesy of Nurismatic Bibliomania Society and Internet Archive Book with thanks