Manchester pro-Palestine protesters are staging a city centre sleep out to support the 108,000 people who have been left homeless by the recent conflict in Gaza.
The event, held by Manchester Palestine Action, is taking place on the corner of King Street and Police Street as protestors repeat their calls to boycott the Israel based cosmetic store Kedem Cosmetics.
Protests outside the store were capped to groups of ten last week after things got out of hand and tensions mounted between pro-Palestine campaigners and the Friends of Kedem Group.
Mohammed Ghalayini, from Gaza said, "Like most families in Gaza, many of my relatives had their homes destroyed and one attack killed nine members of my extended family.
"Manchester Palestine Action are doing this sleep out to highlight the fact that even though the Israeli bombardment has ceased for now there is a dire humanitarian situation in Gaza. 
"Tens of thousands are without adequate shelter and the whole population of Gaza is suffering from severe water, electricity, food and medicine shortages."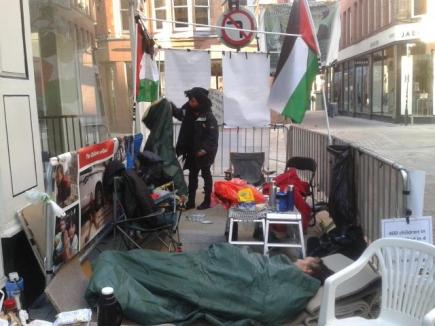 SLEEPING ROUGH: Protestors on the corner of King Street and Police Street
A long-term truce was agreed last week between the Israeli Defence Force and Hamas after six weeks of fighting. 
In that period approximately 2,104 Palestinians were killed according to the UN office of coordination of humanitarian affairs (OCHA), and at least 465 of those were children. 
Seven Israeli civilians were killed and 66 Israeli soldiers also perished.  
Sally Pinder of Manchester Palestine Action said: "We can no longer turn our backs on the Palestinians like the British government has for so many years.
"Israel's crimes of ethnic cleansing, military occupation and mass murder of the Palestinians in Gaza and the rest of Palestine could not continue without British support and complicit companies in the UK."
She added: "The boycott, divestment and sanctions is a non-violent grass roots campaign to hold Israel to account for the decades of brutality against the Palestinians."
The sleep is taking place in a designated protest area close to the cosmetic store, with educational talks and an opportunity for people to take part in the 'Rubble Bucket Challenge' – a Palestinian take on the Ice Bucket Challenge.
Over the last few weeks, the ongoing protests outside the King Street shop Kedem Cosmetics have been a hotbed of tension.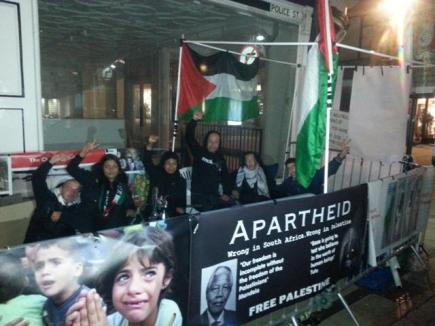 TOGETHER: Pro-Palestine protestors are opposed to the Israel based cosmetic store Kedem Cosmetics. 
Police put restrictions on the number of people protesting outside the store after things took a nasty turn between protesters from each side of the conflict. 
Sir Peter Fahy said at the time: "We have shown great patience in facilitating the protests but it is the cumulative impact of the daily protests which is causing significant disruption to the business community on and around King Street.
"This has led to members of our communities experiencing concern, fear and intimidation – that has now exceeded the legal threshold required under the Public Order Act."
Manchester City Council leader Sir Richard Leese compared the protests to '1930s Germany', as his comments were branded 'irresponsible' by the group.
MP Lucy Powell also criticised the group of protesters, she said on twitter: "Lots of people (getting) in touch about targeting of Jewish-owned shop on King St during Saturday's protest. If true, this is deplorable. Taken up with authorities.
"Whatever your views about events in Gaza and Israel, I totally condemn escalation of violence, it's unacceptable to target law-abiding Brits here."
Violent clashes with pro-Israeli protesters who came to support Kedem left many Mancunians who were walking through feeling intimidated. 
Protests turned sinister when some pro-Israel supporters invited members of the EDL to join them in protest. Friends of Kedem however claim the EDL is not affiliated with the group or representative of their views.
Image courtesy of Manchester Palestine Action, with thanks