Salford's MediaCityUK is to double in size over the next ten years in a £1bn expansion that will create hundreds of jobs.
The scheme, passed this week by planning chiefs in the city, will include building 1,400 new homes, a market square and an events hall.
MediaCityUK hope the plans will increase the amount of renowned establishments that are based in the area such as BBC, ITV and The Lowry.
The announcement comes after the completion of the first half of the 20-year project, and is set to continue to transform Salford's former Docklands site.
The area that the new buildings will be situated is on the north east of the site and will include 50,000 square metres of business accommodation, and over 4,400 square metres of retail and leisure space.
The plans also include the building of a Georgian Square, which will have a public courtyard, six buildings and a winter garden for residents, the Northern Edge, a new 'gateway' comprising three buildings with 632 apartments, six two storey live/work units, office space, retail and leisure uses, a cycle hub and three multi-storey car parks.
A new Market Square will feature a contemporary 'village hall' with seating for dining and square for markets and event while The Arcade – retail/leisure and office space around a pedestrian arcade with office space above – and a Studio Square featuring offices and a pocket park will also be developed. .
Finally, there will also be a "London Square" which will contain town houses, upper floor apartments, a cinema and a gym.
Salford City Mayor Paul Dennett said: "Back in 2006, Salford City Council granted permission for 15.1 hectares of development.  Phase one has successfully been completed and now we are moving towards the second phase which will see Media City double in size.
"This is all part of a major building boom in Salford which is bringing thousands of new homes and square metres of business accommodation to our City creating further jobs and opportunities for the people of Salford.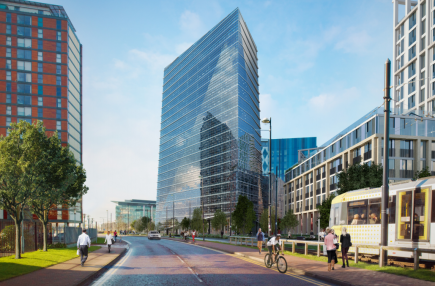 BIG PLANS: An artist's impression of one of the new buildings that make up the ambitious expansion plans
"There is no way of measuring accurately how many of these businesses employ Salford residents but we estimate that around a quarter of the jobs in Salford Quays are held by local people."
At the moment, there are around 250 businesses based in MediaCityUK with about 7,000 people working there. 
MediaCityUK Managing Director Stephen Wild said: "Like any City, we continue to grow in line with the needs of businesses, and our ambition to create more exciting experiences for visitors and residents."