Coronation Street star Julie Hesmondhalgh described the Tory government as a 'fucking proper enemy' at a theatre night to raise awareness of cuts and the importance of trade unions yesterday.
The actress, who plays Hayley in Corrie, was one of many to donate their time to the event hosted at the People's Assembly theatre in the Northern Quarter.
The play readings were part of the Take Back Manchester campaign against the upcoming Tory conference.
Julie, who was in the audience for the debate, said: "Somebody I know who grew up in the nineties said to me once that they envied me growing up in the eighties because we had a proper enemy.
"We've got a fucking proper enemy now." 
The actress went on to discuss the importance of not just going along to demonstrations, but unionising and politicisng ourselves in the 'wider world' too.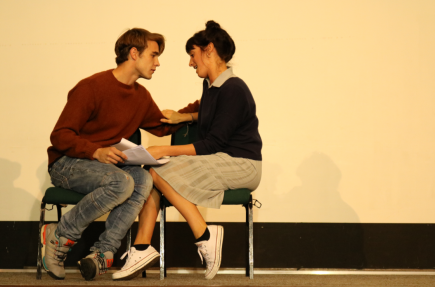 PROTEST THEATRE: Rebekah Harrison said exploring politics in theatre encourage people to start asking questions
She said: "One thing I want to add to that, just in terms of especially for performers, is that I think we need to start seeing ourselves as a collective movement and traditionally actors are pretty bad at that.
"And everyone's out for themselves for the next job and everything and can I say a really central part of that is to be part of the Union.
"It's very important because it's our protection and it's our community as a group of performers, directors, writers, whatever.
"We are the union and we have to be part of it to create any kind of change – and to be part of a movement, a mass movement.
"It has to work both ways we have to be politicised in the wider world as well as be able to come and do things like this." 
Rebekah Harrison, the organiser and a playwright, explained why the performing arts are a great way to express discontent and enact change.
She said: "Theatre is a really important form of protest as it causes people to question and starts discussion."
And Sally Carman of Shameless fame said that by using art to convey issues it makes those problems more relatable to the audience.
"It's a really good way of getting people to understand the importance of issues through art so it resonates on an emotional level," she said.
"These are really relevant things that need looking at on a level everyone can understand and relate to."
Salford and Eccles MP Rebecca Long-Bailey attended the night and highlighted problems in the media and common misconceptions surrounding important social issues.
She said: "We've not got friends in the media, because they're spreading malicious rumours that it's scroungers, benefits cheats, immigrants that are causing the economic mess."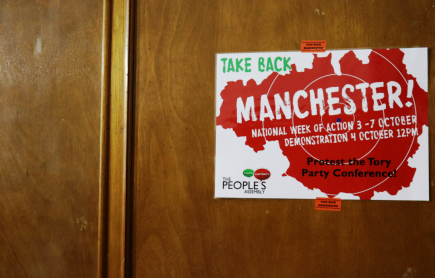 TAKE BACK MANCHESTER: Last night kicked off a whole series of events that will take place across the city between October 3-7
Ms Long-Bailey went on to outline her thoughts on engaging people with politics and told us it was listening to Rage Against The Machine made her political.
She said: "We've got to make a new generation political again, it's about thinking outside the box.
The MP described how theatre and the arts have a role to play in including people from all walks of life in social and political debates.
She said: "I feel our job is to re-educate people as to what's actually going on I think theatre plays a very big part of that.
"The only way we can get out there and start spreading our message is by doing it through forms of protest, theatre, song and dance. "
Ms Long-Bailey expressed her desire to see 'small community events' and productions in town halls, involving the neighbourhood.
She said: "It's about starting with the grassroots again as that's the only way we're going to change things now."
Charlotte Nichols, Vice Chair of North West Young Labour, opened up an interesting discussion on methods of demonstration and getting the message across.
She said: "Sometimes with marches we need to be more creative about the way that we protest and theatre is a massive part of that."
Ms Long-Bailey supported this point, illustrating the urgent need to find different ways to captivate people's interest and attention in public affairs.
She said: "I think theatre is important along with the other arts, it's about educating people from all economic backgrounds.
"We're trying to convince people that social equality is better for everyone we need to find as many mediums as we can to tell people."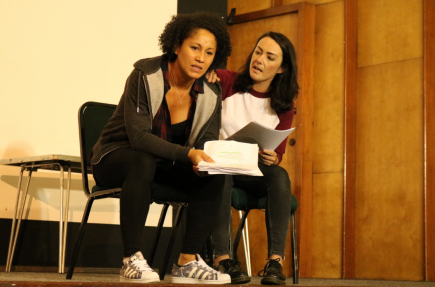 A CREATIVES' RESPONSIBILITY: Cathy Crabb feels it is her duty to explore and convey these social and political issues with her work
Local playwright Cathy Crabb, who is based in Oldham, shared one of her plays at the night, which was inspired by the Manchester Riots' 'bitterness, cruelty and austerity.'
Ms Crabb defined the event as 'feisty and festive' and said that she was on board from the start claiming not everything has a 'monetary value'.
She described her work as taking a 'Trojan horse' approach to drip-feed people ideas about important topics concealed in her writing.
She said: "I think it's just thinking outside the realms of theatre.
"I am getting out there in the community, simplifying language looking at what confuses me in politics and trying to translate that."
Ms Crabb feels it is the job and responsibility of her and fellow creatives to tell a story, 'to exercise your freedom of speech' and to use their 'tools to attract audiences'.
Local director and writer, Ian Townsend said: "Theatre and live performance is one of the most powerful ways to get a group of people together and engaged.
"I think writers/directors/producers need to be braver about the plays they put on."
When asked about artists donating their time to the event, he said: "I don't think anyone thought twice about this. Money wasn't even an issue."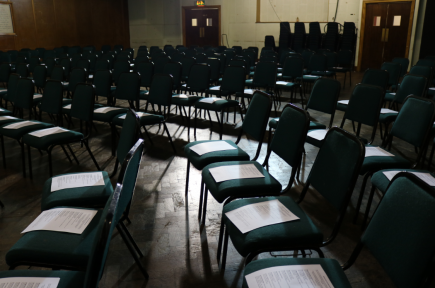 CALM BEFORE THE STORM: With all the protests going on this could be what the Tory Party Conference looks like
Penny Hicks, representative of the People's Assembly who are behind next week's anti-Tory events said that she wanted people to feel 'energised and inspired'.
She said: "When you come to a people's assembly event it's not to feel like anything you've ever been to before.
"The march is really important on Sunday, we've got theatre, comedy, music and everything else going on and the direct action it's a great mix."
Ms Hicks described the week's activities as 'big events, the like of which no city outside of London has ever seen'.
She added: "Something is moving!"
The Anti-Austerity events will be taking place throughout Manchester from October 3-7. Go to the People's Assembly website for more details.  
All images courtesy of Emma Louise Rider, with thanks.