Greater Manchester politicians teamed up today to launch a new transport initiative to cap the daily cost of travelling on public transport throughout the region.
Labour Mayor Andy Burnham joined Conservative Bolton Council leader Martyn Cox and Greater Manchester Local Enterprise Partnership chair Lou Cordwell OBE in St Peter's Square to unveil the Bee Network, named after the symbol of the city's industrial past. 
The plans, set to be implemented by May 2024, will see the council take control of buses across Greater Manchester, introducing London-style fares where there would be a daily cap on transport charges. 
This would mean multiple trips across the bus and tram network would be capped at a set cost of £1.55 a bus journey with no charge within an hour to take another bus journey.
Posing in front of the bright yellow bus, Burnham said: "The cost of public transport is far, far higher here than it is in London.
"In London you can travel around on buses all day and only spend up to £4.65.
"That could be the cost of a single bus ticket here.
"If you live in Oldham and you want to get a job at the airport or in Media City it could cost you a lot of money going to and from those places.
"This will massively change young people's lives in the city region."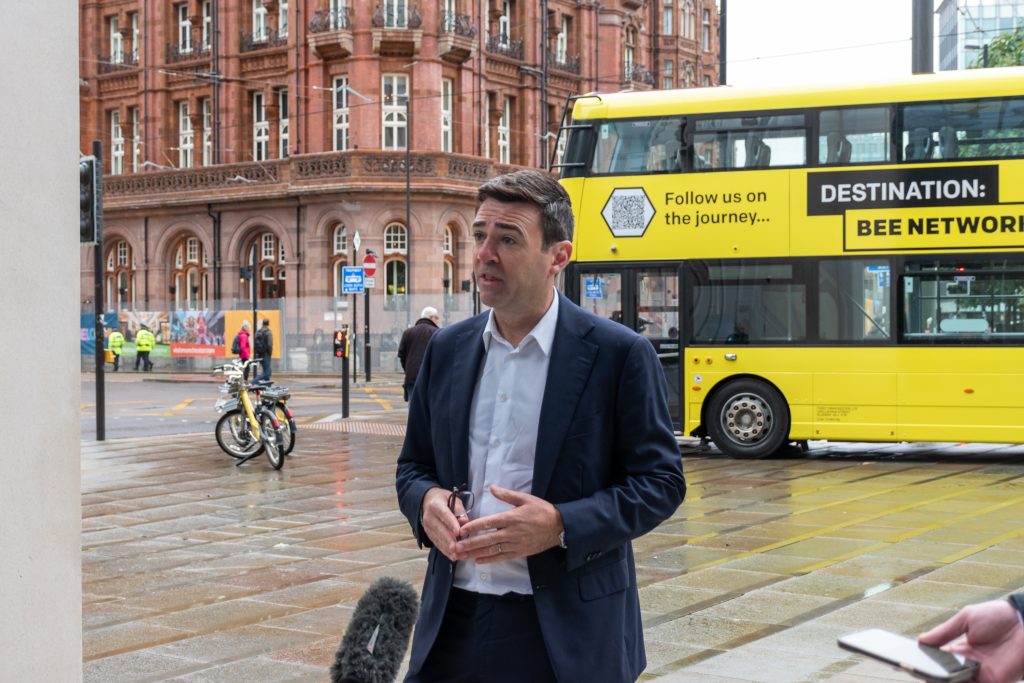 Additionally, the Labour Mayor confirmed a new cycle hire scheme , 'Bee Bike' is on track to be introduced later this year.
To prevent repeating the failure of the previous bike scheme run by private company Mobike, who pulled out of Manchester citing theft and vandalism, Burnham said Bee Bike would require users to use physical docking stations to lock the bikes at the end of each journey.
The mayor described the venture as a cross-party call to the government with the potential to change lives and to close the North-South wealth gap.
Cllr Martyn Cox addressed women's safety concerns regarding Manchester's public transport network.
He said: "We intend to make sure there's also audio-visuals on the bus, I think that will significantly improve safety and make women feel safe.
"You know, our buses are antiquated and I think that will go somewhere to improve safety for women."
Cllr Cox noted that only 5% of Manchester buses currently have audio-visual systems installed, compared to 95% of London buses.
These systems are predominantly used to help people with sight or hearing loss.
Burnham insisted the new transport schemes will not impact on accessibility for disabled people using Manchester's pavements
He said: "We are going to see electric vehicle charging points on our streets. We will have a bike hire scheme later this year but all of that brings more clutter onto the pavement. 
"We've got to make sure that, as much as possible, we integrate those things into single units so that we don't take away pavement space from people who need it."
"We want a situation where car is no longer king, where people are using public transport or they're cycling or they're walking, and that is our vision."