A convicted fraudster and drug user grabbed her 'second chance' when she narrowly escaped prison by launching her own bakery and giving to the hungry – but is now calling on the public to keep her out of jail again.
Francesca Barker, 25, was sentenced at Manchester Crown Court in February 2013 for fraud, and was lucky to have left only with a suspended sentence and a fine. 
Seeing it as her second chance, she seized the opportunity and launched her own business 'The Barker Baker' in June last year.
She uses the bakery in a bid to make a career and give back to society – by baking for food banks across Manchester.
Francesca is bitterly remorseful over her past life was ruled by drugs and crime and she thought she had left it behind.
Yet now Francesca faces prison again after receiving a letter this week from the court informing her to pay her £8,000 fine in full, or to attend court to plead her case with the likelihood of imprisonment.
Unable to pay her fine, she has started a crowd funding website in a plea for public support to help her pay the debt, which she has dubbed her 'keep me out of prison' campaign.
Miss Barker said: "I am not trying to offend people, I know it's distasteful and unorthodox but I have no other options.
"I know to an outsider looking in, I am a criminal and I should pay, I agree with that."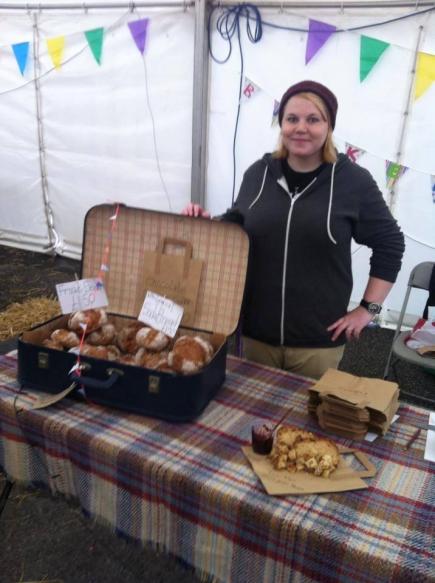 IN KNEAD OF DOUGH: Francesca poses with her baking stall
Escaping jail time was the wake-up call Francesca needed. She luckily found herself in a world of support through probation, drug rehabilitation and mental health professionals.
She said: "My probation officer sent me on a baking course, to keep me busy while I was looking for jobs, I didn't know what to expect but I just fell completely in love with it.
"I have ambition, I want to turn my life in to something good, although I am full of regret and remorse to the people I have hurt.
"In a very backwards way, me going to the police station was the best thing that could have happened to me, it made me see the light in the darkness that was my life."

USING HER LOAF: Everything from soda bread to wholemeal baking on offer
Francesca believes her own business 'TheBarkerBaker' is her salvation to all intents and purposes.
"I want to give back to society, I bake for the food bank, to help feed the people path situation I have walked," she said.
 "I was lying to myself and the people around me, I was totally enthralled in cocaine and used it as escapism, it become the norm, and my life was fake."
With great feedback and support, she is confident about a bright future and urges anybody who has taken to the world of drugs and crime to seek help, before it goes too far.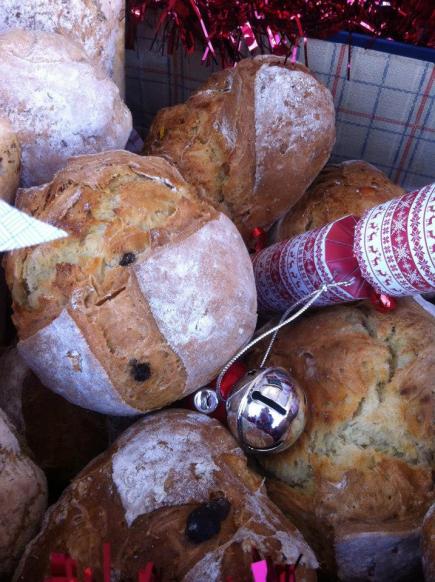 BUN-DERFUL: Some of Francesca's Christmas baking
Her letter to the court is pasted below. The letter has been rejected by the court and Francesca is due before the courts on March 14.
Dear Sir,
I am writing to request a payment extension. Please see the completed document enclosed.
I would like to explain my reasons for this extension request.
Last year, having received my sentence and compensation order from the Crown Court, I was given a second chance to address the wrongs in my life, which started with ensuring stability, so as to make sure I did not find myself in a situation where I made bad choices which would ultimately hinder and not help.
I have worked exceedingly hard to address my mental health issues, working with my GP and other health professionals to ensure the management of my disorder, this involves a combination of CBT and indeed medication, of which I take Citalopram daily. I am pleased to say it is a matter which is now well in hand, well managed and leaves me in a much better state of mind. It has taken a lot of hard work and will power on my part to tackle this head on, but I have done so, to ensure a rehabilitated lifestyle and outlook.
I attended my drug rehabilitation meetings, all of which were immensely helpful and I am delighted to inform you, my drug addiction is a thing of the past, something I have battled for a very long time, has finally been put to bed with the support of people like ADS and Intuitive Recovery.
Having addressed my two major issues and put things in place to ensure they do not control me and that I firmly control them, I spent a lot of time in 2013 looking for a job. I initially applied for JSA but my claim was rejected on account of my living with my partner – who receives a means-tested student loan for her studies at the University of Manchester. This left me greatly distressed and quite the financial burden upon my partner, as she was left to deal with all outgoings alone.
However, with immense determination and several rejections along the way, I was lucky enough to secure a position as a Catering Assistant within the University of Manchester in the late summer. This is a job I take great pride in, and whilst it is a nil hours contract, it is enough to ensure I maintain my obligations to rent, bills, debt.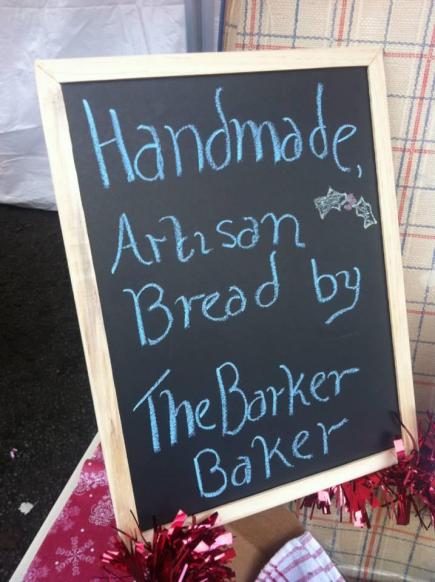 BAP-TASTIC: The Barker Baker stall
My mistakes and my lack of stability left my partner with a considerable rental debt with her University accommodation – this debt remains, and whilst she does have a repayment plan in place, it is my responsibility to ensure those payments are maintained and adhered to. As long as the rental debt is in place, she cannot graduate, because of me. Whilst I understand how important it is to make reparation with the court and adhere to my compensation order, I must highlight how important it has been for me to put all of these things in place to ensure I am finally in a position to do so.
I have been fortunate enough to launch a social enterprise and business through the help of the probation service and people like o2 thinkbig, with the purpose of generating income enough to pay what I owe and put things right. TheBarkerBaker is an initiative born out of my desire to right my wrongs and to pave the way for positive rehabilitation of offenders like myself and indeed for other exoffenders alike.
I take great pride in the fact I have been able to conquer my addiction, to battle my mental health and to gain employment in less than a year out of the court room. I am well aware of my failings to repay this order, and for that I am sorry. The reason I write and request and extension is in the hope that the court understands the paramount importance of my stability. I did not want to jeopardise my rehabilitation by overreaching for something I was not in a position to address fully.
With that in mind, please find my proposal of payment, my standing order confirmation form set up with my bank, and my promise to adhere to this minimum payment with the absolute intention of clearing this as timely and efficiently as possible.
Kind Regards,
Francesca Barker
To see Francesca's 'keep me out of prison' campaign, visit here: http://www.indiegogo.com/projects/keep-me-out-of-prison