Ken Barlow's notorious kimono proved to be one of Coronation Street's most expensive items ever – all because it was too short and showed off his privates.
Corrie boss Stuart Blackburn revealed to MM how Barlow's infamous outfit, sported by actor William Roache, was so short that cameras could see up it.
Not wanting to show Ken 'stark bollock naked', the Corrie team decided to reshoot all the scenes – costing an eye-watering £25,000 – all to spare Roache his dignity.
The glittery garment, donned by actor Roache multiple times over the years, memorably raised eyebrows in 2009 when the long-standing fictional character wore it during a Deirdre dinner party.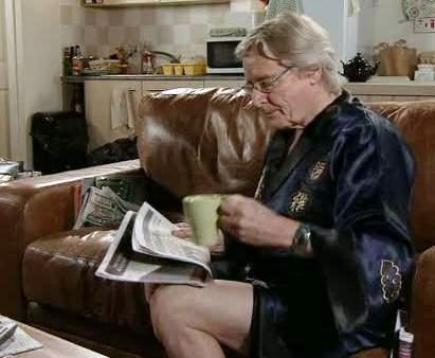 EXPOSED: William Roche's bare leg shows just how short the kimono was
Although a memorable item of clothing, the executive producer of the ITV soap admitted that due to a mishap in the costume department it became possibly the most expensive kimono ever.
"We had scripted a whole load of scenes with it to show how much Ken loved his kimono," he explained.
"However the original kimono that they had got was very short and what they didn't realise was there were going to be scenes of Ken wandering down the stairs.
"If he had worn it he would have been practically stark bollock naked on screen! We had to get a new one and reshot about five scenes all on the barge which costs thousands."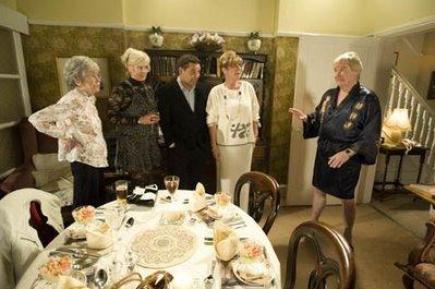 WEARING WHAT!? The Corrie cast look shocked by Ken's choice in outfit
Blackburn, who is a former Emmerdale story editor and EastEnders script writer, also revealed that actor Roache was happy to wear the shorter original – but Blackburn made the executive decision due to audience decency concerns.
It cost the Corrie team around £25,000 to re-film all the new scenes, which were mainly of Barlow on the barge on Weatherfield canal, part of the 2009 affair storyline with lover Martha Fraser.
The dashing kimono in question is on show at the Coronation Street: The Tour which is offering the public the unique opportunity to walk down the hallowed cobbles of the country's favourite street as the former set is open to the public from April 5 for just six months.
A tour guide explained: "When I heard Stuart say how much it ended up costing I thought that it was some sort of amazing antique- ha how wrong I was.
"It is nice as you can see it glitters but the cost is to do with the continuity- if you get the continuity wrong, then everything has to be re-done.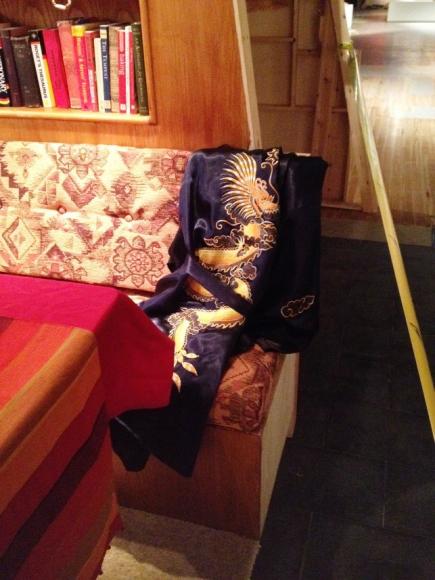 KIMONO ON TOUR: The infamous garment gets an airing for guided tour
"Continuity errors are the bane of set designers, stylists and make-up artist's life. Everything always has to be exactly as it was."
Along with the expensive item of clothing lots many more quirky gems from the past of the show are available to see including Becky McDonald's OTT pink wedding dress, Deirdre Barlow's famous spectacles and even Roy Cropper's classic cardie.
And of course there's the chance to explore the whole of the street, with the photo opportunities galore that will bring outside the Rover's Return. 
Also back in Weatherfield for the tour's final preparations was Brian Capron, who played the Street's infamous serial killer Richard Hillman.
He revealed to MM that he still gets people screaing 'murderer' at him in Manchester, despite leaving the show more than a decade ago.
Images courtesy of ITV press office / ITV via YouTube, with thanks, except kimono pic, copyright of MM.