A masked man who wielded a sledgehammer and stole thousands of pounds during a cash-in-transit delivery in Wigan is being hunted by police.
The masked man and an accomplice struck at about 9am on May 30 at the Asda superstore on Priestners Way, Leigh.
Two men in a silver Renault Laguna Estate – which was fitted with false plates – had been waiting to rob a Loomis van.
The masked man got out of the car and ran towards the cash delivery driver wielding the large sledgehammer.
He demanded the cash box which the driver threw on the floor before the thief picked it up and got back into the waiting Laguna.
He and his accomplice then drove off along Atherleigh Way, Kirkhall Lane and finally onto Furnival Street.
The car was then abandoned in an alleyway and set on fire.
It's then thought the men got into a second car, which drove up Leigh Road towards Howe Bridge.
It believed the car was a grey or silver-coloured Peugeot 206 displaying the partial registration number MX54, which is believed to be a false plate.
Police have now released CCTV images of the masked man brandishing the weapon as he committed the robbery.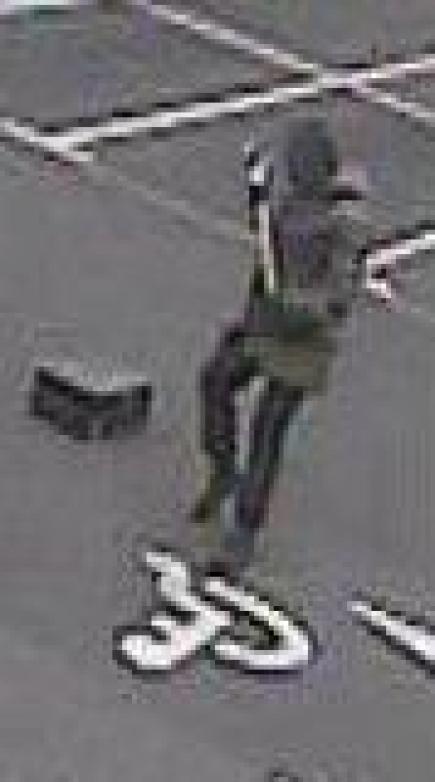 WANTED: Police are hunting for the attacker
The thief is described as being white, of slim build and in his mid to late 20's.
He was wearing a woollen balaclava, woollen gloves and a khaki green Parka-style jacket.
Detective Constable Alison Wallwork, said: "As the images we have released clearly show, the offender had armed himself with a very dangerous weapon with one intent – to cause as much intimidation and fear as possible in order to get his hands on a very substantial amount of cash.
"Thankfully there were no physical injuries but as the images show, there were members of the public shopping at the time and both they and the delivery driver were extremely shocked.
"It is very lucky no-one was injured as no-one can control what happens in such a fluid and dangerous situation.
"We need to find the offender, his accomplice and the money they stole and send a message that this sort of violent robbery will not be tolerated.
"Security guards and cash-in-transit delivery drivers do not deserve to be targeted in this way. It is not an occupational hazard and those responsible will face a long stint in prison."
Police are appealing for anyone who was at the car park during or after the incident or any motorists who were driving in the vicinity at the time to come forward.
Anyone with information should call police on 0161 856 7292 or the independent charity Crimestoppers, anonymously, on 0800 555 111.
Image courtesy of Wigan Police, with thanks