Police are investigating a 'bloom-dunnit' Manchester mystery in one of Britain's safest villages after more than 80 plants were looted from flower beds in a raid feared to have been motivated by jealousy.
Villagers in sleepy Dunham Massey which is named in The Domesday Book and is renowned for being crime-free were left  outraged after the haul of red geraniums were taken in two dead of night raids spanning 48 hours.
The bedding plants were among 500 geraniums planted to commemorate local men who gave their lives during World War One. But it is thought they were taken by outsiders who were jealous of the beautiful display – and wanting the plants for their own gardens.
Each of the 86 geranium plants had been carefully removed from the displays each leaving holes in the soil where they once flowered.
Today, police had been dispatched to the rural Cheshire village – where the population is just 475 – to take statements about the thefts in what is being dubbed a 'bloom-dunnit' by locals.
The former Saxon village, which has 45 listed buildings, is traditionally known for a magnificent Georgian stately home and a 197-acre deer park which dates back to 1353 and is renowned for its wildlife.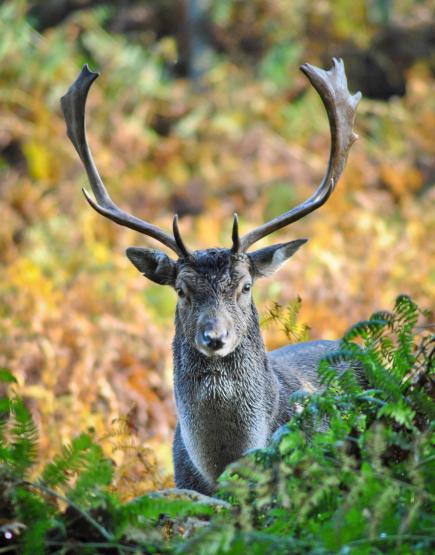 WILDLIFE: Deer are among the animals that call the village home (© Paul with thanks)
Parish Council chairman Paul Lord, 44, said the thefts had caused a lot of anger in the village.
He said: "It is clear to us all that they have been taken by people who are so impressed with the displays that they want them in their own gardens. It is either that or people think that they can sell them on at car boot sales or something similar.
"We had an awful lot of help in creating the displays, from local school children and community groups. This is a real blow, and there has been a lot of anger.
"It had been set up as a war memorial and that has added to the anger. The red geraniums were representing poppies. The display had gone down very well and cost us around £300 – and we cannot believe a lot of them have now gone.
"Each time, the flowers have been taken away very carefully so it cannot be vandals otherwise they would have been strewn everywhere. These flowers were not difficult to take because they had only just been planted.
"But it seems to us all that these plants have just ended up in a lot of people's gardens. We have contacted the police and they have been down to take statements."
The theft took place within two days of the flower bed being completed. Villagers awoke to find 40 flowers were stolen and were barely cursing their luck when 40 more were taken just 48 hours later.
Villager Susan Brotherton, 59, said: "It's despicable really, what some people will do in this day and age. Flowers have been stolen before but not on this scale – and they obviously wanted them.
"I doubt very much people from round here will have taken them. It's a nice area and people would not steal from their neighbours. It's such a shame because there is never any crime in Dunham Massey.
"It would nice to think they would put the plants back after the upset that has been caused – but I'm not holding my breath."
Jane Leopold, who lives on a barge near to the village, and works at a tea room said: "Nothing bad ever happens here so it's a shock.
"The people who did this must be putting the plants in their own garden. It's terrible. It was a nice thing to do to have the flowers so it just shows what people are like today.
"It's such a shame but it won't be anyone from the village. We've never had anything stolen in Dunham before. It's the kind of place where you can leave your stuff outside and no-one will take it."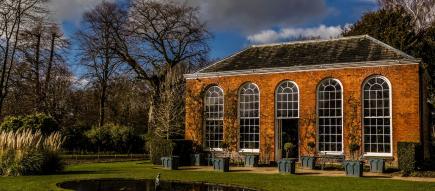 PICTURE PERFECT: Dunham Massey's Orangery (© Highlights6 with thanks)
Catherine Bushell, 75, lives in the village, said: "We were all devastated. A lot of people had put a lot of time into making this flower bed look lovely.
"It's always had a nice show of flowers so I don't know why anyone would want to ruin it. They must want to sell them I guess.
"The villagers have been talking about nothing else but no-one can think who it might be and who is responsible. My son's a farmer so he helped fetch the plants and plant them so it's a shame it has been ruined."
In a statement, Greater Manchester Police said: "Officers answered a report of 86 plants being taken from flower beds. The circumstances of where they were taken is unknown but inquiries are continuing."
The name Dunham is derived from the Anglo-Saxon 'dun' meaning hill. The Massey element of the name is a result of its ownership by the Massey family.
The manor of Dunham is recorded in the Domesday Book of 1086 as having belonged to the Saxon then Aelfward before the Norman Conquest of 20 years earlier.
Dunham Massey Hall became the home of the manorial lord and was built in 1616 and is currently owned by the National Trust.
In the village there are many listed residences, most of them dating from the 18th or early 19th century, and many of them featuring Flemish bond brickwork and slate roofs.
The 192-acre Dunham Park has such a concentration of old trees it is a site of national importance. The park supports a range of animals, including fallow deer and over 500 species of insect.
Story via Cavendish Press
Image courtesy of Public Domain Pictures, with thanks.