A staggering 43,906 deaths have occurred as a result of Covid-19 amid the coronavirus pandemic in the UK, compared to just 974 in Japan.
The total number of cases in the UK stands at 313,483 so far this year, with the first death recorded on March 6 before national lockdown was called two weeks later.
Japan, meanwhile, despite recording their first case on January 15, have had just 18,723 confirmed cases of coronavirus reported — almost 17 times fewer than the number of cases reported in the UK.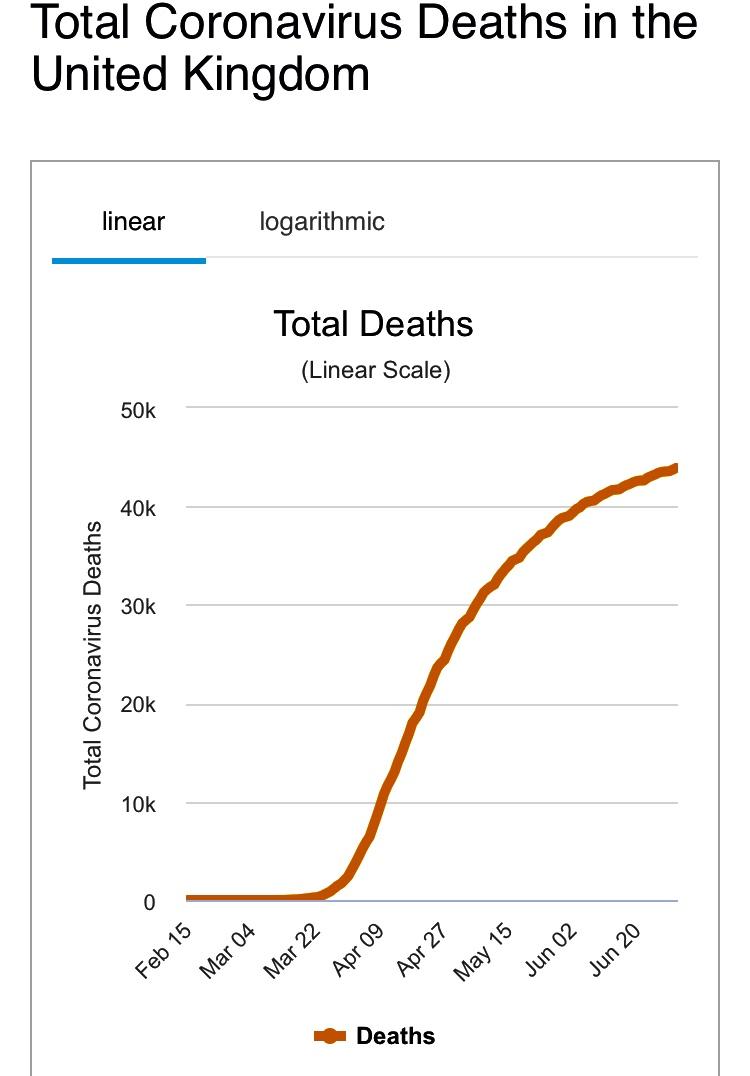 In the UK, an average of 65.5 people per 100,000 in the population have died from Covid-19 — the second highest in Europe after Belgium with 85.2.
When the UK began its lockdown on March 23, coronavirus deaths already stood at 359, meaning the virus was already growing at an alarming rate well before it had reached its peak.
The most number of deaths in the UK came in April as 24,346 deaths were recorded across the month, compared to just 373 in Japan.
On April 7, Japanese Prime Minister Shinzō Abe declared a national "state of emergency" where he urged people to stay indoors. The Japanese government opted not to conduct large-scale tests amid the fear that hospitals could become overcrowded by people who test positive, but only with mild symptoms.
Japan suffered its most deaths in the month of May as 461 fell victim to the deadly virus, with the biggest spike happening on May 4 when 49 died — Japan's most deaths across a single day from Covid-19.
The UK's highest single day death toll came on April 21 when they suffered 1,172 deaths — one of nine days between April 7 and April 24 when they suffered more than 1,000 deaths over a 24-hour period.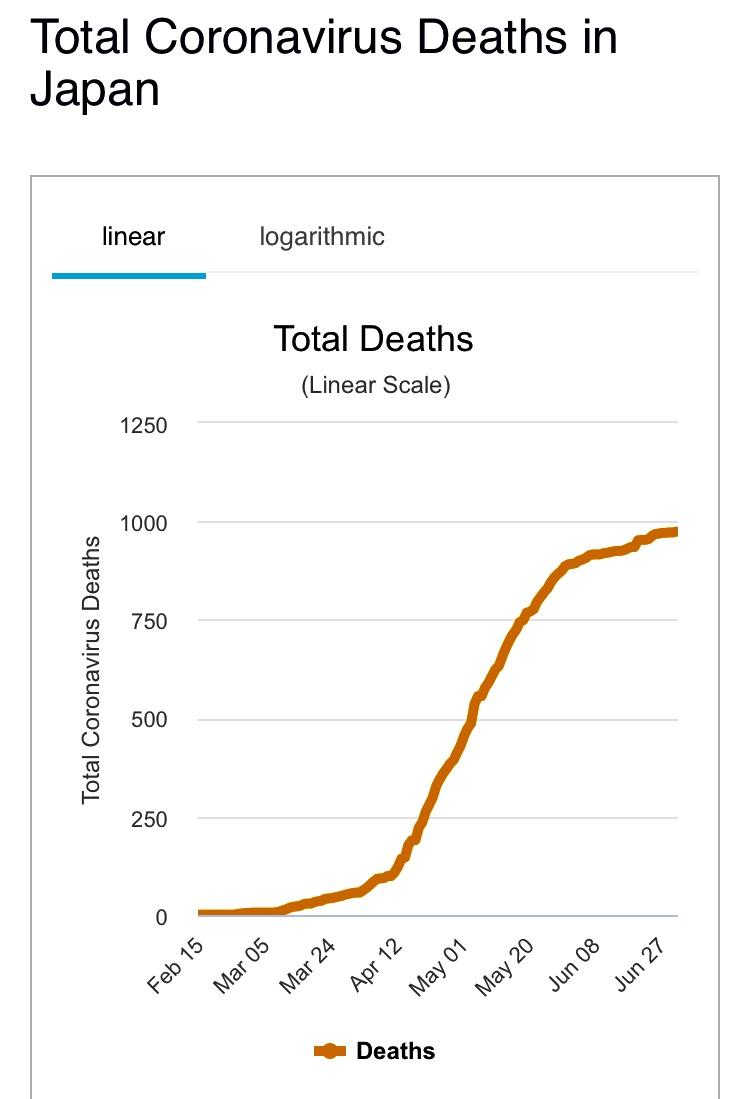 Demographics 
Geographically, comparing the UK to Japan in terms of the number of coronavirus deaths suffered is sensible because of the demographics of both countries.
The UK is an island in Western Europe and the Atlantic; while Japan is also an island situated in the Far East and the Pacific.
In terms of demographics, the UK has a population of around 67.9 million at a size of 242,495 km². On average, around 275 people per square kilometre inhabit the UK.
Japan has a population of around 126.5 million at a size of 377,915 km². The country has an average of 336 people per square kilometre living there.
The most densely populated area of the UK is capital city London with a population density of 5,701 inhabitants per square kilometre. Tokyo, Japan's capital city, has a greater population density than that of London with 6,158 people per square kilometre.
Furthermore, the older generation (over-65s) are more vulnerable at the hands of coronavirus than younger individuals. But the fact Japan has, on average, the oldest population in the world while the UK is 24th on the list, indicates that the Japanese population were in theory more likely to be affected. However, it has been the complete opposite effect.
Japan
Population: 126m
COVID19 deaths: 624

UK
Population: 66m
COVID19 deaths: 31,855

This is staggering by any estimation.

— Ciaran Jenkins (@C4Ciaran) May 10, 2020
The UK's handling of the coronavirus pandemic has frequently been compared to that of New Zealand, where just 1,528 cases and 22 deaths have been confirmed. 
However, the fact New Zealand has a population of just 5 million in a country that covers 268,021 km² means that on average, 15 people per square kilometre inhabit the land. Therefore, the virus was easier to control in such a sparsely populated country, making New Zealand an inadequate unit of comparison to the UK in relation to Covid-19 cases.
Still, if one was to measure the UK's handling of the coronavirus pandemic against a more suitable unit of comparison in terms of demographics, then there's a huge difference in the way it has been dealt with as Japan have contained the spread far more effectively than the UK — hence the reason they have far fewer cases and deaths.
Strategies: Johnson vs Abe
UK Prime Minister Boris Johnson, who himself contracted coronavirus on March 27 before self-isolating and recovering, has been heavily criticised for imposing compulsory lockdown too late and not carrying out enough tests. 
Japan, though, didn't at any point impose compulsory lockdown. Nor did they carry out rigorous testing on the level of neighbours South Korea, who were more prepared than any other country due to their experience of dealing with Middle East Respiratory Syndrome (MERS) outbreak in 2015 — another type of coronavirus.
Japan's special contract-tracing strategy worked effectively as they monitored Covid-19 cases so that people could be quarantined if they shown symptoms. Japan's approach also tries to find out where they were infected, and then monitor people who visited the same site.
They also used the fact that they were one of the first countries to record a case of the coronavirus to their advantage as they declared their first case on January 15.
But they would really be put to the test on February 3 when the Diamond Princess Cruise Ship appeared on Japanese waters with 3,711 passengers on board. A passenger who had left the ship from Hong Kong tested positive for coronavirus before over 700 more became infected on the ship over the course of next month.
From February 5, Japanese officials on the ship confined passengers to their cabins for two weeks to help restrict the spread of the virus.
As well as a constructive tracing system and learning from early experience, Japan also had a population who were disciplined and followed the procedures given to them by Abe, who unlike Johnson, has led his country effectively during the coronavirus pandemic.
From a health perspective, Japan's obesity rate is just 3 percent compared to 28 percent in the UK, meaning individuals who contracted the virus were in a healthier position to recover. An impressive 94 percent of known infected individuals have recovered from Covid-19 in Japan.
Japan's impressive technological prowess, along with their disciplined population and hygienic standards of living, meant the country hardly had to adapt their way of life to deal with a pandemic that has hit the world, particularly the West, extremely hard.
The changes they did make, they made in a diligent manner.
The "three C's"
After the early experience of Japan dealing with Covid-19 on the cruise ship, Abe urged Japanese people to avoid the "three C's" — closed spaces, crowds, and close-contact settings as he attempted to control the spread early.
At a press conference on May 26 when he declared an end to the six-week long state of emergency in Japan, Abe praised the "Japanese model."
"With this unique Japanese approach, we were able to control this [infection] trend in just one-and-a-half months. I think this has shown the power of the Japanese model," Abe said.
In contrast, the UK were slow to react as they failed to learn from fellow European countries Spain and Italy, who were hit by the virus before they were.
Rather than monitor and trace as they did in Japan, the UK government simply advised people with symptoms of Covid-19 to self-isolate for 14 days and call emergency services should they experience breathing difficulties — in turn putting strain on the NHS.
In addition, Johnson's chief adviser Dominic Cummings was found to be breaking lockdown rules; and on Easter weekend in April when the virus was at its peak in the UK, Greater Manchester Police shut down 660 parties in the area.
Non-socially distanced protests in Britain's major cities followed in May as large-scale street violence and clashes with police occurred as a result of the George Floyd incident in the United States, albeit still amid a pandemic.
Japan, on the other hand, learned from early experience of Covid-19 cases on the cruise ship to declare a state of emergency at the exact right moment with the population following Abe's procedures to contain the virus.
It's fair to say that Johnson lacked Abe's astuteness to act at the right time, and that the UK population lacked the diligence which the Japanese population have displayed in abundance throughout the pandemic.
Kenji Shibuya, a public health expert at King's College London, in May said: "If the decision had been made a week later then the number of cases would have exploded.
"Japan's mild lockdown seems to have had a real lockdown effect."
Images courtesy of Worldometer, with thanks.