Deaths from drug poisoning in England and Wales were the highest on record in 2020, according to data published by the Office for National Statistics today.
A total of 4,561 people died in 2020 due to drug poisoning, 3.8% up on 2019 – two thirds of deaths (2,996) were related to drug misuse.
The figures are based on the date a death is recorded and around half of the deaths occurred in 2019, with the majority before the pandemic.
The data shows drug deaths continue to increase year on year – the number who died in 2020 was almost double that of 2010.
Rates of drug-related poisoning were 60.9% higher in 2020 than they were in 2010 and the rate of drug deaths has increased every year since 2012.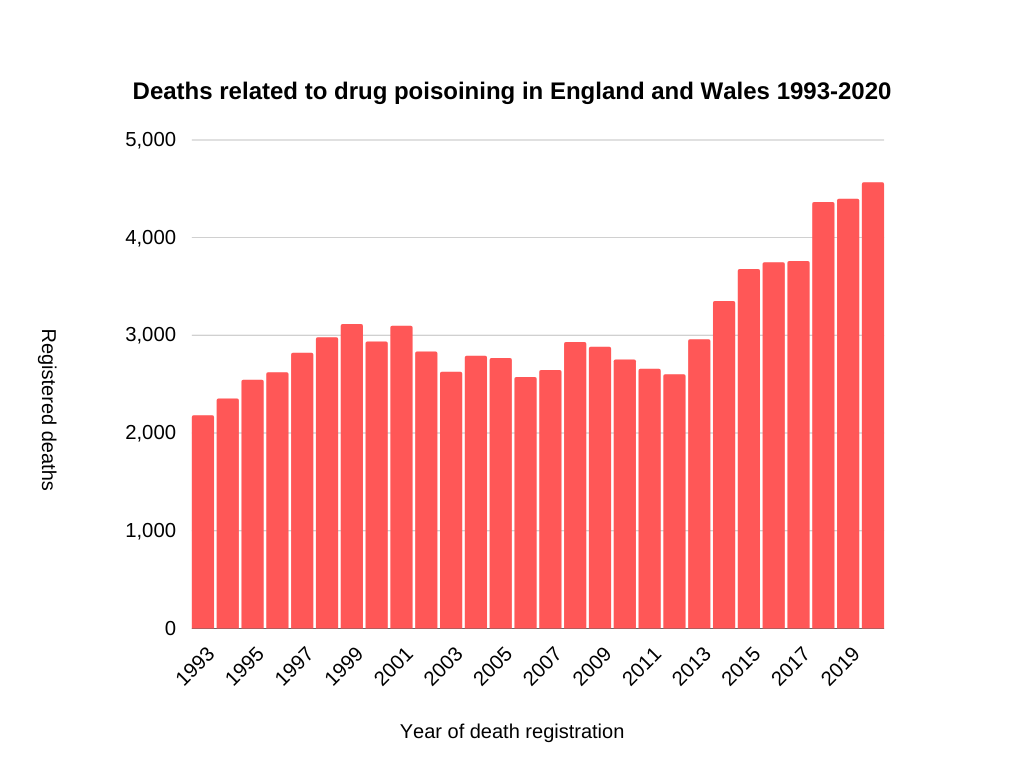 Approximately half of all drug related deaths involved an opiate (2,263 deaths), and 777 deaths involved cocaine, 9.7% more than in 2019, and nearly double that of a decade ago.
The rise in cocaine deaths is likely linked to the increasing prevalence of cocaine use, said the ONS.
An increasing number of deaths involved multiple drugs, particularly benzodiazepines and gabapentinoids which are often taken with opioids to enhance the effect.
The ONS suggested this, along with an ageing cohort of drug users suffering from the long-term effects of drug use, and disengagement with opioid-substitute therapy, could explain the increase in deaths.
The highest age bracket for drug deaths was people born in the 1970s – 'Generation X' has consistently had the highest number of drug deaths for the past 25 years.
In Greater Manchester, 245 deaths related to drug poisoning were recorded, down from 268 in 2019 – 180 were related to drug misuse.
By borough, Manchester had the most deaths (56) in 2020, followed by Tameside (32), and Stockport (26).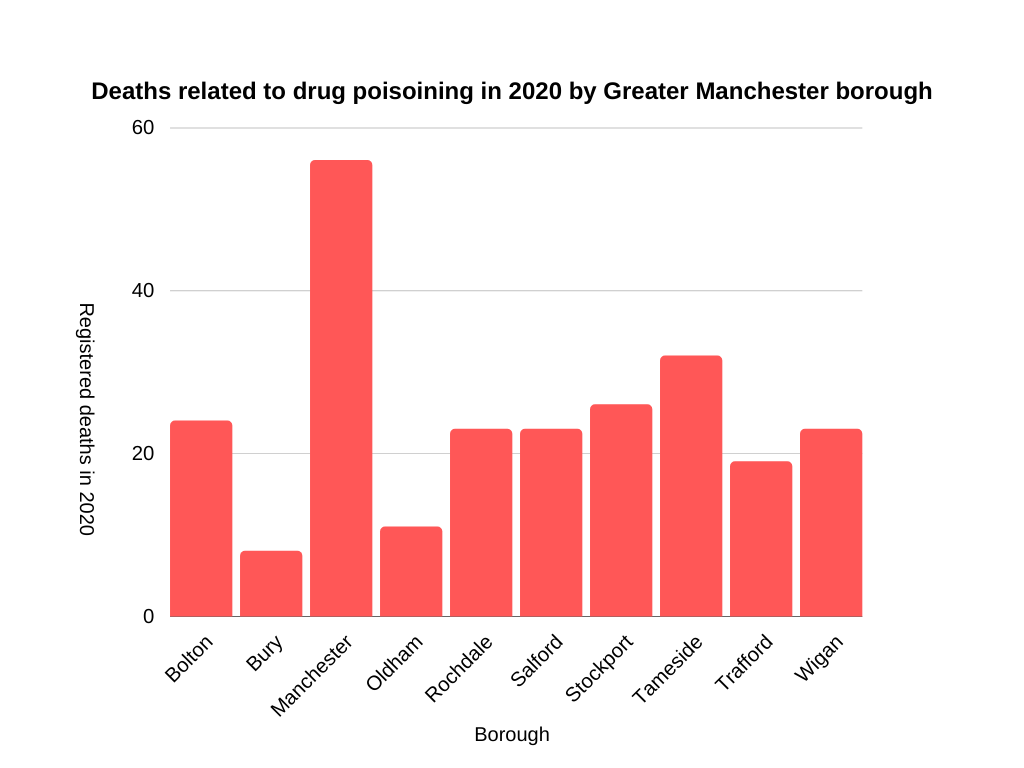 Drug charity Change Grow Live chief executive Mark Moody said: "Such an increase in the number of drug-related deaths demonstrates the need for us to take action now.
"Too many people have died, and each death is a tragedy for families and a loss for our communities."
"For things to improve, we must directly challenge the stigma faced by people who use drugs," he added.
"This starts by recognising that drug dependency is a chronic health condition which must be integrated alongside NHS services, criminal justice pathways, and housing support."