A Manchester online trader nicknamed the 'Woolf of e-Wall Street' after he made £1.4million selling CDs and DVDs on eBay has been jailed for two years for refusing to pay tax on his global internet empire.
John Woolfenden, 52, raked in £200,000-a-year selling discs on the online auction site – but hid his huge profits from inspectors at the Inland Revenue for seven years.
Officials working a specialist team which investigated online tax fraud eventually looked into Woolfenden's financial affairs and discovered he had failed to pay up to £180,000 in VAT and also hid £120,000 in a friend's bank account in America to disguise his income.
They later raided his home in Radcliffe in May 2013 and found it had been turned into a base to stock a huge haul of DVDs, CDs and computer games.
Even Woolfenden's shower room was stacked to the ceiling with boxes.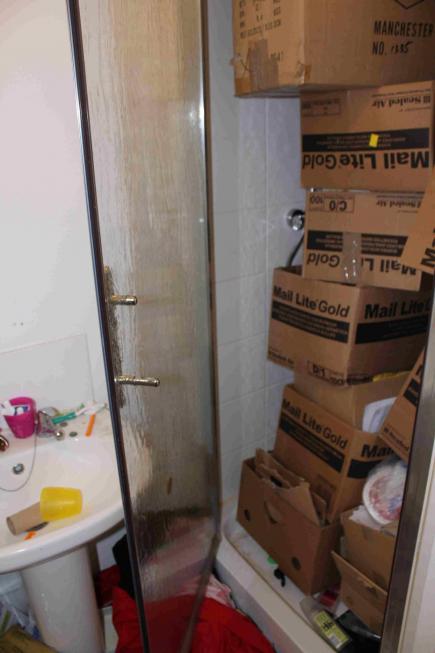 AWASH WITH STOCK: Boxes piled high in Woolfenden's shower (©HMRC with thanks)
Bolton Crown Court heard the businessman initially operated out of the boot of a car, before renting three stalls at Radcliffe Market, from where he sold DVDs and CDs.
In 2006, he began selling his stock on eBay and another website Play.com and the business named Globalworldentertainments quickly became successful, with between 50 and 60 items being sold per day.
In total, the business listed 520,000 items on Ebay and Woolfenden eventually opened premises in Rossendale, employing several members of staff and raking in £200,000-a-year.
But Woolfenden failed to register to pay any VAT and did not declare his self-employed status or sales in order to avoid paying income tax.  When challenged by HMRC for details of his online trade, he ignored the requests and did not respond to letters.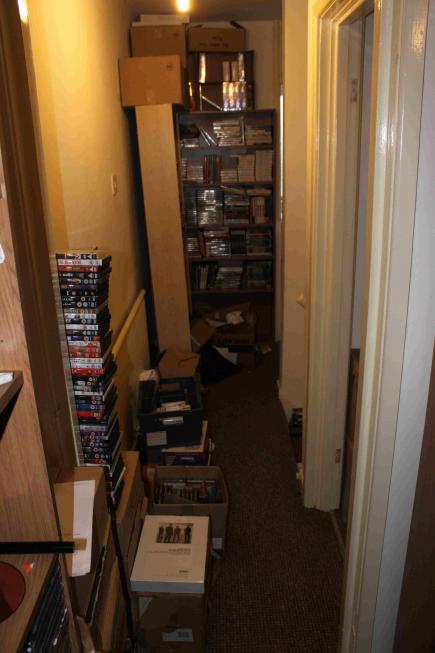 DISC WORLD: Woolfenden's house was littered with DVDs, CDs and games (©HMRC with thanks)
During his seven years of trading, he filled out just one tax return, for £3,000 – yet failed to pay it.
He laundered about £120,000-worth of his unpaid tax in an American bank account in the name of a man called Colin Gowing.
When confronted Woolfenden claimed he had not realised this transfer would be classed as money laundering.
He pleaded guilty to concealing, disguising, converting, transferring or removing criminal property, namely monies from unpaid tax, by means of bank and cheque transfers contrary to sections 327(1) and 334 of the Proceeds of Crime Act 2002.
He also admitted failing to declare profits from online trading and failing to register and account for VAT between February 2006 and March 2013.
The e-fraud, including unpaid taxes, interest and money laundering, totalled £299,753.17.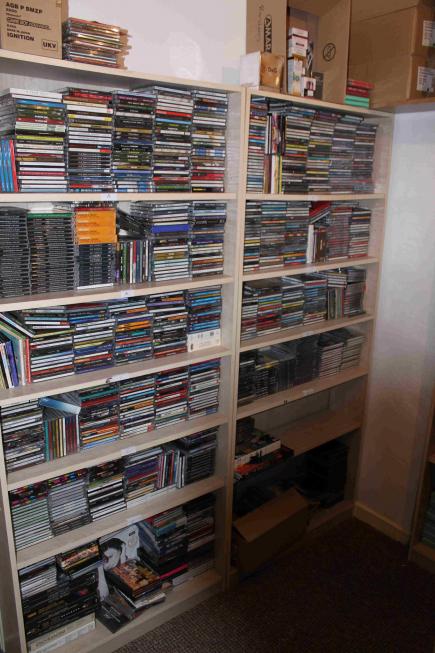 HIDDEN WEALTH: Woolfenden didn't declare his profits for years (©HMRC with thanks)
The unpaid VAT totalled £161,687.88, income tax and interest came to £17,585.24 and money laundering charges related to £120,480.05.
Investigations discovered that advertising for Globalworldentertainments said the business has been trading for 20 years.
Passing sentence Judge Timothy Stead told Woolfenden: "It is hard to look past the fact that this was carried out over a very significant period of time."
After the hearing, Sandra Smith, Assistant Director, Criminal Investigation, HMRC, said: "Woolfenden did not declare his true income on his self assessment tax returns, he did not register for VAT or pay VAT owed for his commercial trading online.
"He stole a substantial sum of money purely to line his own pockets.
"HMRC will pursue every avenue to ensure evaded taxes are restored to the taxpayer and public finances."
Tax inspectors launched an e-marketplaces campaign to target the earnings of online traders in 2012 and are continuing to use data to pursue prosecutions against potential tax evaders.
Story via Cavendish Press.
Images courtesy of HMRC with thanks