Research undertaken by scientists at the University of Salford examining wildlife at the Chernobyl nuclear disaster has been shortlisted for a national award.
The pioneering work has been recognised in the Times Higher Education Awards by being shortlisted for the Research Project of the Year award.  
The study, led by Dr Mike Wood from the University's School of Environment and Life Sciences, looked into how radiation had affected animal populations at the Chernobyl Exclusion Zone (CEZ). 
Dr Wood and his team used 250 motion-activated cameras as well as audio recording devices to monitor how the ecosystem had been changed by radiation poisoning.
Footage obtained by the team found that despite popular scientific opinion, animals such as elk, wild boar and wolves were thriving within the irradiated area.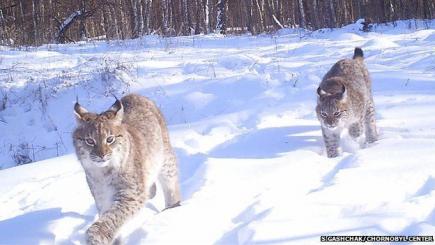 GUESS WHO'S BACK? Lynx were captured on the cameras
The research concluded that this is partly due to the absence of human civilisation in Chernobyl, which has been uninhabited since the nuclear accident in 1986.
The five-year project gained exposure in 2015 when it was the subject of a Channel 4 News documentary.
Further publicity was drummed up for the research when it became the centre of an immersive instalment at the Museum of Science and Industry during Manchester Science Festival.
Speaking to the University of Salford, Dr Wood said: "The CEZ, which reached its 30th anniversary this year, represents a unique natural laboratory to study the impact of radiation levels on wildlife. 
"This project has not only enabled myself and my colleagues to challenge some of the claims about declining animal populations in the CEZ, it has also allowed us to work closely with international organisations and to contribute to important global debates about nuclear power, about conservation and particularly about the rewilding of our planet's wilderness areas.
"It's a huge honour for the project to have been shortlisted for this award, and it's a testament to the many talented people who have worked with me to make it such a success."
The winner of the award will be announced at the ceremony in London on November 24. 
Main picture courtesy of Jason Minshull, inset courtesy of Channel 4 News, with thanks.