A dog that was stolen from Bradford before Christmas has finally been reunited with his owners after a chance find in Manchester by the RSPCA.
Murphy, a four-year-old siberian husky, went missing on December 4 after he slipped from his lead on a walk and was later seen being bundled into a car by two men.
He was finally discovered on February 27 after RSPCA Inspector Natalie Avery attended a house in Manchester after an owner said they couldn't look after their two dogs anymore.
One of the two dogs turned out to be Murphy, with a staff member recognising him from a photo that had been sent out as part of a search campaign.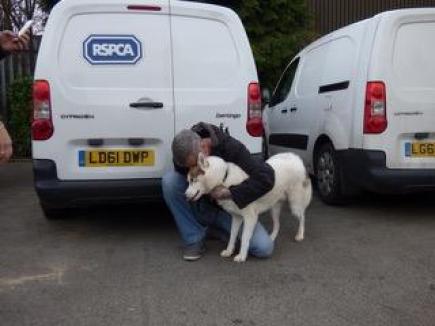 HUSKY HUGS: Andrew is reunited with Murphy
Inspector Avery said: "I took both dogs to RSPCA Greater Manchester Animal Hospital to be checked over and one of the staff said Murphy looked like a dog that was missing.
"We scanned him for a microchip and found that he was, in fact, the dog everyone has been looking for.
"Calling his owners was absolutely amazing. It's a great feeling when things like this happen.
"They were overjoyed to see him, it was very emotional."
Owners Andrew Smith and Puiling Ma set up a search campaign on Facebook to try and find their beloved pet, which played a huge part in his recovery.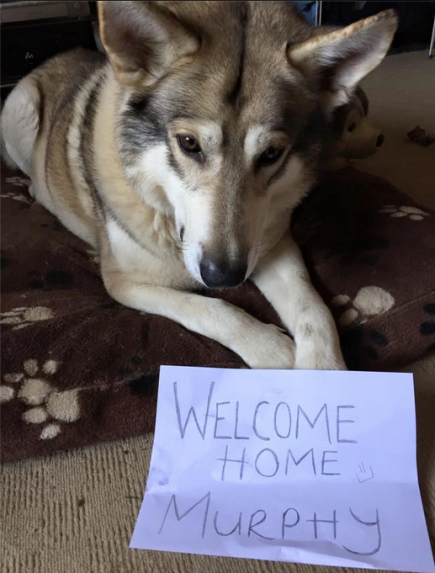 HOMEWARD BOUND: Murphy was happy to be home
Their plee for his return amassed more than 40,000 likes and received celebrity support from Bradford illusionist Dynamo and comedian Johnny Vegas, with their local MP even mentioning the pet in parliament.
Owner Andrew said: "We just couldn't believe it when we got the call from the RSPCA. Even after a few days it's still sinking in that he's home.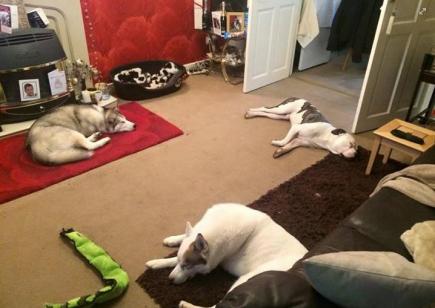 PUPPY LOVE: Murphy's other furry friends are glad to have him home too
"I want to say thank you to the RSPCA, who have been brilliant, and I'd like to encourage people to donate to them, and thank you to all the many thousands of people who helped get the message out there.
"It's been an awful few months and there were times when I didn't think we'd ever see Murphy again."
Murphy arrived at the Greater Manchester Animal Hospital at around 8pm on Thursday night, and his owners had been called by 8.30pm. They picked him up first thing on Friday morning.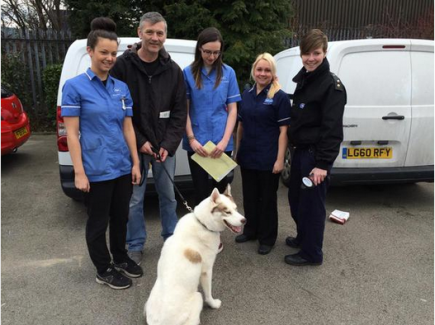 PAWS FOR THOUGHT: Owner Andrew couldn't believe it when Murphy was found
Animal Hospital general manager, Ben Faulkner, expressed how 'thrilled' he was to be able to reunite Murphy with his rightful owners in just 24 hours.
"There were a lot of tears all round on Friday," he added.
"Working at the sharp end of animal welfare, you often see and hear terrible things that people have done to animals, and to be able to play a part in such a remarkable reunion is just fantastic."
Andrew and Puiling own two other rescue dogs called Paddy and Monty, who are also huskies.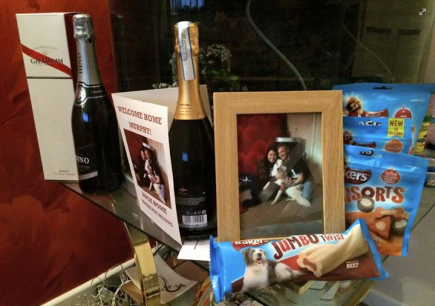 WHAT A TREAT: It looks like Murphy has been lavished with gifts since his return
Paddy was discovered sleeping in a cemetery with a rope digging into his neck and Monty was taken from an owner who couldn't cope with him anymore.
"Paddy was really pleased to have Murphy home, and he and Monty seem to be getting on okay," said Andrew. 
"Murphy was the top dog in the house, and he's definitely planning on stepping back into that role."
All of their dogs are micro-chipped and the delighted dog owner has urged all dog owners to make sure that they do the same to their dogs.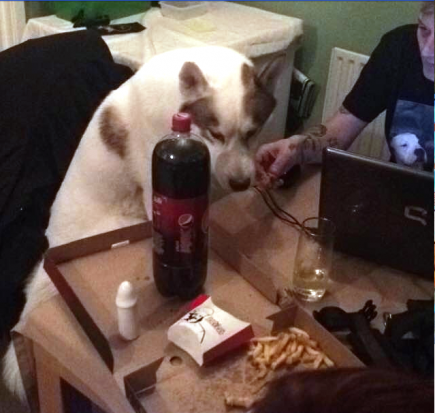 CAN I HAVE A CHIP? It will be compulsory to get your dog microchipped next year
He added: "I'd urge anyone whose dog is stolen to make sure it's reported to the police. I'd urge all owners to make sure their dog is microchipped, it's so important.
"It's going to become the law next year to get your dog chipped and I very much hope that Harvey's Law – a campaign to make it compulsory for all animals killed on the roads to be scanned –  also comes into effect."
You can find out more about the benefits of microchipping or how to get your pet microchipped by clicking here.