A petition for legendary boxer Muhammad Ali to be awarded an honorary knighthood has attracted over 22,000 signatures and clamour is growing for it to be debated in Parliament.
The Change.org petition was started by British boxer and former world heavyweight David Haye in the hopes of securing Ali the honour for his work as an iconic sports figure, his extensive civil rights efforts and considerable charitable causes.
Frail health has made it all the more urgent for supporters: aged 74 and battling with debilitating Parkinson's disease, it is speculated Ali's scheduled visit to the UK to open his 'I Am the Greatest' exhibition later this year could be his last – although the trip may not go ahead.
MM went out to ask if the public of Manchester thought it was time for Ali to be recognised by the UK with such an honour.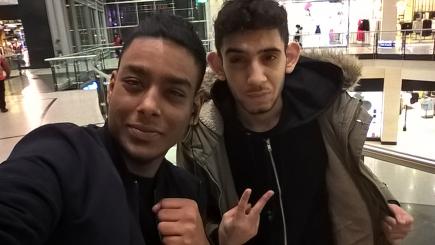 SORT IT OUT! Foizul Heque (left) and friend Kameel Keil said people who didn't know who Muhammad Ali was need to get to know the boxing great
Foizul Heque, a 19-year-old part-time student and bartender from Oldham, explained that he had idolised Ali growing up and was driven to participate in boxing.
"I used to do boxing before and I used to always want to meet him in real life. I'd love to meet him and see what he's like."
His friend Kameel Keil was quick to add that the petition for Ali was assuredly merited.
"He is a living legend and inspires people, he's the best and deserves a knighthood."
The two were dismayed to hear that some of those surveyed did not actually know who Muhammad Ali was.
"(Those) guys need to sort their lives out, get to know who he was, how do you not know who was the world champion?"
Foizul was not alone in his admiration for Ali. Adeele Iqbal, 26 and a salesman from Moss Side, explained how he learned about Ali as part of his education on racism and civil rights.
"He was the best, the number one idol. Even in school we learned about him, about human rights and racism.
"We actually joined a gym that's in Moss Side that had something to do with Muhammad Ali when he came to the UK a long time ago."
Ali famously refused to be drafted into the U.S military, citing reasons such as the U.S refusing to provide equal rights for African-Americans.
Adeele added a knighthood was surely a matter of time for the most iconic sportman of the 20th century.
"Everyone's got one, even that James Bond guy."
James Kelly, a 20-year-old sales apprentice from Tameside, was also confused why Ali had not received the honour, especially when compared to other figures in sport.
"David Beckham has one, why can't Muhammad Ali?"
MM didn't have the heart to tell him Goldenballs has yet to get the gong. Although many did not approve of many other recipients of knighthoods, Nicola Furniss, aged 36 and an assistant manager from Trafford, suggested that Ali would not look out of place at all.
"Well David Attenborough has one and why not, they have done loads of stuff and widespread careers, touching loads of people.
"And (even when Ali is sick) he is still pulling through."
Will Nacmanson used Ali's civil rights influence as the main reason he feels the boxer should be knighted.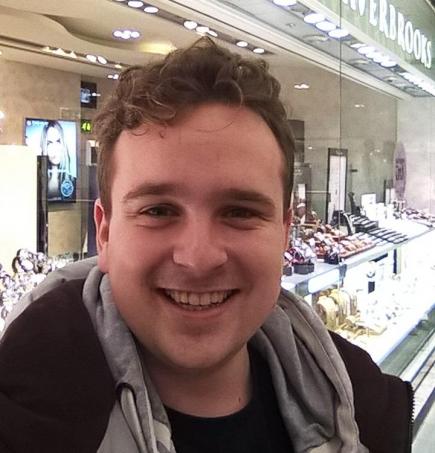 RACE AND RELIGION: Ali was not just a boxing great says Will Nacmanson, he was an ambassador for change
"I think Muhammad Ali should get a knighthood, he's done a lot for the sport, (he is) one of the greatest champions there ever was and even outside of the sport he did so much for race and religion."
Although a pivotal part of some people's lives, Ali did receive some words of support from those who did not know about his career as well as others.
Steve Bradburm, 71 and who owns a small business in Manchester and commutes in from Glossop, fondly remembers watching Ali in his heyday.
"I remember watching him (when he) beat Sonny Liston in three seconds."
James Johnstone, a 20-year-old bartender from Rusholme, added his support to the petition by highlighting how much Ali has done for encouraging others to get involved in sport.
"He's a sports person who's done well for himself and inspired loads of (other) people."
Even those who do not keep up with sport in general made it clear they also supported him for his efforts and the reputation he earned in the process.
Aaron Winterbottom, 28, from Tameside, who works as a sales advisor, commented:
"(Although) I don't really follow any sport he is a legend of boxing, and he has fought here."
Support for Ali's petition also reflected his place as a role model.
Craig Ferrier, a 49-year-old software developer from Chorlton-cum-Hardy, explained that compared to other recipients of knighthoods, such as Alex Ferguson and Ben Ainslie, Ali was "a good example, a general all round good chap."
The change.org petition is still on-going and is just under 2,500 signatures short of reaching its goal.
Image courtesy of Boxing Legends TV via YouTube, with thanks.