Take a ride on a magic carpet and let your mind wander at a new exhibition and panel discussion about art and ADHD later this month. 
Art and Science are interwoven in Dr Kai Syng Tan's #MagicCarpet, a large-scale tapestry exploring the relationship between creativity and neurodiversity, now showing at the Craft and Design Centre Manchester. 
The result of an 18-month art-psychiatry travelling project, #MagicCarpet focuses primarily on attention deficit hyperactivity disorder (ADHD) and the relating characteristic of mind wandering.
The piece is a vibrant explosion of colour, text and imagery; digitally hand drawn then woven by machine, and is a personal response to the artist's own diagnosis of ADHD as an adult.
It is a beautiful and thought-provoking example of how visual art practice and research can unite to help educate audiences about neurodiversity and creativity.
Dr. Tan has previously used the tapestry as a rug which centres on the experience of mind wandering; she created the piece to open a dialogue between the arts and sciences and to build a physical space to sit, discuss and understand ADHD as a force for positive.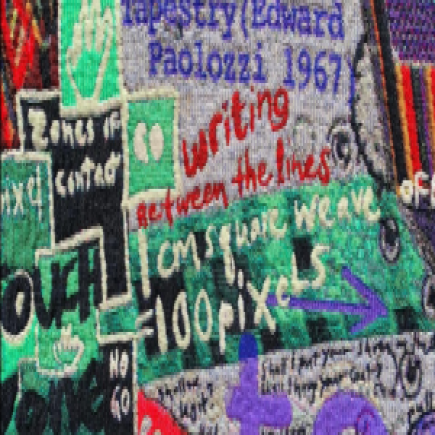 ALL GOOD: ADHD should not be seen as something that needs treating
Exhibitions and Events Officer, Laura Feltman, explains how the exhibition aims to change the view of ADHD, and explains how the artist found her own mind wandering extremely helpful to the creative process.
"It can be a positive attribute and not something that needs treating," she told MM. 
The artist will be taking part in a panel discussion along with Creative Director at the Crafts Council, Natalie Melton, and Uthra Rajgopal, Assistant Curator of Textiles and Wallpaper at the Whitworth.
The conversation will be chaired by Manchester Craft and Design Director Kate Day and will focus on neurodiversity in creativity and the nature of craft in the digital age.
Dr Kai Syng Tan has already shared this work with 10,000 people across the UK and is pleased to have reached such an audience.
"I am delighted to share #MagicCarpet in Manchester and in the context of craft, particularly in light of Andy Burnham's declaration in his manifesto to make Greater Manchester UK's most autism friendly region."
The exhibition is free, and runs until April 4. 
A treat to get up close to the details of #MagicCarpet by @kaisyngtan at @ManchesterCraft this afternoon. Spot Ada Lovelace's portrait and a Paolozzi mosaic! pic.twitter.com/s9ssQrro3F

— Dr Katy Barrett (@SpoonsOnTrays) February 28, 2020