Police officers have raised an estimated £100,000 for charity with a 250-mile running challenge in the memory of Greater Manchester Police officer Nicola Hughes.
The 'Run to Remember' campaign saw 1,800 officers from all over the country run two miles-a-day for 125 days.
Nicola and her colleague PC Fiona Bone were killed in a gun and grenade attack while investigating a suspected burglary in Hattersley in September 2012.
Today saw representatives from every police force in the UK crossing a symbolic finishing line to draw the run to a close.
Organised by Nicola's father Bryn, the campaign began on December 1 and finished with hundreds of people running the final two-mile leg around the Manchester Regional Arena.
"It has been fantastic," said Bryn "The turnout and determination has been amazing.
"It has been so overwhelming – at times you cannot describe it. The amount of support we have had has just been overwhelming,
"I wanted to do something positive to remember Nicola by. The biggest motivation is making sure people remember Nicola and remember what sort of person she was."
The proceeds raised from the run will benefit the charities Care of Police Survivors, the North West Police Benevolent Fund and Victim Support.
"I want to do something that Nicola would have been proud of me for and I also want to raise money for the three charities that have helped us so much during this time and will probably continue to help us for a great deal longer," added Bryn.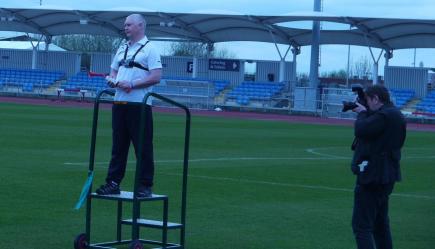 ADDRESS: Nicola's father Bryn Hughes says a few words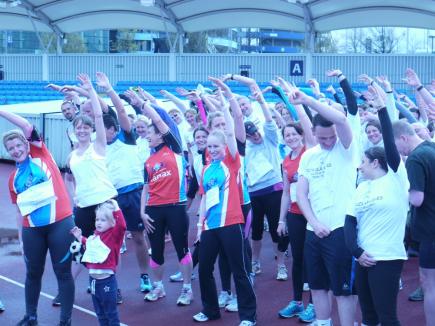 WARM UP: Representatives from every force in the UK get ready for the final two miles
Dale Cregan, 30, was given a whole life tariff for their murders in June last year. He was also jailed for the murders of father and son David and Mark Short.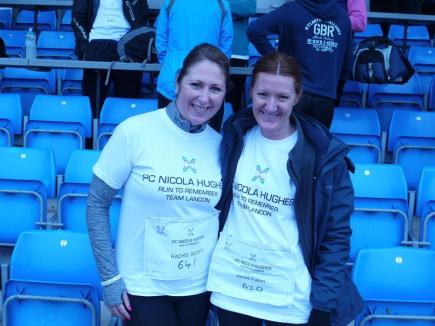 REMEMBER: Colleagues from all over the UK attended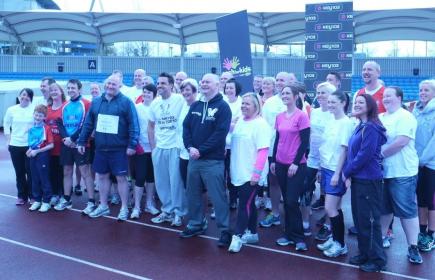 GROUP EFFORT: Bryn is joined by radio presenter Mike Toolan for a photo
Amongst those out supporting the event was Key 103 breakfast presenter Mike Toolan.
"I think the death of PC Nicola Hughes moved everybody in Manchester and you can't help but feel a sense of sadness at the terrible events," said Mike.
"The bravery of her dad to do something positive like this is something that everyone should get behind and I really wanted to be a part of that."
While the Run to Remember might have finished, the running certainly isn't over for Mr Hughes.
He sets off next week for his latest challenge: a marathon at the North Pole.
More information on the North Pole Marathon go to visit their website.