The closure of two temporary shelters has re-emphasized the vulnerability of Manchester's homeless and sparked criticism of Manchester City Council's services.
The disused Hulme Library, on Stretford Rd, and the former Beech Mount Children's Home, in Harpurhey, were converted by the Council into temporary overnight accommodation in December.
However the recent closure saw each of the 20-bed-a-night accommodations cease to exist as hubs for Riverside Care and Support to provide mental and physical healthcare – as well as overnight respite.
On the night of the closures, Homeless Rights of Justice's Adam Whelan was providing relief to homeless residents in Manchester city centre, distributing food and hot drinks alongside Joint Veteran Alliance Limited and activist-group Anonymous.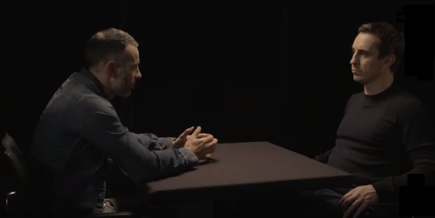 INFLUENTIAL: Ryan Giggs and Gary Neville's decision to open their hotel to the homeless preceded the Council's action © EA Sports
"The accommodation was not open long enough," Mr Whelan told MM.
"Over the past two years the council have shut down many beds. [The temporary accommodation] was too little, too late.
"The Council only provided winter accommodation because we took over a building that ended up being very high profile – the Neville-Giggs owned Stock Exchange.
"As Gary Neville told us we could stay till just after Christmas it made the Council look stupid so they had to do something – but they only provided just over thirty beds in two buildings."
Mr Whelan felt that as the council had taken out an injunction, in summer 2015, preventing usage of a tent while protesting against the city's homeless policies, the provision of temporary shelters was disingenuous.
"The council are horrendous, in every different way they are failing [homeless people]," he said.
"I stay out near Salford as, being a known activist, it makes it impossible for me to be in a tent in the city centre as they'll slap me with a breach of an injunction."
Accusations levelled at the Council's temporary accommodations were compounded by homeless individuals who didn't want to leave 'good' sleeping spots in Manchester's city-centre.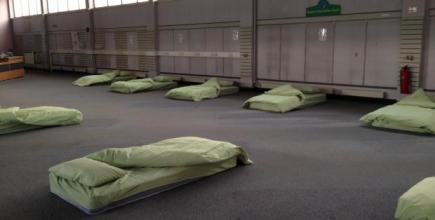 DISUSED: Hulme Library was intended to provide shelter for the homeless over the winter
One such individual, Dublin born Squire, previously a self-employed painter-decorator and Manchester resident for over 34 years, now homeless, feared not getting a bed – or worse.
He told MM: "I didn't use the temporary shelter, as there were too many restrictions. You had to be in by 9am and out by 7am, plus you feel more vulnerable going out from the city-centre."
Squire mentioned the cameras, the community police officers and the well-lit streets around the centre as elements that at least allow him a little, uneasy-at-best, sleep.
"There might be a group of lads [out from the centre] who think they're having a laugh but it's at my expense and it is not sympathetic," he said.
Squire – who prefers to use his street-name – explained that it is preferable to sleep in 'good' open-air spots on the busy Oxford Rd, sometimes not falling asleep till 7am, than risk travelling to these shelters.
He said: "I was also not told the shelters had been closed.
"Although I don't blame anyone but me for my position, I don't feel safe on the streets."
With the investigation into the January murder of the homeless Daniel Smith in Salford still ongoing, the unease among Manchester's homeless residents is palpable.
Mr Whelan re-iterated Squire's worry: "I don't feel safe on the streets. It is not safe.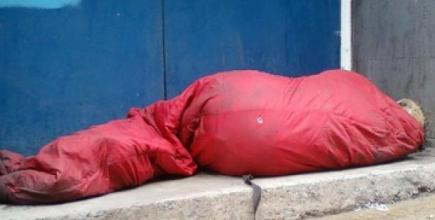 PROBLEM: Homelessness has been in the news extensively in the last 18 months in Manchester
"One of the problems is if you go to the Council they might say you made yourself intentionally homeless or you are not a high priority as you might be a male over the age of 21.
"Everyone is as vulnerable as everyone else when you are asleep."
This vulnerability undercuts the Council's Neighbourhood Scrutiny Committee 2013 Homeless strategy, which had a stated aim of improving the well-being of the city's homeless residents.
An impressively lengthy document, reviewed in October 2015, its ideals are not realised while individuals like Latvian-born Armins or Squire, sleep scared, in sleeping bags, in the city centre.
Disconnect and miscommunication is clear –  Squire, not only realising the shelters had closed, wrongly believed that his dog Tyson would not be welcome at the temporary shelters.
And two street-workers, affiliated with street kitchens in Manchester, were also not aware, as they dished out hot food, that the shelters had been closed.
With homeless individuals such as Squire relying on these donations and support from charitable services, Deyika Nzeribe, Green Party candidate for Hulme, believes collaboration is vital.
With reports that grants have been cut from £1.2million to £530,000 this year, Mr Nzeribe responded: "With cuts to the Council from the Conservatives, only a strong voluntary sector will be able to take up the slack.
"The Council has done lots to support business. It should put that same strategic thinking into supporting Manchester charities."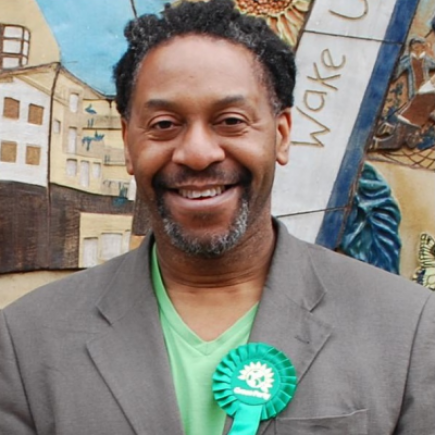 OUTSPOKEN: Deyika Nzeribe said that the council should support Manchester charities
This shortfall is being tempered by the charity of individuals like Salford-born David Minshull – an ex-homeless veteran who now provides a contact point for vulnerable veterans and the homeless.
Working as an outreach officer for his charity, Joint Veteran Alliance Limited, he told MM: "I don't work hand in hand with Manchester City Councils. I contact all the councils and drop business cards off.
"However I'm relatively new.
"I work as an outreach worker and if come across a veteran I go to the homeless team with them and act as an advocate and I deal with referral to DWP, NHS Pennine and Probations.
"As Manchester is a big city, people from all over the country will come here but the council might say to them that there's no connection [to Manchester] and there's nothing we can do for you.
"It's a Catch 22, most of the guys on the street don't have an address or money and you can't get a house unless you've got a job and you can't get a job unless you've got a house."
When contacted by MM, a Manchester City Council spokesman defended their scheme, and revealed plans to expand the service next winter.
A Manchester City Council spokesperson said: "180 people accessed the temporary shelters over the winter, with bus passes issued to people who needed them. 
"Risk assessments were carried out to assess those in need of shelter, taking into account factors including offending history and health conditions, to ensure the safeguarding of all residents and staff. 
"This was essential and the providers involved in delivering this service would have been failing in their duty of care to residents and staff had they not carried the assessments out.
"A feedback session was held at the Booth Centre, to allow people to share their experiences of the shelters and all those comments will form part of the review process for our future provision.
"A 'move on' plan was put in place for everyone who was still in this accommodation in March, so that no-one had to go back onto the streets. 
"We are now working on a plan for next winter, in partnership with faith sector providers, who also opened up their buildings this winter."
Image courtesy of Franco Folini, via Flickr, with thanks