Labour continued their domination in Tameside in an evening that provided few shocks but several memorable results.
Of the 19 seats contested, 17 were won by Labour and two went to the Conservatives, with turnout for most wards hovering around the 30% mark.
The elections were the first since the tragic death of council leader Kieran Quinn late last year.
Cllr Quinn's wife Susan is also a councillor, and won re-election in her Droyslden East seat with more than 60% of the vote.
She dedicated the victory to her late husband, declaring "Kieran, this is for you" in her acceptance speech.
Cllr Brenda Warrington – who assumed Cllr Quinn's role as leader earlier this year – was delighted with the evening's results.  
She said: "It's been an emotional night, particularly as Kieran's wife Susan was up for re-election.
"As she said, she did it for Kieran – she has been very, very brave to see it through."
With four new Labour additions to the council – Dolores Lewis, Vimal Choksi, Stephen Homer and Sam Gosling – Cllr Warrington also expressed her delight at the new energy among the local party.
One of those councillors – Mr Choksi, who triumphed in Ashton Waterloo – will be the first representative of Indian Hindu heritage to serve on Tameside Council.
He described his "immense pride" in being elected to office, with the people of Tameside "recognising the massive contribution of the Indian community has made over the past 40 to 50 years".  
So the overall composition is the same for @TamesideCouncil – one Labour gain, one Labour loss; one Tory gain, one Tory loss. Labour council leader Brenda Warrington pleased but understandably exhausted #MMElections2018 #LE2018

— Oscar Lynch (@oscarlynch) May 4, 2018
Newly elected Dolores Lewis looked back on "a very tough fight – we have knocked, we have leafleted, we have worked so hard".
Those efforts proved to be worthwhile as she edged out Tory candidate Dr Paul Buckley to gain Ashton Hurst by a meagre 43 votes.
Despite the overall picture, Tameside Conservative leader John Bell remained in positive mood, and paid tribute to the "tremendous" group of Tory candidates running.
His optimism for the Hyde Werneth ward was well-placed, as Phil Chadwick pulled off something of a shock to edge out Labour incumbent Andy Kinsey by just over 200 votes.
Further encouragement came when Liam Billington held Stalybridge South for the Conservatives, winning the seat previously held by the retiring Basil Beeley.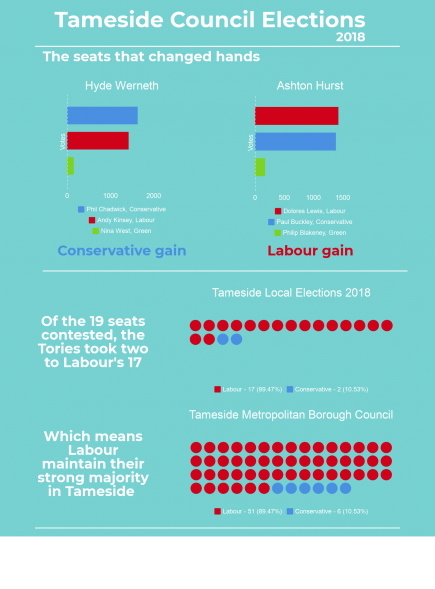 Though a bullish acceptance speech caused some consternation in the crowd, Cllr Billington vowed to do his best for the ward.
But the night belongs to Labour, with their leader confident that incumbent and newly elected councillors are ready to address the various issues Tameside faces.
Cllr Warrington said: "We will meet each challenge head on and make the best of it.
"There are many, many challenges and a lot of our people need a lot of support, and we will continue to provide that support in spite of the cuts being pushed on us."