Trafford has often been a shining beacon of hope for the Conservatives in the North West but their 14-year-long reign has come to an end this morning.
After an increase in voter turn-out from two years ago at 42.9% and the growth in support for Labour and the Greens, Trafford became red for the first time since 2004 with one more councillor than the Tories who have 29 while the Lib Dems and the Green each now have two apiece.
The richest borough in Manchester and the only blue speck amongst a field of red, it was not surprising that Labour went all out in trying to get it.
Dismay at the result was etched on all Conservative councillors faces – Labour and the Green's had gained four and two seats respectively while the Tories, the Lib Dems and an Independent lost a total 6 out of the 21 seats on offer which in turn forced a minority leadership.
Following the news, Michael Whetton, one of the councillors not up for election at Ashton Upon Mersey ward, said: "Well obviously, overall it's a very disappointing evening, but considering the might of Momentum that was thrown at us on the instructions of Jeremy Corbyn, the results are not surprising at all.
"It was a very, very hard campaign, we had people sent in from all over the country to fight the Trafford Conservative party.
"Based on that we have managed some good results but obviously, there were some disappointing ones as well."
'PRETTY SAD ISN'T IT?' 
Nationally it was a night of very few surprises with Trafford one of the few positives for the Labour party, but for Whetton he was not shocked by the result particularly following the supposed influence from Momentum.
"Well we could see what was happening with that, we know that they were bringing people in from all over the country – you know it's local politics, it's pretty sad isn't it?
"But you know Corbyn set his stall out to get Trafford, well he didn't get it completely it's not in overall control.
"You know it's an incredible story looking back to it with some nasty incidents, it was not good and it has been probably the dirtiest, hardest campaign ever I think in Trafford."
With the result becoming more and more clear that the Conservatives would be losing power, Sean Anstee the now ex-leader of Trafford Council, had to console a number of his colleagues – where on one occasion he even had to quieten down an ironic cheer which had caused anger among the Labour cohort.
Speaking after the result, Anstee said: "Clearly elements of the result are particularly disappointing, we saw a number of seats change that we would have rather have not changed hands.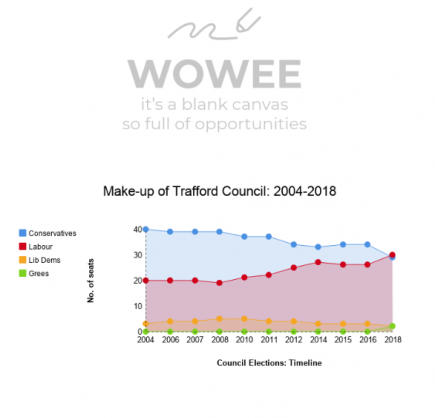 "We have been an obvious target in Trafford for significant levels of opposition activity, we are the only Conservative majority council in Greater Manchester and are surrounded by Labour councils in the North West.
"It has always been a risk that you may see significant levels of opposition activity and that has been the case.
"We also need to consider how best Trafford Council can best serve its residents and businesses in the future with the new composition of the council system."