This chilling picture shows a guilty husband prowling in Manchester wearing his wife's clothing – moments after he murdered her in cold blood in a pre-planned 'honour killing'.
Ahmed Al-Khatib, 33, disguised himself with the headscarf of Rania Alayed, 25, and walked away from the crime scene to give CCTV cameras the impression she was still alive.
The Syrian-born Muslim, who fled the Middle East for Britain, lured Rania to his brother's flat in Salford, Greater Manchester, and killed her after he felt 'insulted' at her leaving him to become more Westernised.
Al-Khatib then stuffed her body in a suitcase before he and brother Muhaned, 38, transferred her to the back of a motorhome and drove 87 miles to the A19 near Thirsk, North Yorks where she was buried next to a layby.
When mother of three Rania was reported missing, Al-Khatib and his family claimed she had quit the UK and was alive and well in Turkey.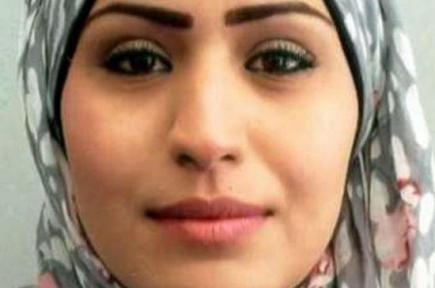 RANIA ALAYED: Al-Khatib disguised himself in his wife's clothes
But police suspected foul play after inquiries revealed Rania had enraged her husband by instructing a lawyer to help free her from the 'shackles of her marriage'.
She caused further anger by attending college and meeting male and female friends before beginning a relationship with another man she met over the internet.
As the net closed in Al-Khatib of Gorton, Manchester, eventually confessed Rania was dead – but that he pushed her during a row in the belief she was possessed by an evil spirit.
He claimed he was trying to quieten her down when he accidentally causing her to stumble, fall and bang her head. Despite a huge search including extensive digging near the suspected burial spot Rania's remains have never been found.
Today, a CCTV still of Al-Khatib dressed in his wife's clothing and Rania arriving at the apartment complex emerged as he was found guilty of murder and jailed for life with a minimum recommendation he serve 20 years. He admitted perverting justice.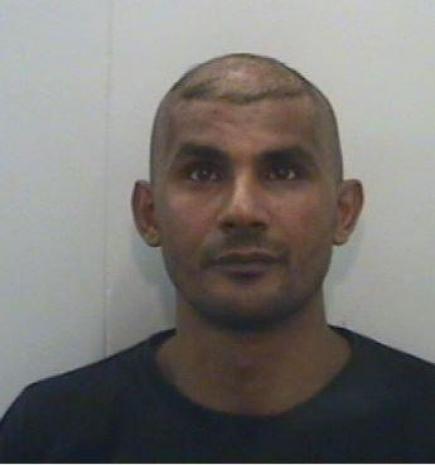 'CHILLING': Al-Khatib killed his wife in 'cold blood'
Muhaned, of Arthur Millwood Court, Salford, was cleared of murder but admitted perverting the course of justice and was jailed for three years.
Another brother, Hussain Al-Khatib, 34, was jailed for four years after he was convicted by a jury of perverting the course of justice over the concealment of the victim's body.
After the case Detective Chief Inspector Phil Reade, of Greater Manchester Police said: "Rania was beginning to put an abusive and violent relationship behind her and had genuine cause to be optimistic for the future.
"But at the point when she thought she might be able to create a better life for her and her children – free of the domestic abuse she suffered at the hands of Al-Khatib – her husband snatched it all away in the cruellest and most despicable way possible.
"Invited to a neutral meeting place, he murdered her in cold blood while her children were in the next room. To deprive his own children of their mother is both sickening and chilling in the extreme."
Det Ch Insp Reade said Al-Khatib's attempt to justify the killing by claiming a 'Jinn' was about to attack him is insulting to Rania's memory and counter to all the evidence of a pre-planned honour-killing.
"And, make no mistake, this was an honour killing," he said. "Honour-based violence is committed to protect or defend the 'honour' of a family and/or community, usually against young women, where they have acted outside perceived acceptable female behaviour patterns.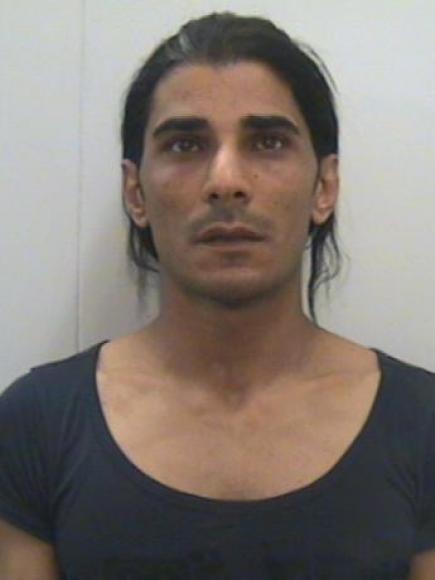 GUILTY: Hussain Al-Khatib was jailed for four years perverting the course of justice
 
"Al-Khatib's murderous actions were motivated by his outrage and jealousy that Rania would attempt to take control of her own life and live a more westernised life, after suffering years of abuse at his hands.
"His male 'pride' clearly couldn't take a strong woman trying to determine her own fate, so he carried out one final act that would ensure she could never defy him again. The irony is that this horrific act of self-pity has brought nothing but shame on him and his family.
"He has also told a catalogue of lies to wriggle out of his date with justice, which has not only created a considerable amount of additional work for detectives, but also prolonged the agony of Rania's family and has prevented us finding her body."
He said police continue to employ the most high-tech methods to search for Rania's remains so she can be given the dignified burial she deserves.
Manchester Crown Court was told Al-Khatib and Syrian-born Rania had married in December 1987 when she was just 15 and had three children together.
Prosecutor Tony Cross QC said it was a 'love marriage' rather than an arranged one but only came about as Rania's sister was married to Khatib's brother.
They fled Damascus initially for Greece but emigrated to the UK in 2004 and after living in Stockton-on-Tees for five years moved to Manchester where Muhned was already living. In that same year Rania began confiding in friends her husband was beating her.
Mr Cross said a friend witnessed the aftermath of an attack and added: "She saw Al-Khatib angry like a monster shouting he would kill her. It became clear to her that he and his family were controlling of her."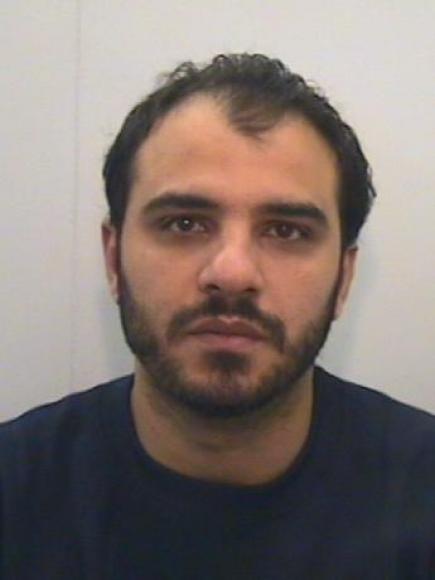 MUHANED Al-KHATIB: Ahmed's brother was jailed for three years for perverting the course of justice
 
"It appears he was violent, sexually and physically and would force her to give him money. She told one friend she feared he would kill her. How right she was. He was prone to anger and openly displayed. He was contemptuous of females. He was also jealous.
He added that Rania had the courage to free herself from him using a solicitor and began to become a little westernised. She went to college and had friends, male and female.
He added: "This was all too much. During this period she was making friends outside her family circle. No doubt this was deeply resented by the defendant and in all probability by the rest of his family. He was desperate to affect reconciliation.
"The family were very angry she had had the audacity to go to Law and one member even contacted her solicitor. They were insulted by her recourse to law. They wanted her and her children back within the family fold.
"It was obvious to them she was not going to comply with their wishes. They believed she was establishing an independent life perhaps with another man. Therefore it was decided she should either be coerced to comply or be killed."
Rania's uncle tried to help and was urged to persuade his niece not to get a divorce but during a family meeting she claimed Al-Khatib had raped her. Al-Khatib also took her phone believing she was using it to talk to other men.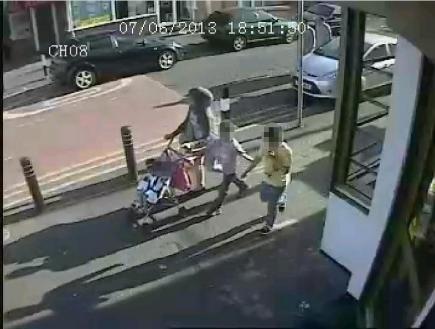 MUM OF THREE: This is the last know footage of Rania before she was murdered
 
Rania left the family home in Longsight, Manchester with the children to move to a hostel and later in May 2013 rented a property in Cheetham Hill and filed for divorce.
She had also formed a relationship with a married man she met through an internet site 'Who's here'.
Rania was last seen alive on June 7 last year when she met a friend in Manchester's Piccadilly Gardens and told of a plan to drop off her three children with her estranged husband via Muhaned's flat for the weekend.
That evening at around 8pm she was killed at the apartment after Muhaned's partner was told to stay away due to a 'family meeting'.
Later Rania's body was driven away in Muhned's camper van and at 3am the following morning, the Leyland DAF 200 vehicle was spotted parked in a layby on the A19 by an HGV driver.
Three hours later the camper van broke down and an AA man described the smell inside the vehicle as a 'rancid stench'.
Another man said of Al-Khatib, Muhned and a third brother Hussain, 34, who was also in the vehicle: "All three stunk, smelt dirty and looked like they had just run a marathon."

CCTV: Footage captures Rania's children being escorted out of their apartment block
 
Rania's friends called in police when their text messages went unanswered. But a 'callous and calculating deception' was mounted by members of the Khatib family in an attempt to make it look as if Rania was still alive and living in Turkey.
A university friend of Muhaned was asked to send a message in Arabic creating the illusion Rania was not dead. But on July 3, Khatib was arrested. He claimed his marriage was 'trouble free' until January 2013 when he accused her of being unfaithful.
He claimed he had seen pictures of Rania in underwear on a mobile phone which had been sent to another man. He claimed he had undertaken an 'Islamic divorce' of Rania and initially claimed he had last seen her at family proceedings in April.
But later he said he had visions of a demonic creature known as the 'Jinn' which took four forms including a white rabbit and a 'devil dog' and it had 'got inside' Rania.
He said: "When she went to college she changed and didn't spend as much time with the family. She would spend more time in the mirror and on the phone on Facebook and WhatsApp. 'I wasn't happy with it at all.
"I still love her now. She is the only love for me. The only woman. She is my love and life, she is everything to me. If you think this court can give me punishment then I don't think so."