Pro-Palestinian campaigners joined forced to protest against a Manchester City Council-contracted security firm they claim are complicit in human rights abuse and unlawful activities.
G4S is a security company who operate in more than 110 countries worldwide including the war-torn state of Palestine.
But Manchester Palestine Action and Manchester Palestine Solidarity congregated outside their Portland Street offices to put pressure on the council to end their contracts with them.
"This is an unethical company associated with human rights abuses in Palestine," said Catherine Newall, a member of Manchester Palestine Secretary.
"It is associated with human rights abuses in detention centres.
"They are like mercenary guards. They are not carrying out procedures properly and they are not carrying out background checks properly."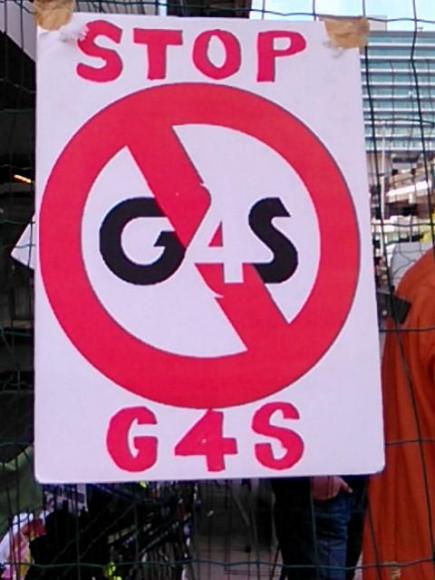 'STOP G4S': Protestors demonstrated outside the security firm's Manchester branch
A spokesperson for G4S explained that the Israel branch of the security firm do not have any in with prisoners in detention centres.
G4S Israel service and maintain baggage scanning equipment and metal detectors used at checkpoints, including a small number of checkpoints along the separation barrier.
The firm also install and maintain electronic security systems, such as closed circuit television (CCTV), access control systems and public address systems within a number of Israeli prisons. 
The board of G4S has already announced that G4S does not intend to renew these contacts as they expire over the next 2 years.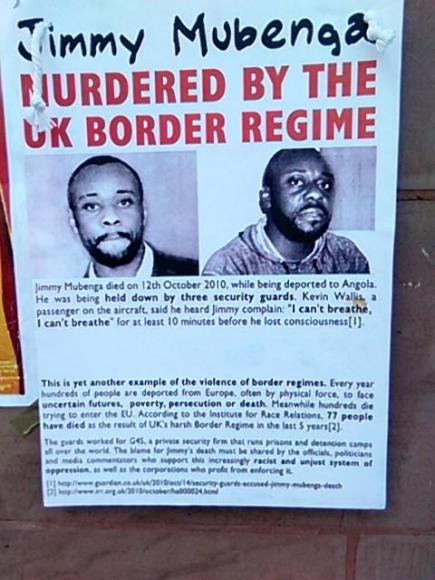 JIMMY MUBENGA: The Angolan deportee died being restrained by G4S security guards
Closer to home, the two Manchester groups cite the case of Jimmy Mubenga, as an example of the security firm's abuses.
Mr Mubenga was an asylum seeker who died as he was held down by three G4S security guards while being deported to Angola in October 2010.
The security guards were charged by the Crown Prosecution Service with manslaughter, but all three were found not guilty in December 2014.
Additionally, the CPS said there was "insufficient evidence" to prosecute G4S.
The under-fire security firm today held their annual general meeting at the ExCel Centre in London.
A similar protest was carried out at the meeting by Stop G4S – a network of groups and individuals seeking to put pressure on organisations worldwide to cancel contracts with the company.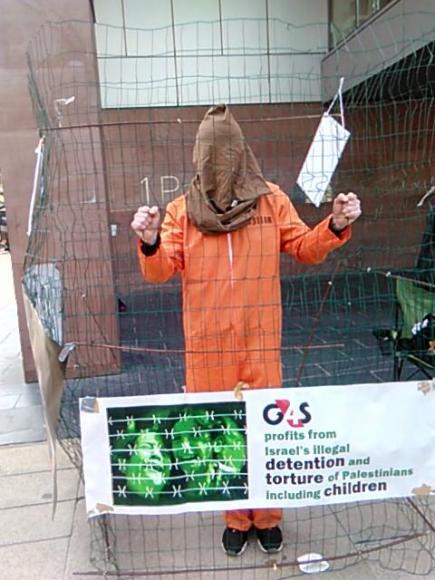 PROFITEERS?: Protestors claim G4S are complicit in human rights abuses in Palestine
"More and more contracts are being given to them in Manchester," said Ms Newall.
"We do not want these services to be privatised.
"We do not want to see them in our parks, libraries and museums."
Chief Operating Officer for G4S Secure Solutions in the UK, Andy Lane, said: "We have provided security services to Manchester City Council for the past 12 years and our team is committed to delivering with the highest standards of professionalism and integrity for the Council and the city's taxpayers."
After anti-G4S protestors disrupted a city council meeting in October 2014 leader of the council Richard Leese stated that those who wished to have an item discussed that was not on the agenda should go through the appropriate democratic process.
It is council policy to discuss the subjects of petitions that are bought by members of the public if they are signed by more than 4,000 local people.
The Manchester Palestinian Solidarity group's petition can be signed here.