An exotic green winged macaw has been barbarically stolen from a pet shop in Altrincham.
A thief threw a wheelie bin through the shop window of Timperley Aquatics on Stockport Road, and then a fish tank through the glass of the bird's enclosure, before wrestling 'Baby' away – as evidenced by the bird's tail feathers which were torn out in the struggle.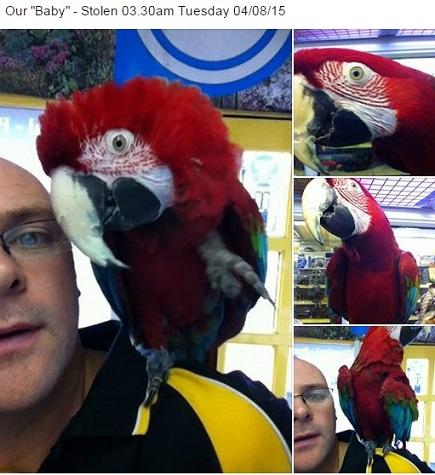 ONE HELL OF A BITE: Shop owner Graham hopes Baby exacted some revenge on the lone thief (image courtesy of Timperley Aquatics via Facebook, with thanks)
"In the early hours of this morning we had a call from residents who had seen a male riding down Grove Lane, Timperley on a push bike with a parrot on his handle bars," a GMP Trafford South statement said on the business' Facebook page.
The statement described the male as white, in his early 20s, of slim build, wearing dark clothes and with short hair.
Shop owner Graham posted a video on Facebook showing the destruction caused and appealed for information about the 'beautiful' bird, which he believes will now be put up for sale on the black market.
Graham said: "He has absolutely put her through some trauma.
"Hopefully she has given him one hell of a bite because she has put up a struggle, the poor thing.
"If anyone comes across a cheap green winged macaw for sale with no tail feathers, give the police a ring or give us a shout here at the shop."
Call the police on 101 or anonymously via Crimestoppers on 0800 555 111 if you have any information.
Image courtesy of Timperley Aquatics via Facebook, with thanks.