'It's Black Mirror Right? This is totally Black Mirror'
This is what I was thinking from the beginning and throughout the first half of Future Bodies.
I am very much a slave to cultural references, so I spent a lot of the play thinking it was Black Mirror, or that it was like the ending of Space Odyssey 2010, or bizarrely at one point that it was The Faculty.
But Future Bodies managed to transcend a contemporary landscape which is rich with commentary (in both fiction and non-fiction) on the relationship between humans and technology and create an entirely new narrative about what it means to be human.
It is a collaboration between Unlimited Theatre and RashDash, combining spoken word and music and featuring a stellar cast, the result of two years of preparation and research by performers, academics, and scientists.
The ensemble's commitment to the production's message cannot be doubted, and each of them brings their unique talents to a fantastic collaborative effort.
There is musical narrator Beckie Wilky (composer of all the music and songs for the show), part Greek chorus, part The Criminologist from Rocky Horror Picture Show, and part Mystique from X men.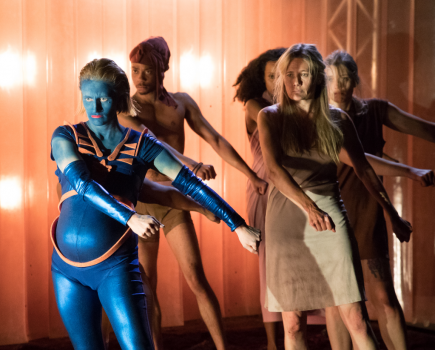 'BOILED TO DEATH BEFORE YOU KNEW IT': MM were reminded of a Margaret Atwood narrative throughout  
Recent Central graduate, Deshaye Gayle, provides an excellent mixture of comedy and some emotionally complex communication.
Spoken word artist Yusra Warsama performs unbelievably engaging monologues on the relationship between the human body and the mind, freedom of choice, and intimacy.
Alison Halstead lends an intense physicality to all of her parts, bringing an unbelievable mixture of expressions to her moments depicting grief and loneliness, to the bullshit enthusiasm of a corrupt CEO.
And there are fabulous performances from Kate Maravan and deaf actress Lara Steward, especially from Steward in a scene where she uses sign language to discuss having a child with her partner – providing insight into young people's approach to feminism and climate change.
The staging is intriguing, with the stage covered in a substance (was it sand? Was it desiccated coconut?), and minimal set pieces.
The structure, a series of vignettes which are thematically connected but never explicitly linked, creates a narrative which disturbingly reminds me of Margaret Atwood's line: 'Nothing changes instantaneously: in a gradually heating bathtub you'd be boiled to death before you knew it'.
The vignettes are perfect for painting a picture of an entire world, of long term technological advancement and the ripple effects of different societal groups, as well as keeping a millennial like me entertained because technology has ruined my impulse control and ability to concentrate.
The use of on-stage subtitles can be a little distracting. I appreciate the significance and purpose of them – particularly with the presence of a deaf actor on stage – however it is off putting when an actor gets their lines wrong and is out of sync or the lighting inhibits the audience's ability to read them.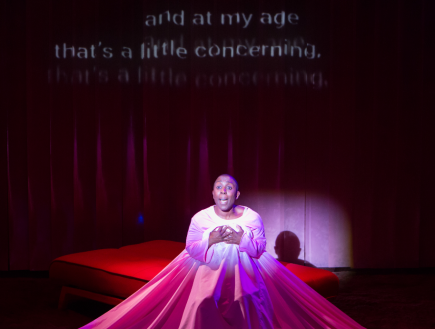 INTENSE PHYSICALITY: Alison Halstead gives an emotional performance depicting grief and loneliness  
Likewise the combination of art forms can sometimes feel claustrophobic, and the final contemporary dance sequence goes on a little long for my taste.
But overall, I enjoyed Future Bodies a lot. It is entertaining and manages to provide a Foucauldian analysis of power and phenomenological commentary on the evolution of humanity whilst also being funny and emotionally engaging – an impressive feat.
The questions raised are eternal and philosophical. It's about structure vs agency, technology vs biology, individual vs society, body vs mind, human frailty vs perfection, and nature vs culture.
There were moments where I thought the references to animalistic humanity, ancestral apes, and the prehistoric jungle were a bit on the nose considering the actors are using several sophisticated art forms, but I came away questioning my life and technology's role in it.
I Tweeted as much on the way out.
Future Bodies is on at HOME until Oct 13, tickets and more information here: https://homemcr.org/production/future-bodies/