Hedgehogs have disappeared from areas of Greater Manchester, where a Wildlife conservation worker has warned they are nearly extinct. 
The shocking decline has prompted urgent warning to check bonfires before lighting them as the little critters may have crawled inside to find a home.
Statistics show that hedgehog populations in the UK have declined from an estimated 36.5 million in the 1950s to a meagre one million today.
Graphic image warning below.
These spiny critters are a much loved garden visitor in Manchester as they devour plant-eating pests like slugs and snails.
The humble hedgehog was named Britain's favourite 'National Species' in a BBC Wildlife Magazine poll.
Sue Lewis, a founder of the Rochdale Hedgehog Rescue Society, said: "I've been caring for hedgehogs for 25 years and now there are areas with no hedgehogs.
"Years ago there were hedgehogs everywhere."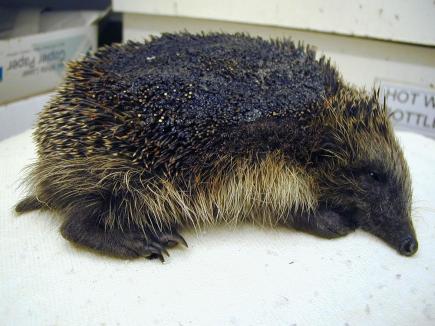 BONFIRE WARNING: This little fellow didn't survive after climbing into a heap of wood ahead of a bonfire 
Sue, who had rescued 15 hedgehogs on the day of the interview, said that the unusual climate had a dramatic impact on hibernation and breeding seasons.
"The problem is that they are so weak because the climate is so strange," she said.
"The rescued animals are brought in by members of the public, one even arriving by ambulance. 
"We get a lot of poisoning and garden accidents more so than road accidents."
But it isn't just hedgehogs that are suffering. "The wildlife is being squeezed into smaller and smaller spaces," continued Sue.
"In the competition for food, hedgehogs are losing out to badgers and foxes in towns and cities."
Despite the tough challenged faced by the miniature creatures, there is still hope for Manchester's hedgehog populations.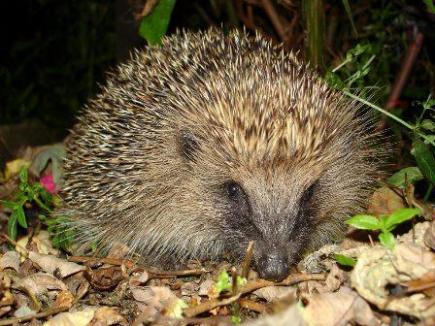 AS SNUG AS A BUG: Hedgehogs love hiding in warm leafy areas of the garden 
"They're very strong in character and they never fail to amaze. Sometimes you think one doesn't have a chance and then it recovers and it's up and out into the wild," she said.
Sue says that working with farmers in the Lancashire area to grow areas of hedgerow has been a boon to hedgehogs: "It's been really successful, the hedgehogs have really thrived."
The avid animal lover also visits schools to teach children about the importance of wildlife.
"If you get children interested in wildlife they take those ideas home. I always feel privileged to be this close to wildlife," she added.
People's Trust for Endangered Species Surveys Officer David Wembridge said: "Continuous monitoring each year is vital to help us build a more complete picture of the state of the UK's wild mammal populations.
"Over the last twenty years or so, the world's tiger population is thought to have halved. Although they are very different animals and there are many fewer tigers left in the wild, the fact that we are losing hedgehogs in Britain as quickly, should ring alarm bells as loudly." 
David Wembridge is also the author of the latest State of Britain's hedgehogs report, which states that 'surveys in urban and rural areas both indicate falling numbers of hedgehogs'. Nationally, the evidence indicates an average decrease of several per cent each year.
"These surveys were sufficiently alarming for hedgehogs to be declared a priority conservation species in 2007," he said.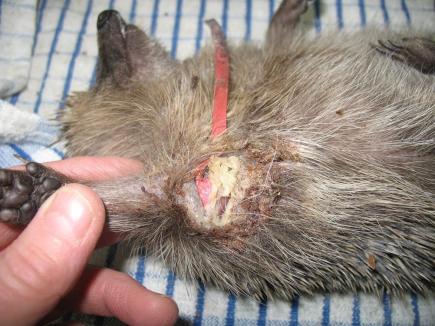 DON'T LITTER: Getting tangled in our rubbish could mean the a tragic death for a hedgehog
There are many reasons for the decline including habitat loss, extreme weather conditions, the lack of food, gardening accidents, pesticides, busy roads and litter.
Hedgehog Street is a campaign by the British Hedgehog Preservation Society (BHPS) and the People's Trust for Endangered Species (PTES) that encourages neighbours to make five inch holes in their fences to create hedgehog corridors between their houses.
This means that hedgehogs have a larger territory to find food and can avoid crossing busy roads.
The RSPCA recommend that people should try and adopt 'wildlife friendly gardening' practices like covering up open drains, removing garden netting, checking for hedgehogs before mowing and avoiding lethal slug pellets.
Sue Lewis also recommends that people should leave areas of leaves for shelter, help supplement a hedgehog's diets with meaty pet food and make their garden a safe place for them.
This time of year is especially dangerous for hedgehogs that take up residence within bonfire piles.
The BHPS advice bonfire makers to carefully check underneath their bonfire sites for sleeping hedgehogs by using broom handles to lift piles from their bases and use torches to search for any signs of life. 
Greater Manchester Local Record Centre are also urging people to get in contact with them about their hedgehog sightings to get a better picture of hedgehog populations in the area.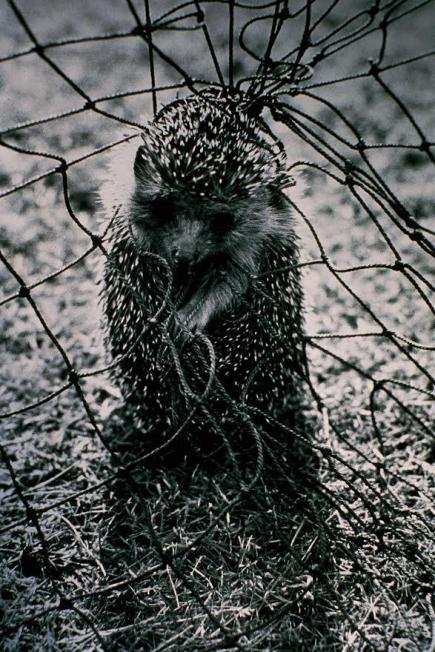 ENDANGERED SPECIES: Hedgehogs are becoming a rare entity as we encroah upon their habitat 
Since 1990, the Centre had only 230 recorded sightings of hedgehogs in a variety of locations around Greater Manchester including Northenden, Saddleworth, Brooklands, Whalley Range and Chorlton Water Park.
Biodiversity data manager Paul Barrington told MM: "Distribution maps created using these records might just highlight where the recorders are as opposed to where the hedgehogs are.
"We are always trying to encourage people to send us their wildlife records."
For more information on helping hedgehogs visit the British Hedgehog Preservation Society 
There are currently 32,554 hedgehog campaigners in the UK, you can make the pledge on the Hedgehog Street website.
Images courtesy of Derek Knight, Keith Jones, British Hedgehog Preservation Society and David Cooper, with thanks.