The group of five Stalybridge machine workers were one of three lucky ticket holders who received a £2.9million share of the £8.8million weekend Jackpot.
Despite each of them banking £590,000, the grafters from John Hargreaves Paper Mill Operators in Stalybridge, say their loyalty to work means they have no plans to leave their jobs just yet.
Just two days later, it was all hands on deck for the Stalybridge employees as they knew their mill was understaffed.
Gary Smith, leader of the Agnati Crew Syndicate – named after the machinery they operate – said: "We were all back at work straight away due to the workload!
"The company is quite short staffed at the moment so we didn't want to just take time off or walk away because of our win.
"I have worked at the mill for 26 years and have a real close affinity with the company. None of us have any plans to give up work, plus we are really busy at the moment.
"We are all close friends in addition to being work colleagues. Despite one of the syndicate members being retired he has continued to pay in. We are all really close."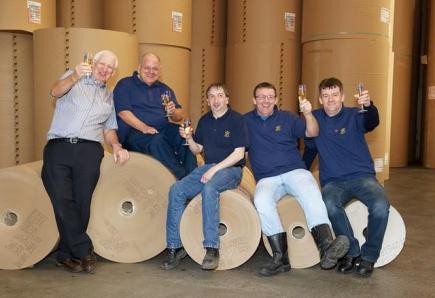 BIG WINNERS: l-R David King, Gary Smith, Phillip Mellon, Peter Howard and Andrew Howard
The Agnati syndicate has been playing Lotto since 2004 and always plays with the same numbers.
"We have had a few small wins but nothing like this," Gary added.
"It actually still doesn't seem real. I think we are all still numb. We have been coming into work as normal and will continue to do so."
Gary, 53, who lives in Stalybridge said new cars, paying off mortgages and a few exotic holidays are top of the shopping list for himself and the rest of the syndicate.
He said: "It was actually one of my colleagues who checked the ticket on Saturday night and when he called me to tell me we had won I thought we had perhaps won a few hundred pounds.
"I checked the numbers on the TV and then on the computer and even when I realised we had matched six numbers I still didn't think it would mean a big sum of money.
"It was several hours later I discovered there were just three Jackpot winners. It was just like a dream – and I still keep thinking I will wake up and none of this will really have happened."
"I will pay off my mortgage and also spend some money on improving our home," Gary added.
The other syndicate members who share the £2,950,302million winnings are David King, who lives in Glossop and is now retired; Andrew Howard, Peter Howard and Phillip Mellon, all from Stalybridge.
The group say the news is still sinking in but the win takes away worries and insecurities and gives them the base for a secure future.
Nick Hargreaves, Operations Director, said: "I am absolutely delighted for the syndicate. They have a combined loyalty to this company of more than 100 years.
"They are a fantastic team of workers and I am obviously really pleased they have decided to continue to work and not leave the factory. They are a key part of our success story and a part of the family."
The syndicate plays one line of numbers each and keeps the same numbers which are chosen from birthdays and other special dates.
They bought their winning ticket from B&J Wine and Food Store in Wakefield Road, Stalybridge. Their winning numbers were: 3,5,9,28,35,47.