Residents of the Castlefield conservation area in Manchester city centre have expressed their concerns after the latest homeless commune sprung up this week under a bridge adjacent to the Bridgewater Canal.
The small group were evicted from their previous settlement outside the Great Northern complex last week, with businesses being left disgusted at the state of the site which they had left behind.
Brian Fulham – resident of Deansgate Quay Apartments which is adjacent to the new settlement – raised concerns about the effect on the area.
"It's obviously not very nice. It's quite frightening. The lights under the tunnel are off so for anybody walking through, it could be quite scary," he told MM.
"It will escalate, more will come. Once there's been wind that they've been here a while then obviously more will join."
It appears that the biggest concern is that the pleasant surroundings of the canalside environment will be degraded after reports that the rough sleepers had previously used a public space behind a restaurant as toilet facilities.
The authorities are aware that a small commune has resettled in Castlefield and have made attempts to move them on again. Fulham added:
"I've already heard the police have been down yesterday from the property management group based at Deansgate Quay. They told them off, but obviously it hasn't worked because they're still there."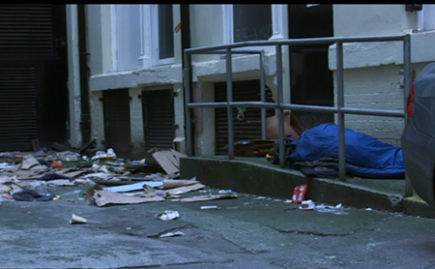 GROWING ISSUE: The number of homeless people in Manchester has increased tenfold to 70 over the past five years, according to BBC research
According to figures released by the BBC earlier this week, the number of homeless people in Manchester has increased tenfold to 70 over the past five years.
Commenting on the issue, a passer-by said: "It's not good whichever way you look at it but it's rare you see a little commune like this."
However, fair-sized communities such as these have become the norm, which culminated in a much-publicised homeless camp in St Ann's Square being served with an eviction notice by Manchester County Council in August 2015.
It's not the first time they have appeared in Castlefield either, with another commune evicted from the Roman Fort at the same time.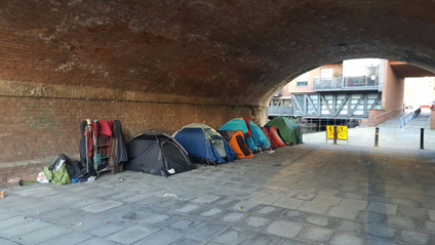 LIGHT AT THE END OF THE TUNNEL? While some residents are unhappy others believe as long as the homeless don't cause trouble then they won't speak out 
Other residents, however, have taken a more balanced view towards the settlers.
Another local said: "I don't mind too much. They seem to keep themselves to themselves. As long as they don't cause any trouble I don't think it's a problem. It's been a prevalent issue in Manchester though."
The long-standing homelessness problem is no closer to being solved in Greater Manchester and it remains to be seen whether a suitable resolution between the authorities, residents and rough sleepers can be reached before a cold winter sets in this Christmas.