The Government's Autumn Statement, which revealed a further £30billion of public spending cuts, is underfire from a number of Manchester MPs.
Chancellor of the Exchequer George Osborne announced the plans yesterday that would put one million jobs under risk as spending will fall to levels not seen since the 1930s.
Oldham West MP Michael Meacher blasted Osborne after he had initially predicted a £40billion deficit for this year in 2010 when it is in fact actually around the £100billion mark.
Osborne has now borrowed £219billion more than he planned in this Parliament.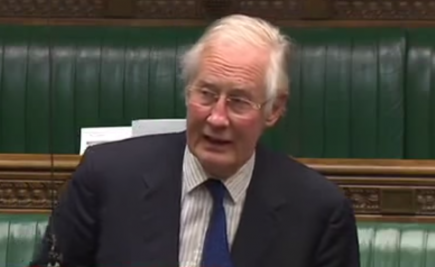 IMPOVERISHMENT AND PAIN: Meacher thinks the deficit reduction plan has gone pear-shaped (Courtesy of BBC, via YouTube, with thanks)
"The whole deficit reduction programme, after all the impoverishment and pain it has inflicted, has gone pear-shaped," he said. 
"The government has forced hundreds of thousands of people, either through 'sanctioning' (i.e. depriving them of their benefit entitlement often for trivial infringement of the rules) or through draconian work capability assessments, to take jobs which are very low-paid, insecure, part-time, or zero hours contracts.
"What is the rationale for continuing with austerity when the consequences are themselves now actually causing the deficit to rise?"
The Labour politician also believes that Osborne failed to mention the state of the financial sector and that the culture of banks is 'fundamentally rotten'.
"One area of this magnificent future that he [Osborne] chose not to mention was the state of the finance sector, always the most dangerous and potentially explosive sector in a capitalist economy," he said.   
"Hardly surprisingly since the Tories get more than half their income each year from the banking and shadow banking (hedge funds, money market funds, etc.) systems and the whole finance sector remains wide open to abuse. 
"Of course that will never be admitted, least of all by Osborne who likes to regale us with another of his canards that there has been a major clean-up exercise since the crash in 2008.  There hasn't."
Oldham East MP Debbie Abrahams said the Government were 'dismantling the welfare state' and that cutting stamp duty to 98% for home-buyers wouldn't be helpful, as people are struggling to afford to get on the property ladder.
Autumn statement 2014 Osborne moves to cut spending to 1930s levels http://t.co/ytM3CFh8wz @guardian they are dismantling the welfare state

— Debbie Abrahams (@Debbie_abrahams) December 4, 2014
Govt borrowing £219bn more than forecast in 2010 £12.5bn this year & next. They failed to clear deficit as promised by 2015 #AutumnStatement

— Debbie Abrahams (@Debbie_abrahams) December 3, 2014
Govt's answer to all this? Cut tax credits/hsg ben to low paid wkrs. Do zip to redress unjust/unfair burden on working ppl #AutumnStatement

— Debbie Abrahams (@Debbie_abrahams) December 3, 2014
"The Government's economic credibility is in tatters," she said. "[And] the Government's answer to all this? Cut tax credits/housing benefits to low paid workers. On top of that, the lowest house building since 1920s is contributing to high private-sector rents.
"Is he [Osborne] aware of the evidence from Oxford university, which shows that one in four Job Seekers Allowance (JSA) claimants who are sanctioned leave JSA and that more than half of them do not get into work? Using sanctions to get people into employment has therefore proved ineffective.
Kate Green, Labour MP for Stretford and Urmston said that the autumn statement can't disguise the fact that families in Manchester are worse off under the current government.
"George Osborne promised living standards would rise, but while millionaires have got a huge tax cut working people are now £1,600 a year worse off under the Tories," she told MM.
"And the Office for Budget Responsibility has revised its forecast for wages: down again this year and next year. This cost-of-living crisis is why the Chancellor has broken his promise to balance the books before the election. 
"Labour's economic plan will raise the minimum wage, expand free childcare for working parents, get more homes built and cut business rates for small firms.
"We will balance the books in a fairer way, starting by reversing the £3 billion a year tax cut for the top one per cent of earners. And we will save and transform our National Health Service with a fully-funded long-term plan. We will raise an extra £2.5 billion a year to deliver 20,000 more nurses and 8,000 more GPs – a commitment the Tories refuse to match."
Christian Spence, Head of Business Intelligence at Greater Manchester Chamber of Commerce, said that some positive gestures that been made in the statement, but in some areas the Government could have gone further.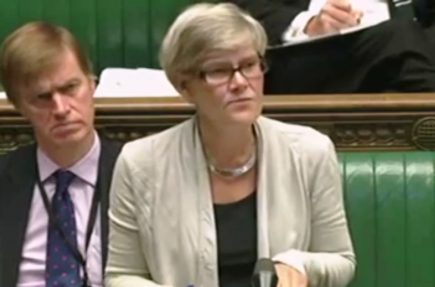 BROKEN PROMISES: MP Green says Osborne failed to keep his word and balance the books (Courtesy of Parliament TV, via YouTube, with thanks)
"We are delighted that the government has committed to a wholesale review of the system to report by 2016, but the Chancellor's continued insistence that this remains revenue neutral will always restrict what could be achieved without this constraint," he said.
"Overall, this is a positive statement from the Chancellor, but our future growth prospects will rely on seeing less timidity from government on investment support.
"We will assess the detail of the autumn statement over the coming days and will, over the coming years, ensure that we hold government to account on behalf of our members on the delivery of its promises announced today."
Manchester is still set to benefit from an £800million road revamp including a possible trans-Pennine tunnel to Sheffield as part of an overall £15billion transport plan for northern England, whilst £235million will be invested into the Henry Royce materials research centre at The University of Manchester.
Main image courtesy of BBC, via YouTube, with thanks.